Happy May Day!  Time for all good gardners to get their gloves on and work the dirt!
We celebrated a showery May Day by taking a walk by the chickens with the kids.  Nobody was home, but we did get to see the little chicks nearly all grown up.
If you recall, the chicks we saw just a month or so ago fit in my 3 year olds hands and were about the size of your fist.  Now look at them!
It's insane how fast they grow when treated with care.  I also wanted to share this picture because it looks like a great size for a home gardener that only wants two or three chickens.  I believe this is called The Egg.  I showed it before but this is the first time I saw it in action.  You can clearly see the mini coop with the panel on the side for getting to the nesting box. But what I really like about it, is the whole thing weighs less than 30 pounds so it can easily be moved from spot to spot in the yard so the hens don't do damage to the grass and keep everything nice and trimmed.  IF I can get the Mrs. to cave on chickens, this is high on my list of things to look into purchasing.
In case you want to see the size and scope of this set-up, I took another shot with a yard waste container as perspective.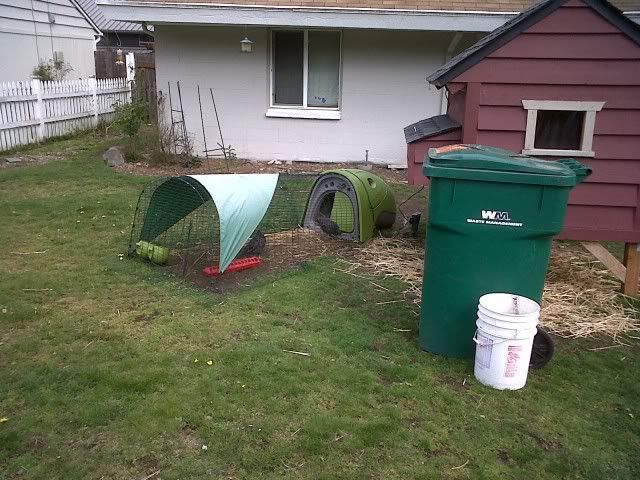 Tiny, I know, but two, maybe three chickens would fare well in there, especially if you let them free range most of the time.  We have a coon problem in our area so it would definitely be necessary for night-time protection.
I have been out in the yard, especially trying to maintain my compost bins.  Unfortunately Spring storms have utterly destroyed my cover.  It needs to be rebuilt, but I'm not certain I will.  My compost is VERY dry and I could always just cover with blue tarps in the winter to avoid nutrients leaching out into the soil.  More later.
Enjoy your garden!