Alright, you asked for it, you get pics of my disasterous garden.  In my defense, I'm almost out of broccoli and caulflower seeds and they've turned into a big hit with the big people in my family (namely my wife, who is the first person to tell you she hates those veggies).  So I decided after the plants flowered that I'd see what it took to make them go to seed.  The bumblebees loved them so I let them stay.  The bees were a welcome addition to that area of my garden.
Well, now they look like this...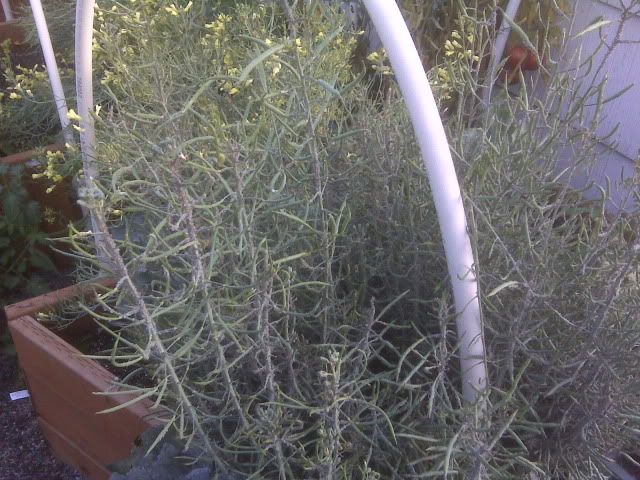 I think each of those pods needs to dry out and inside are about 10 seeds.  When I opened one earlier they had about that many green seeds. 
Of course I have since seen the package and thee Fiesta broccoli from Territorial is a hybrid.  Oh well, no harm no foul.  These will make a welcome addition to the compost pile. 
Speaking of which, I haven't been doing much adding to it this year.  Three years out from the last time I weed and fed my lawn, it didn't grow at all all summer.  It really didn't turn majorly brown either, just didn't grow.  I'll take that from an effort perspective, but it makes me quite shy of greens in mass quantities for my compost pile.  I figure with the kitchen compost and leaves that are bound to start falling, I'll have one more major flip before I put it to bed for the winter.  For greens I'll use these plants and some handy coffee grounds from Starbucks. 
Lastly, I thought I'd take an overview pic of my garden to scare you all into going out this weekend and cleaning up yours, hehe.  Needless to say the major winner this year were the carrots.  I swear my kids is turning into a rabbit.
Oh, and that monster in the picture is a volunteer tomato plant.  No clue what type it is, but it looks healthy enough.  I figured if I had tomato volunteers I'd just leave them and see what happened.  So far it looks like I'll have a late crop of salad makings, even if I have to ripen them inside.  Not Judy and EG kind of second crop, but pretty decent for the Pacific Northwest.
Enjoy your garden, and let folks know I'm back.  It's kinda lonely without the 400+ folks reading my blog each day, hehe.