Yes, it's been over a month since my last post.  Sorry.  I must say I've been very discouraged about the job market.  We're ok as a family, in fact we're great.  Being frugal isn't a bad thing when the crap hits the fan.  Anyway, I only bring this up as a lame excuse why I haven't been blogging like I'd wanted.  I wouldn't say I've been depressed.  I've been having the time of my life with my budding reader and his little brother that will probably be doing everything his older brother does 2 years earlier because he's in direct competition with him.  I love my family to death, so that's why today I gardened. Yep, I decided the weather wouldn't wait for me to break out of my funk, so I did a ton of little things today.
My first task was to check on my seedlings upstairs under lights.  They are looking great.  So great that I'm not sure if I should harvest the greens or plant them out.  For that information, I went to my new planting bible.  I must say, I haven't followed
KitsapFG's seed starting schedule
as closely as I'd hoped due to my lapse of reasoning.  I do plan on following it to the T from now on out.  However, today was spent catching up with what she's already done. 
Mostly I re-planted a half-dozen tomato varieties that didn't germinate properly or died under the lights due to my in-attention.   As you can see above, only two of the eight plants made it upstairs.  The others are germinating in the kitchen.  I must say I love watching the dirt through the clear plastic wick up the water I pour into the tray.  Isn't science cool.  My eldest is getting me back into it these days.  He's my little inventor.
Anyway, after I replanted my tomatoes (I should be potting them up now), I direct sowed about 5 SF of spinach.  First I spent a minute or two weeding the area and aerating the soil a bit to mix in the moss and anything else on the surface.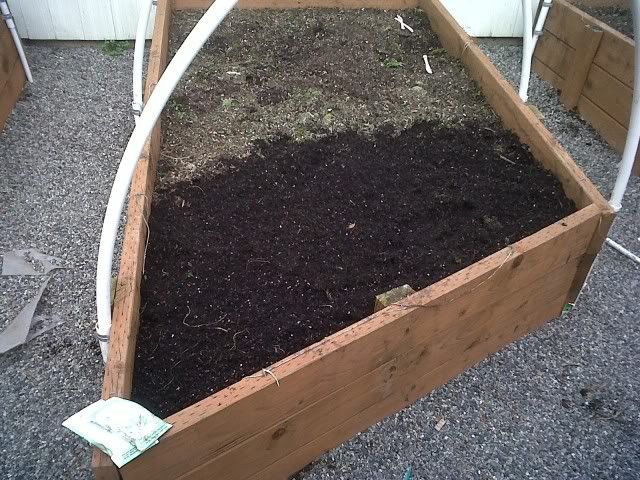 You can see how nice and black the Mel's Mix looks with just a bit of work. Then I added a smattering of compost from my finished bin.  Then I planted.   I no longer have strings or lines to mark off my square foot boundaries.  Mel wouldn't be proud.  However, I still have the U stapples in the wood where I ran the jute twine that disintegrated.  To create the lines temporarliy, I improvised and ran some PVC pipe across the beds.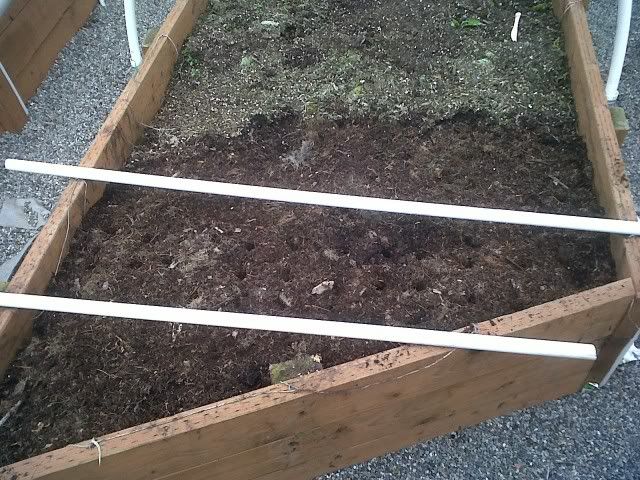 Doesn't it look crooked?  That's the artistic angle for the pathway between the beds and the neighbor's fence.  If you look closely you can see the holes I estimated for 9 spinach seeds per SF.  I did about 5 SF, which is a good start.  I'm going to try to harvest them smaller this year to avoid the Spinach Leaf Miner problem.  There just isn't any place in my garden that I haven't planted spinach before, so I'm out of luck there.  To finish, I scattered more compost over the area.  I didn't water it in because I don't have water hooked up outside this winter following the pipe bursting incident.  More on that later.
Speaking of spinach, I made our first smoothie that included a handful of "organic" spinach from Costco (if you've read Pollen's book Omnivore's Dilema, it's from Earthbound).  It was yummy and the boys didn't notice a thing.  That's a really good thing since my youngest LOVES smoothies and hates all vegetables.
Lastly, I prepared the area for peas.  I didn't plant them because I am soaking them overnight.  I don't think it's necessary, but it's worked well for me in the past, so I'm going for it again.
Well, that's about it for tonight, I have more to talk about so hopefully I'll have another post as early as tomorrow. 
Spring is in the air, so I'm hoping that you are starting to enjoy your garden!