Wow, after midnight and I totally forgot I hadn't posted here. Bad me. Well, here's a post to keep you knowing I'm still jazzed about my garden, my prospects for chickens and of course, my poor neglected blog.
Last night after the kids were asleep, instead of working on the garage or house, I read through some of my favorite blogs (see my side bar).  Low and behold, Laura commented on all the seed starting she'd done. Drat, behind yet again.  I can't START the year behind her and expect her amazing results, can I?  So I break out my kitty-litter-container-seed-starting-kit, aptly named as I have so many of those useful kitty litter containers that I use one to hold year-old dry compost and vermiculite, a bucket to mix in, and my wonderful home made soil block maker (thanks John Best!).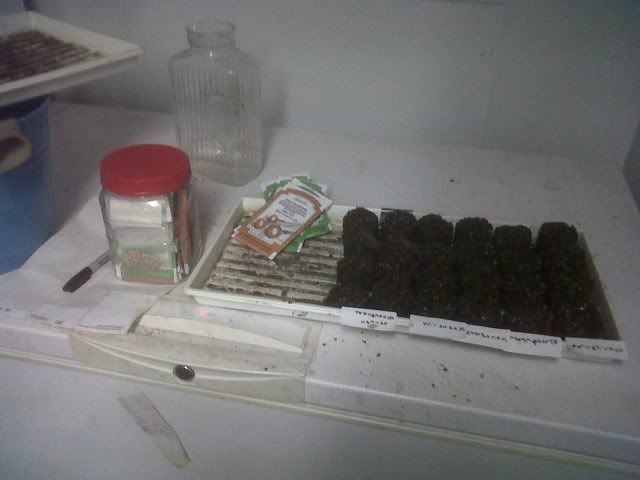 Seems I needed to get the lead out and plant salad greens and onions.  Well, I only grow green onions, but those would have to do.  I eye-balled some soil and added water to the bucket, then proceeeded to make 24 soil blocks.  In 16 of them, I planted four each of Red Sails, Salad Bowl, Italianshier and Butter Crunch, enough for one square foot each.  I find that's enough for late spring, but I may stagger plant another square foot to make sure we have enough salads in the early spring.  Oh, and of course the last 8 blocks got Guardsman onions, they're about the only green onions I'll eat.  A flat of blocks is now perched on top of my iced tea maker in the kitchen to germinate and my wife is already complaining about the "moldy" smell, hehe.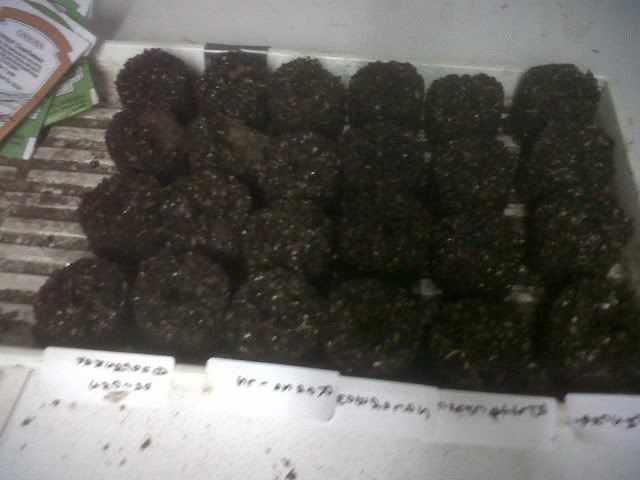 After that was done, I made sure my Territorial Seed order was ready.  I'm not buying much due to my forced frugality, but what I am buying are the tomatoes Laura convinced me to get.  I've got seed for about half of what I'm planting this year.  So I called my brother to convince him to place our order, we combine shipping.  Well, apparently he was looking at the catalog at work and his big boss asked to see it.  Long story short, he's giving her until Friday to put in her order.  Looks like I'm going to be at least a week late on my tomatoes also.  Just can't catch a break.  Ah well, I'm still much earlier than last year, and it's not like I have a green house like Laura does to transition to the outside before the last frost is over.
Hope you enjoy your garden!