Please someone tell my garden that it's June first! I swear it thinks it's April 1 instead. Aside from the calendar, Spring has yet to visit the Pacific Northwet. I'm posting this because I saw a post on another blog I read about all the things that should be going on in the garden right now and unfortunately, most of them are right for the calendar, but wrong for the weather. The funniest is that I should be starting seeds indoors for my broccoli and cauliflower Fall crops when I still have my spring crops up there. I have yet to plant out my succession plantings because it's pointless. The first planting is not growing at all and just being nibbled at by slugs. I have carrots that overwintered and are going to seed, but I haven't pulled them because I'm feeding them bit by bit to my hens and I don't need the room until I plant out my brassicas. Aside from that the entire bed of carrots I've planted have yet to germinate. I'm about to give up hope on them and plant again as my brother's just started coming up (finally!). Oh, and my cool weather peas... what did germinate have grown a total of 3 inches. I haven't even found the need to set up the trellis for them. Insanity reigns in June.
About the only thing growing in the garden is my salad bed. It seems my lettuces are growing, albeit slowly. But we have been harvesting them for salads and garnishes etc.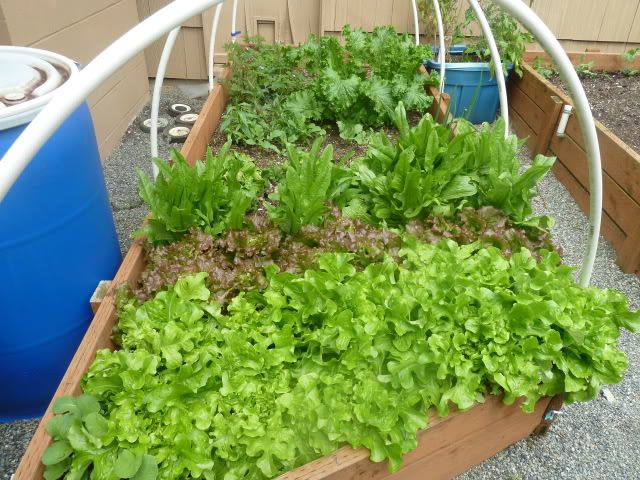 As for my tomatoes, they haven't grown at all, despite regular doses of fish emulsion. I'm trying, but the best I can get is I have one plant that flowered under lights that is finally setting fruit... three tomatoes.
Lastly, I know I'm behind on planting out my cucumbers and squash, but really, what's the point? I don't have a greenhouse to grow them in, they don't transplant well (cukes that is), and even if they do germinate (big if), chances are they'll never grow. I'm feeling a bit disappointed by this garden season.
I hope your garden is doing better.