Summer may be waning, but my chickens are getting closer and closer to laying. They're developing waddles and combs at record paces, just in time to need them as temperatures SOAR into the upper 70s. That's right, we've had exactly 78 MINUTES of temperatures in the 80s this year, meaning we're way behind our zone for warm temperatures.
This week I've been busy keeping tabs on both mine and my brother's chickens as they're on vacation. His birds are a bit smaller than mine, but will do anything you ask for food. Mine are holy terrors when it comes to food and devour it whenever they have any. Like a fool I keep filling it. Hehe. These girls are going to eat me out of house and home. Nearly two 40 pound bags gone in 4 months. Yikes.
Anyway, I finally fixed this problem with my coop...
You see, I've taken to leaving the pop door down all night to allow the girls access to their mini-run in the morning before I go out to let them into their arc. So, while I've got hardware cloth around the entire run, this gap at the bottom worries me for small critters that may be able to do the hens harm. I've been trying to figure out a way to keep them closed. I thought one of those magnet cabinet closure pieces would work, but I didn't want to have it rust in the damp Pacific Northwest weather. A trip to my local True Value led me to a different type closure that I'm quite happy with.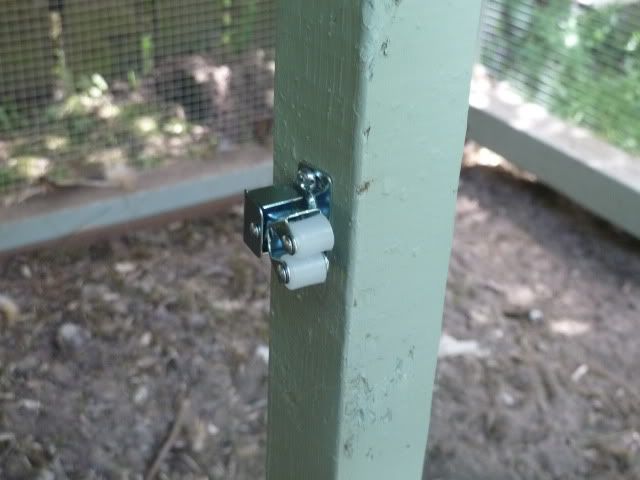 A bent arrow-shaped piece of medal fits in between those rollers. I had a devil of a time placing these, as they need a fair amount of overlap to attach them. Thankfully I convinced my eldest to crawl into the run and mark the best placement for the rollers and arrow piece. They're not in the same place on the coop, but who cares where they are if they work.
Now it closes like a dream and I can feel safe keeping the pop (chicken) door down all night.
That project down, I also finally threw a hook lock on my arc. A week ago I actually forgot to get the girls in for the evening, and shortly after dark there was a bocking and pecking at the sliding glass door. They'd got out and came to the only light source, our house. It wasn't hard getting them in as they don't move in the dark, but I had to keep them from pushing the door of their arc open. I didn't think they had it in them, but I was wrong. So, now there's a hook to keep it closed.
Lastly, I'll leave you with a pic of the girls to show how they've grown. One month left before they start laying (hopefully).
Enjoy!