Short post today on my soil blocks and succession planting. Mostly I wanted to make it through the last of my pictures and topics from the last week so I could get to the newer stuff. I'd like to say I saved the best for last, but I didn't. Soil blocks aren't the sexiest thing out there, but when they work, they work amazingly. Most of this post is about when they DON'T work.
Having dutifully grown indoor lettuce in 4 blocks per variety over the last month due to the inability to plant out in this inclement weather, I decided to go with 8 seedlings per variety this time. Of course by now the aged compost and vermiculite potting mix I had stored in a kitty litter bin in the garage was gone, so I made more. My overwintered compost was great. Worms were plentiful and everything but the egg shells were broken down nicely. My new potting soil was made up of rain-moistened compost and a conservative dose of vermiculite, as I'm running out and don't want to buy more in our economic situation.
The soil blocks turned out great! They compacted nicely and came free of the
soil block maker
easily without breaking. I was really quite pleased with myself as I hear so many people talk of complex potting soil recipes. I just don't have access to all that material and I'm certainly not buying anything I don't have to.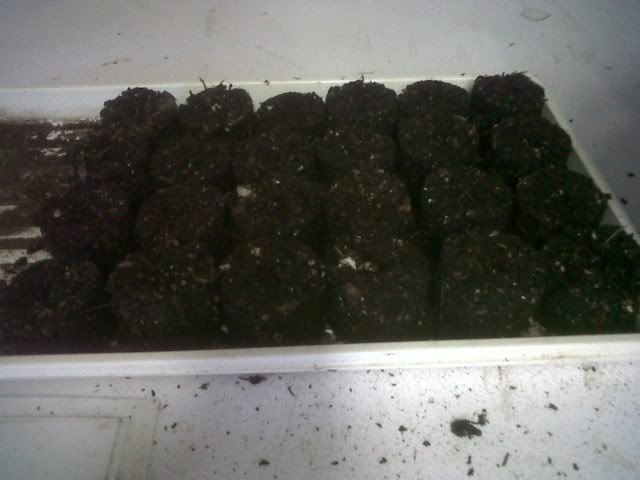 As always, two seeds went into each divot and the whole tray went into the kitchen. My wife wasn't thrilled about putting back the stand I use to keep the tray off the counter, but she didn't complain about the clumps of dirt in the kitchen... maybe... just maybe, I'm growing on her.
All was well for the first day, but as these blocks dried out, they started to fall apart. At first I thought it may actually be a worm or two that got into the blocks that were doing the damage, but then it started happening to all of the blocks, especially when I watered them the first time. I was so unhappy. All that seed and work to make those blocks. Not to mention I actually had rapid germination from this year's Red Sails.
Unfortunately it was even worse by the time enough had germinated and I sent the tray upstairs to the light system. Boy did I have to tinker with the lights and tray placement to keep optimum light distance. Kind of a fun little puzzle.
So, how are your indoor seed starting adventures turning out this year? I'm sure many of you have flatS of them going at all times right now, but some of you may be just like me, with a small garden or just starting out, and you're wondering if starting seeds indoors is worth it. Well, for less than $100 I built my light system will be making my own soil block seedlings forever. And if you would just feel silly just starting a few plants, don't. I do it all the time. All the better to park on top of the fridge to germinate. So let's hear it. What works and what doesn't? And as always...
Enjoy your garden!