Wow folks, just wanted to let folks know that there is a sale at Fred Meyer (Kroger owned) on Rubbermaid Roughneck 18 gallon bins that I use to make SWCs.  I know that the EarthTainer (TM) uses the larger 31 gallon bin, but I don't have room between my beds for more than a 2 foot wide bin.  Just so happens that the 18 gallon bins fit perfectly.  Hmm... at least the OLD style Rubbermaid bins did. I sure hope the Roughnecks do,  hehe.  Anyway, they're on sale for $6.99 through the 28th, so feel free to check it out.  Oh, and they only had the blue where I was.  That's ok, because my existing one is blue, and I don't care about color.  Heck, I could paint it if I wanted.
So, I picked up 14 bins.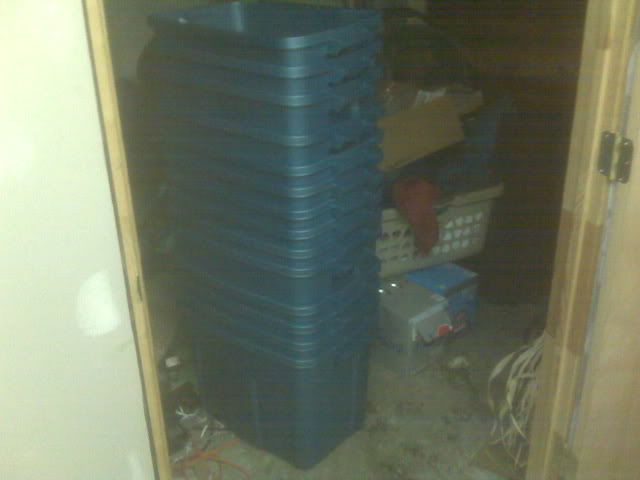 No, they're not all for me.  We're going to get together with another couple and have a SWC building party.  They want 5 and I need 2 more of that size (plus one larger one for my cantaloupe).  Boy do I need to pick up a TON of tomato cages, and maybe two or three PVC pipes, hehe.  Now I need to consider baskets.  I'm not certain the $1 store baskets will work well, but the pipe end caps that I used last year are a bit costly ($6) each.  I think a trip to the hardware store is in order.
Lastly, the spammers are at it again.  I'm getting over a dozen spam comments a day again.  Must be spring, the spammers are coming out of the ground, hehe.  Don't worry though, my spamm software catches them.  But I am worried.  You all have only a slim lead over the spammers.  It would be a shame to have more spam messages caught by my spam software than I've received from concerned readers... So let's keep ahead of the spammers!
What do you suggest I use for a wicking basket? It's got to be about 6 inches high and only 6 or so inches wide.  Oh, and cheap enough to get tons of them, hehe.
Enjoy your garden!