Well, the week is almost nearly over.  It can't end fast enough. I think I'm buring the candle at both ends again.  Shame on me.  My eyes have been puffy and watery for the past two days and today I hit a wall and could barely keep my eyes open.  So today's post will be short and sweet.  EG will like it because I have pics! hehe.
First off, I snapped a pick of my light system.  Today was the first day I was giving it both barrels!  I've got them crooked to provide high spots for the tomatoes and low spots for the soil blocks.  It's not perfect but hopefully I'll get stocky seedlings anyway.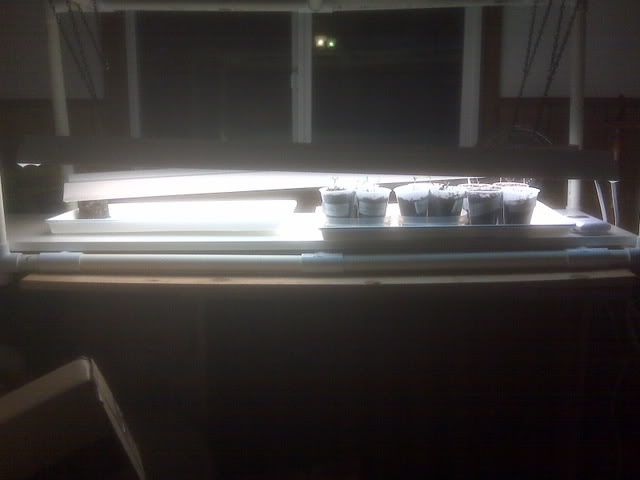 It's odd that I still have to check the lights daily to make sure I don't need to wiggle the bulbs to get them to turn on.  Shame.  I was hoping for a more trouble-free system.  Still, the plants don't complain.
Next is a closeup of my best tomato seedlings starting to grow their first true leaves.
Notice in the back cup I still have two tomato seedlings competing for survival.  I haven't decided if I want the bigger or the smaller seedling.  The bigger is growing faster but the smaller may be more stocky.  Which would you choose?
Next are my two broccoli all by their lonesome in the other tray, getting the second light fixture all to themselves.  Check back if you like to February of 2007 to see how leggy my broccoli was at that time.  Now compare them to this...
Couldn't have asked for better seedlings.  Oh, and I moved the fan to the middle of the shelf so it will hopefully blow on all the seedlings instead of just the tomatoes.
The last picture was snapped when I was taking out the trash.  I know it's not a garden pic, but it does demonstrate the power of my sustainability efforts.
It's tough to see, but would you consider this 20 gallon trash can to be half empty, or half full? hehe.  I see it as the power of kitchen composting and our striving to recycle everything we can, and only buying things in packages that can be reused or recycled.  What you can't see (thankfully), is that more than half of the garbage there is diapers and cat litter.  I'm not convinced spending the extra money on compostable cat litter is the way to go, but our youngest will be potty trained within 6 months so those will go away.  I sure wish I could switch our garbage pickup to every other week and our recycling to every week, rather than the other way around as it is currently.  We always overfill our recycling. /sigh.
Well, as spring is in the air (sort of), it's time to get back to my Thursday To-Do lists.  So with no further ado.
- Flip the compost pile and add to it.  Either that or if it's done, create a new one in my empty bin.
- Start more seeds, I think cukes need to be started indoors, and maybe some others.  That means more soil blocks!  I think I have room for about 40 in a tray.  Not sure.  Can't wait to find out though.
- Shop for wicking baskets and tomato cages to complete the shopping list for the SWCs we're building soon.
- Convince my wife to let me plant a rhubarb crown on the side of the house where any future garden expansion would occur as neighbor beds.  It's outside the back yard where the kids would need to be monitored if they played.  And our kids are wicked smart as my niece would say, so I'm sure we can convince them not to eat the leaves.  They didn't touch the tomatoes or the potatoes (both poisonous I believe).  Worth a shot, my mom keeps bringing it up and my wife keeps vetoing it. /sigh  Of course I don't even like rhubarb. hehe
-It's not gardening, but sometime this weekend I'll be helping my folks renovate their home to sell.  Gotta get that done.
Lastly, my good buddy EG posted about a gardener who's trellises he admired.  Turns out the gentlemen is 93 years old and a WWII vet. He has been gardening his entire life, including his time in the South Pacific.  While he was there, he grew flowers and vegetables for himself, his men, and eventually as a project to supplement the hospital with fresh fruits and vegetables.  He guesses that his seeds are still being used to grow flowers and vegetables in the South Pacific after 40+ years.  Wow, amazing in more than one way for sure.  Go ahead and read his adventures here...
http://www.pacificwrecks.com/people/veterans/sabel/farm.html
Enjoy your garden, for a very, very long time!