Well, today was a busy gardening day, and I didn't get home until 7 from work. Hehe.  No, I didn't get out in the garden, it's pouring down rain.  But I did move my garden forward, which is what this month and next is all about.  Getting ready for spring and summer gardening season.
So when I got home, I checked my seed starting setup in the kitchen.  Sure enough, four of the 10 tomatoes I started for our teacher came up, so they needed to head up to the light system next to my seedlings.  Then I noticed both my broccoli seedlings sprouted from my soil blocks.  They had been pregerminated in coffee filters, but they both decided to sprout wile I was at work.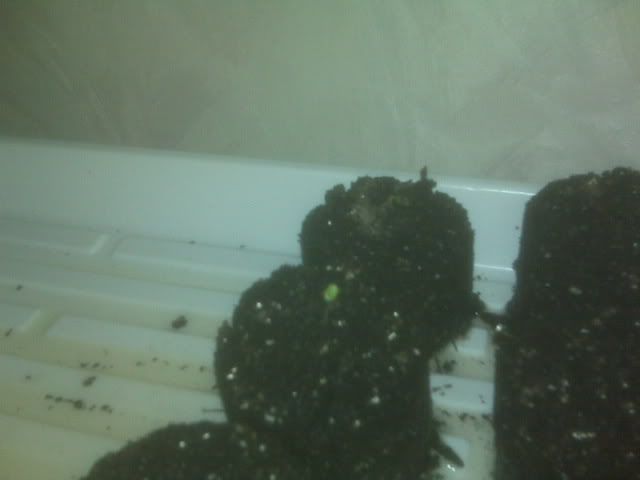 So up they went too.  The cool part is I finally get to use my second light fixture.  It's down really low to hover just over these little guys.  I can't wait for the cauliflower to sprout next (also pregerminated).  Then it will be a race between all my greens.  This sure is fun.  And it's both getting my garden ready for spring and satisfying my garden addiction. hehe
Oh, I almost forgot this picture.  I took it this morning when I checked on my seedlings before work.
See how the leaves fold up and even cross.  Well they do that every night and then unfold when the lights come on.  It's really amazing.  I've never seen other plants do that.  I'm sure it's normal, just really cool.  Maybe some knowledgable reader knows why that happens?
After the kids went down, I took some time to whip up my next contribution to Patti the Garden Girl's monthly ezine.  It's cool that she has me contribute to the SFG portion that is an integrated media feature with Mel himself!  This month I get to preface his comments while you watch March's installment of the Mel and Patti garden show.  Look for that in your email come March.  It's not too late to sign up for it over at her site (linked on the right).
Another site linked on the right is my good buddy EG's blog.  He is one of the most amazing men I know.  Right now I'm giving him a hard time over on his blog about folks calling Mel's Mix and compost soil-less.  Bah!  Dirt is dirt, hehe.  I think it's humorous anyway.  He's probably annoyed with me by now (not true, nothing makes EG mad).  Anyway, if you're not a regular reader of his blog, you won't be disappointed!
So, as you can see, tonight was all about gardening, and I never stepped foot in my garden.  Pretty cool, huh?