Wow, what a day!  The sun was out, the temps were in the upper 50s, maybe even the lower 60s, and I got a ton done.  Well, not a ton, but I had a lot of fun.  And boy did I need it!
While my youngest was at music class, my eldest and I set out to make some soil blocks and plant some seeds.  I really tried to get him involved, but being the first time for me, I'm sure he was bored a bit.  There will be other times, but at least it turned out very well.  Here's the setup.
I took John's advice and threw some blood meal, and wheat flour to hold the blocks together.  My son helped dig some Mel's Mix out of my left over bags and put it into the bucket and mixed it all in with water til it clumped in my fist.  Then came the fun part. Using John's soil block maker, I set out to make some blocks!
The blocks ended up between an inch and a half and two inches high and were very solid.  I ran out of soil mix and time so I didn't make as many as I needed.  I was about 7 short.  So I planted 4 each of 3 different varieties of lettuce, 4 mustard greens (I hope they're 4 per SF), and 2 each of broccoli and cauliflower that were presprouted.  I was going to do 9 spinach from my pre-sprouted seeds, but I didn't have the blocks for it.  So I went outside and planted them under the hoop covers.  I figure they can handle it.  Heck, the spinach I overwintered held up far better than anything else. We'll see.
So, after I planted all those seeds, I set them in the kitchen as high as I could find space, to germinate.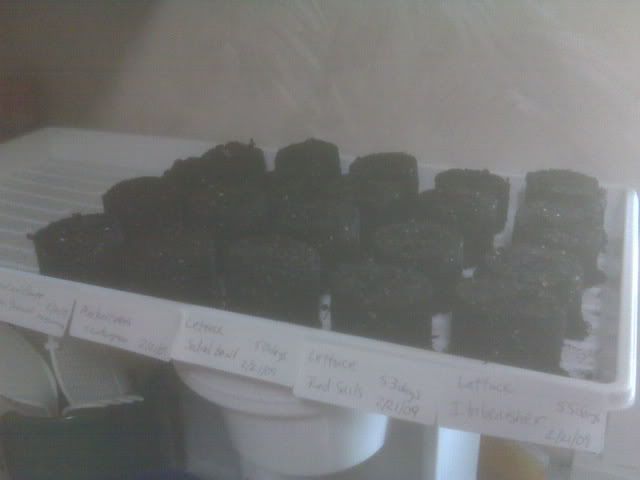 Hehe, I just thought of something.  The broccoli and cauliflower should poke through the dirt much sooner than the greens because they were presprouted.  Hmm?  I suppose they should be solid enough to move upstairs separate from the tray.  We shall see.
Another issue that my brother raised when he stopped by to see my light set-up (he doesn't read my blog) and pick up a bag of Mel's Mix to start his seeds (this is the guy that pooh-pawed Mel's Mix this time last year, hehe).  He asked how you water these blocks.  I will do some research, but if anyone uses soil blocks and knows, let me know.  We don't want to water them and turn the soil to mud such that it loses shape.  I'm sure it's a balancing act since you don't want it to dry out and lose shape either.  Hmm. I hope this isn't a bad idea. hehe.
Well, after we did that and played outside, it was time to head out for one of two birthday parties with grandparents for my eldest.  Hehe, he gets 3 birthday parties this year.  Don't ask me how that worked out.
Once we got to our friends, we decided to go to a park and enjoy the weather.  We went to a Redmond park where they have animals!  It was cool.  They had goats, bunnies, chickens, turkeys, cows and ponies.  Here are a few shots as they were being put in for the evening.
Chickens (I put this one in for Judy, who just got chicks!)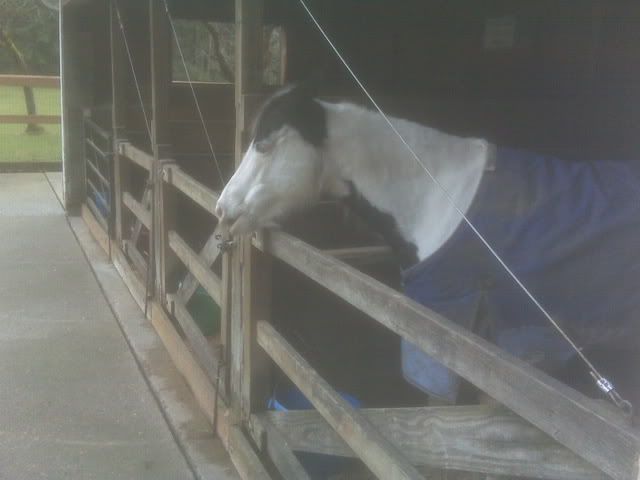 This pony turned around to face the camera.  Too bad my youngest missed that.  He just saw the back end, hehe.
It was pretty cool there.  They even had some raised beds.
And here's a closeup over the fence.
Several comments here.  First off, the wood these professionals used was pressure treated.  There are always arguments over what to make your beds over on GW.  Much as I'd LOVE to make them out of something healthier, anything less than pressure treated will rot in one winter here in the PNWet.  Secondly, they angled one of the beds to make room near the gate, similarly to my angling for the pathway.  Makes me feel better about my design.  Also, you don't see it here, but they left their corn in the ground through the winter, only cutting the stock off about 6 inches above the ground.  I wonder why they left the roots?  I composted mine.  Lastly, I saw a cool thing where they planted perennial strawberries down the middle of a bed and carrots on the outside.  It looked cool and seemed like a good idea.
It was a very fun outing.  I never knew it was there.  The kids loved it.  We got straifed by a turkey and saw a month-old goat!  I enjoyed also.
I sincerely hope you all had a relaxing, stress relieving day!