Hey folks, sorry for the brief hiatus.  Sometimes I get hooked on something and got to get it out of my system.  I guess it's the obsessive compusive gene in me.  This time it was a silly game on Facebook.  My wife plays it and it was about gardening, so I decided to try it.  It helped that I'm always searching for things we can do together.  Of course that meant I needed to sign up on facebook.  Now I guess all my friends are my friends on facebook.  All I wanted was to play the stupid game, but it would be rude to say no to friends.  I really want nothing to do with social networking sites, hehe.
Through all this, gardening has gotten done though.  I haven't shirked that duty.  But before I get to my garden, for Mother's Day we spent the afternoon at the Bellevue Botanical Gardens.  I was kind of bored because it was 99% flowers and trees, but the mother's and kids had fun.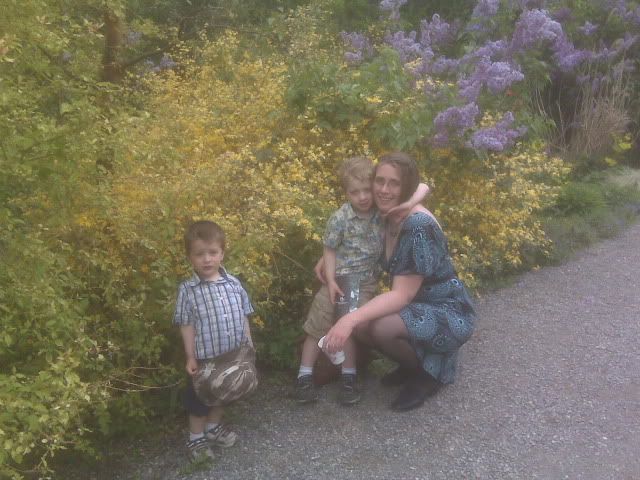 And of course my Aunt was in her element.  All I could think of was 53 acres of weeding, hehe.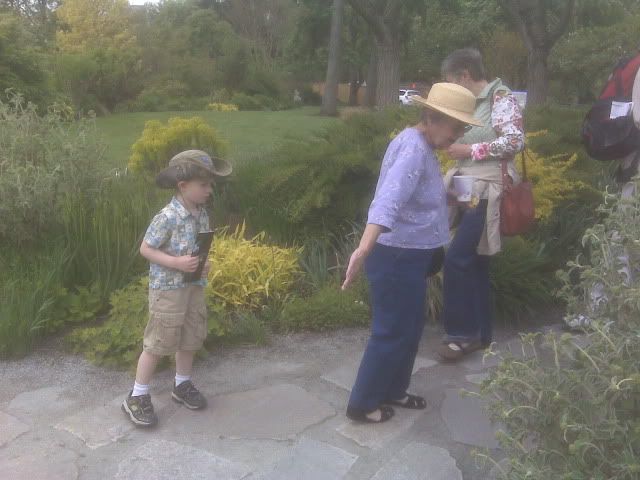 My favorite thing there was a tiny demonstration garden.  They had raised beds with gravel walk ways, but their lettuce was ages behind mine, as was their broccoli.  The only thing they were ahead of me on were peas, but I know I started them late.  Made me feel good since they probably have master gardeners tending that garden, hehe.
For the garden, I took Judy's advice and soaked the cantaloupe seeds.  Out of 5 seeds, two sunk easily, one took some coercing and two didn't do anything.  Not particularly viable after a year.  Shame.  Anyway, I planted all of them in my large SWC, so we shall see what sprouts.
I also filled in some empty squares and sparce carrot growth with new seeds, so hopefully I will have some good succession plantings of everything.  Of course I still have TONS of open spaces. Not sure what I'll do with all of them. 
Lastly, for those of you that were concerned for my Bloody Butcher tomato plant, it appears it was just shock, because the top seems to be growing again.  Too bad the stem that had that huge cluster of blooms still doesn't look good.
Well, check back tomorrow for another post. I'm back at it again.  Hope you...
Enjoy your garden!