Not sure how to start this blog post tonight, but I guess I'll start with something that made me mad.  A Facebook "friend" posted a story today about three giant organic food retailers (Whole Foods is the only one I recognized) all caved to Monsanto and met with them to start selling GMO produce in their stores.  I know we can't get away from the THOUSANDS of products made from Corn #2, their biggest crop, but I do my darnedest to stay away from anything I can that they've touched or profited off of.  It's just sickening that they have that much sway in the retail world.
Anyway, on the homefront, I finally got tomato sprouts!  It sure took long enough.  Maybe I should consider using our regular heating pad on low under my germinating seed flats.  I fear they'll be too hot and dangerous, but can't afford the proper heat mats.  So, I've got some sprouts (two to be precise). I personally think I shamed them into sprouting since they think I planted up their replacements last night.  I really planted the Legend, Stiletz and Stupice I got from Territorial yesterday.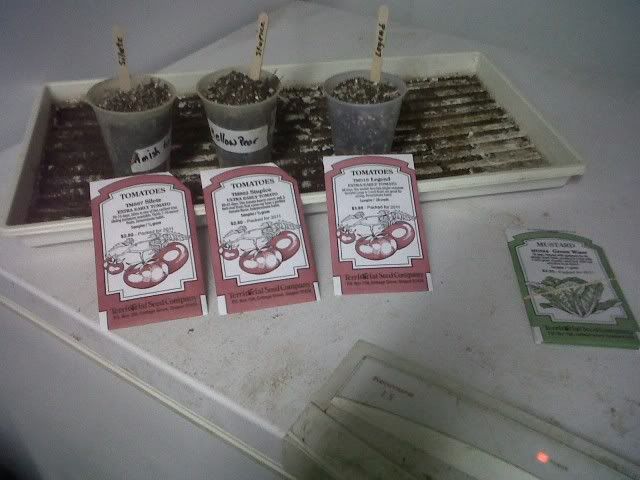 Speaking of my order, I'm not sure when to plant my Green Wave Mustard greens.  From the Territorial site I see I should plant one or two per SF, which is fine since I want to try them out.  The 2 foot tall plants though scare me. I think I'll harvest them early to keep them young and salad-worthy.
Lastly, I've been tinkering with my seed germination spots.  You may recall I put my tomatoes on top of the TV, under lights and under my heat vent.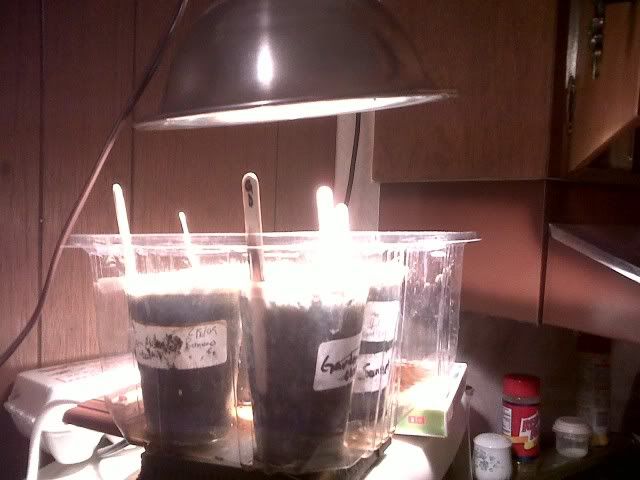 Unfortunately that was generating temps in the 90 degree range.  Too hot for seed germination. So I turned off the light. No problem.  Ah, 75 degrees, perfect!  WELLLL, then two seeds germinated today and need the light.  Even with a CFL bulb in the fixture, it's too hot (80ish). I don't want the plants getting the wrong idea that it's 80 here when it's 40.  But I need light, so I had no alternative but to move the setup to the other side of the stove.  Unfortunately that means the light is about a foot above the bin.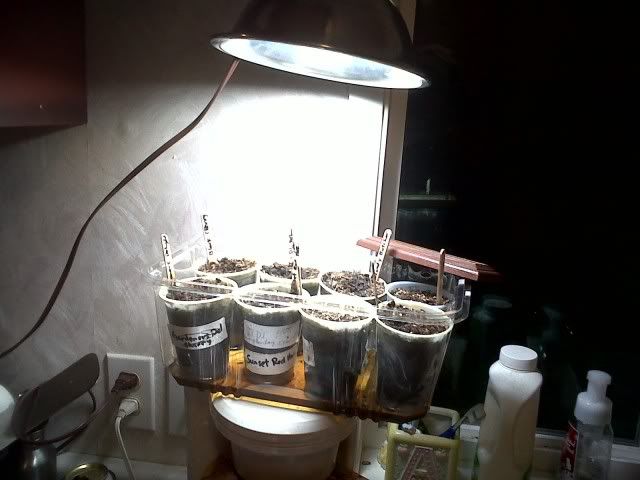 It's either too hot or leggy plants.  Joy.  Well actually, the solution is tomorrow when the seedling actually creates it's first leaves, those two plants go upstairs under the grow lights.  I could use the room anyway.  Maybe I'll replace them with a few more of my new varieties.  I have SWC scraps that I can put more tomatoes in.  Not sure.
Anyway, on the chicken front, I've got conflicting information from the Bothell Feed Center.  The woman who helped us when we went there Sunday made it clear that we should get chicks within a week of each other, and to bring the initial chicks back with us when buying new ones.  Everything she said made sense.  So after my wife and I changed our breed preference based on the arrival times, I emailed the Bothell Feed Center to ask which of my options was best.
1) Buy 2 chicks on day, bring them back the next, get one more, then bring them ALL back a week later to pick up the last chick, all with less than week old chicks. There's no way for me to keep 95 degree temps during the 13-mile round-trip car ride.
2) Possibly wait until the day the third breed comes in and buy three birds at once, assuming the other two breeds are still available.  I would hate to substitute breeds yet again, so I was hesitant with this plan.
3) The final option would be to drop the third breed arriving the day after the first two, in favor of a similar looking breed arriving the same day as the fourth, cutting out a trip to the store.
I must say, I got a response early the next morning from the store manager.  He contradicted the other employee. He said he has added chicks up to 4 weeks apart (how he handled the temperature swing in the brooder I have no idea).  He also said it would be best to leave the nice warm chicks at home when I go back for the others.  Total contradiction!  Anyway, I'm going with his advice. I'm going to get the ones I want and leave the chicks at home when I go.  I do think I'll skip the Rhode Island Red in favor of the Barred Rock for the simple reason that SOME RIRs can be mean.  I am not worried about that as I plan to handle the birds often, and my wife is excited to as well (kids always want to play with them).  They'll be friendly for sure!
Make sense? No, well no problem. It's just my new obsession creeping into my blog.  Thanks for being patient with me.
Enjoy your garden!