Quick housekeeping issue.  When I fixed the posting issue I opened up so anyone could register.  Since that time I've had a SLEW of folks registering for my blog.  That is awesome, however, I haven't heard from any of you.  I hate to assume that folks are registering for any other reason than to learn about gardening and our adventure in sustainability.  So, I would like to hear from folks that don't post regularly.  Just a quick line or two saying what why you are here or what your garden is like, or how you found me.  Anything really.  I just want to know that I got 30 odd registrations in a few days because folks care about what I'm doing here.  The last thing I want to do is to delete the registrations of anyone or change the settings.
Ok, enough of that. I finally made it over to my father-in-laws to chat about the coop design from a carpentry standpoint.  Gotta love having a Master Carpenter in the family.  Anyway, he was a big help, even if he did keep relating all our fancy coops, brooders and research to his previous experience with chicken raising.  All he did back in the day was let them free range and collect a few eggs a week.  That sure is one way to do it.  What I found out about our design is that it's solidly built and should work well for us.  To make mine lighter I'll use 2x3s instead of 2x4s except for the trex on the bottom to keep it from rotting.  I also found I should use tons of L brackets to firm up the structure so it doesn't torque if and when it's moved.  Speaking of moving, since I don't plan on moving it regularly, we're not going to put wheels on it. Instead we'll just use a hand truck to drag it where it needs to go.  Lastly, he recommended for a natural light source to take the entry door for coop cleaning an feeding and make it out of plexiglass.  That side gets late evening sun so hopefully it won't heat up the place too much.  Oh and of course he offered to help build it... YAY!
I finally got digital copies of my coop design so I thought I'd upload them here.  Feel free to comment on them, though I warn you, they've been altered a bit, especially in the roof design. 
The new roof design will be a slant shed-type roof to reduce the weight.  No trusses.  Oh and of course aside from the bottom 2x4, the rest will be 2x3s now.  Also at the roofline will be a 6 inch gap in the plywood wall to allow for ventilation.  I hope that adding louver vents in the back side will create appropriate air flow rather than that dreaded draft!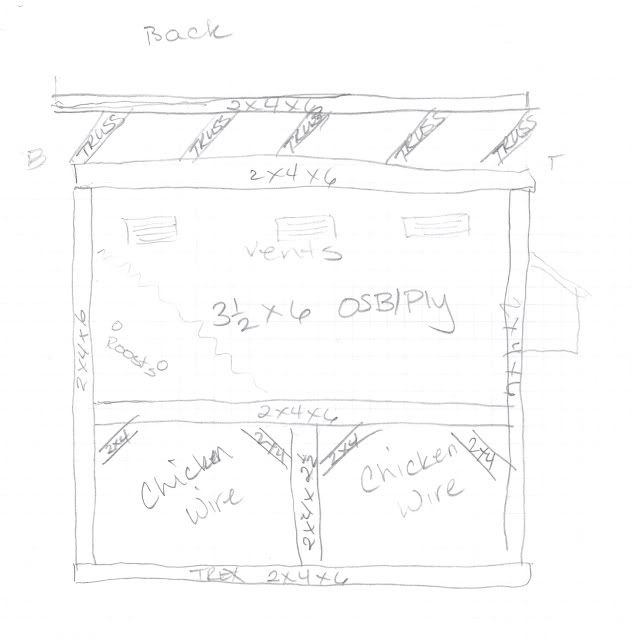 Let's see, what else.  The chicken wire is going to be welded wire or the like to keep out predators.  We've got a bad raccoon problem, and that'll keep them and anything else, out.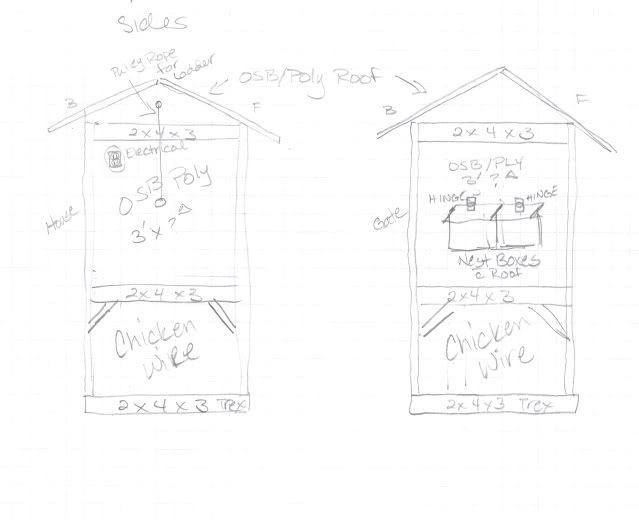 As you can see by the last pic, we'll have 2 nesting boxes and an electrical hook-up.  It'll be one that requires an extension cord to power the outlets on the inside.
Enjoy your garden!