Man, my blog schedule is filling up. Must be Spring! But I wanted to get this post out there, so it'll offset the coop construction posts.
I was out the the garden the other day, taking my tomatoes for their walk and checking on the rest of the garden. What I found was my spinach bed was sprouting like mad.
I've been reading my garden buddy's blogs and found many using row covers for their spinach to keep the leaf miner flies away. I've had issues every year with leaf miners, so I figured I'd give it a try. I saw them with their fancy mesh covers and thought... "I've got something like that." Sure enough, I'd saved the mesh covers from our recent couch purchase for gardening. They tear easily, but I found a small one that was in good shape. So, I threw it over the bed and weighed it down with some scrap 2x2s my kids were playing with and left all over my garden.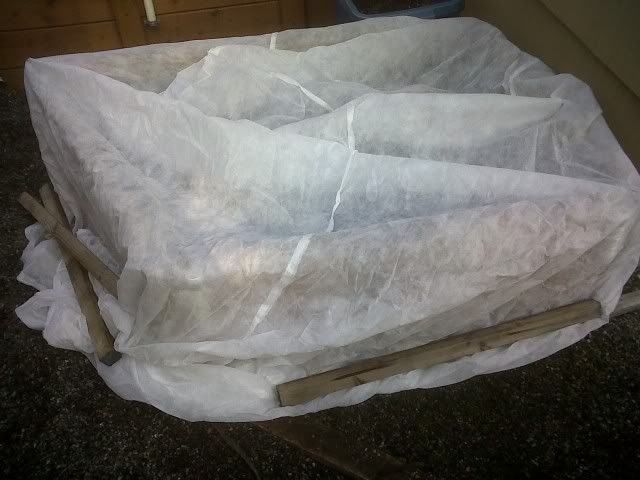 That was all fine and good for a few days, but when it rained, the mesh would be plastered to the ground. That couldn't be good for the poor little seedlings. So I had an idea. I could use some of those scrap 2x2s to raise the row cover! I just leaned them up against the side of the bed, sort of wedged between the bed and the hoop cover stands.
It wasn't as easy as I'd hoped, but I manged to wrangle the row cover over the bed, held up by the 2x2s. It doesn't have to hold up to a Fall wind storm, and it's very temporary, so I don't care if it looks good. As you're likely well aware by now, I'm a function over fashion kind of guy.
Since this time, I've thought about maybe throwing my hoops up and draping it over them. I'd probably need one of the bigger covers for that. Of course, this is only temporary, RIGHT?!
How long does this need to be up? Watering's a pain, but not nearly as painful as destroying ruined spinach! If it needs to be up for a long time, I'll definitely get the hoops out and make something more user-friendly.
Thoughts?
Enjoy your garden!