Man am I exhausted! Yesterday was an entire day of trying to replace a broken kitchen faucet (and to add to Murphy's Law, today the bathroom faucet broke). My arms and back were sore from that one, hours under the sink. After these projects are done, I should have enough hours under my belt to be a journeyman plumber... just kidding, I'm useless.
Today was beautiful weather, the first day without rain in 47 days, so I'm told, so I took the fleeting opportunity to mow the lawn. Just to be nice I mowed the front first, and as a result, I'm hoping it won't rain tomorrow so I can mow the back for the kids. Ah, to have chickens to do this for me. You see, on top of being sore and tired, I'm highly allergic to grass, especially the fresh cut kind, ROFL. But the compost likes me.
First I grabbed the very full kitchen compost bucket, and the much lighter chicken brooder compost bucket, and mixed them with some grass the kids "cut" with their scissors the other day. I added them to last fall's leaves in the empty compost bin, which will be this year's hot compost area.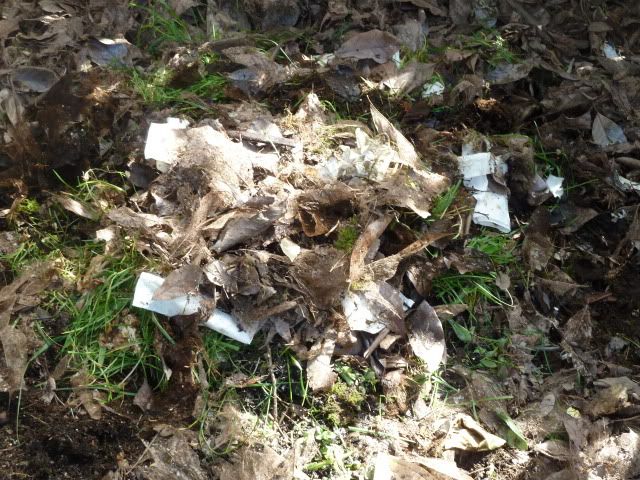 I must have been very tired because I didn't even snap any shots of the HUGE pile of grass clippings and various brown materials dumped on top of this. I must have a 2 feet tall 5x5 pile now. Unfortunately I was too tired to de-winterize the backyard hose bib and hook up the hose, so I didn't add any water to it like normal. Here's hoping it will still heat up from the moisture in the kitchen compost and the grass. If it does, I expect it will be cut down to 6 inches in less than a week.
Update: I snapped a shot today and didn't want to clutter a post with it, so here's the loaded compost bin with 2 feet of grass clippings about 5x5.
Well, it's only fair that I've been talking so much about my garden activities lately, I should really show you just how big the girls have grown in less than 3 weeks.