Wanted to wish everyone a Happy Thanksgiving!  I have a ton to be thankful for.  Of course there's my loving family that has supported me through this crazy time at the office.  But what's new this year is all my garden buddies out there, and I've made a ton of them.  Not trying to leave anyone out, there's EG in Alabama, Judy also, DoubleD here and Sandy too, Granny not to far away when she's in town, Dan up north and pretty far east and Chrissy way over in NY.  I've learned so much from so many people and forums, I couldn't have done it without you!  Thank you!
I'm posting this message Wednesday night, after midnight because I'm amped from going to see Beauty and the Beast at the Village Theatre in Issaquah with the kids.  It was fabulous!  The vocals barely topped the set and costume design, that's how good it was.  But what's even more amazing is that it was a 100% local cast, not the traveling Broadway troop that was the only other time the musical has been performed in Seattle.  Yep, this was a first for this area, a big coup for a small regional theatre.  5th Avenue eat your heart out!  hehe.
Oh, because I was out all evening, watering will fall on Thursday this week.  It has been very dewey in the mornings so I'm hoping to find the ground moist under the hoop covers tomorrow morning.  And I plan on having a salad for lunch because, duh dinner is going to be a very heavy affair. 
Unfortunately I don't have any good garden pics yet.  But the other day I was riding into work and the weather was cool and crisp.  I happened to witness a miraculous sunrise, so I snaped a shot from the bus.  I hope you enjoy it, despite my camera not doing it justice.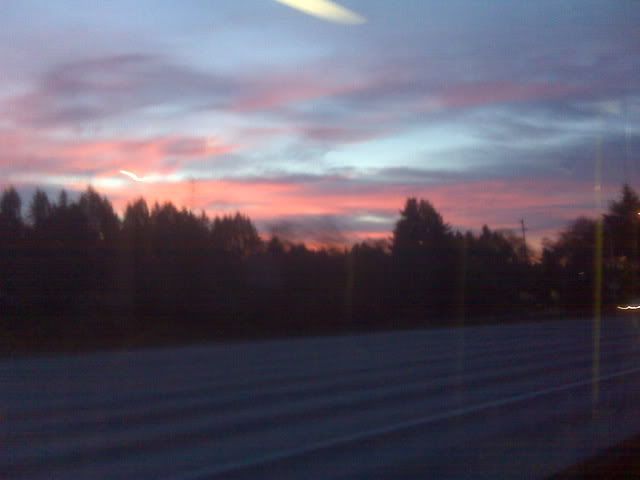 As for my book. Right now I'm reading about cold frames.  Of course Colman writes about cold frames. It is freezing in Maine most of the winter.  Using a cold frame in Maine keeps the inside temp slightly above 32 degrees, keeping the cool-weather crops from freezing.  Although it doesn't allow them to grow, so you need a huge cold frame and rows and rows of greens to keep yourself in fresh salads all winter.  Here, all you need are flimsy hoop covers like I have.  And even then, I'm crossing my fingers that my greens will continue to grow after I harvest.  Sure not nearly as fast as spring, but hopefully enough that we can have a salad or two a week all winter long.
Outside the book, there has been a fair amount of discussion about rain water collection on the various sites I frequent.  This being the rainy season I can understand why.  I for one have two great spots picked out for rain barrels.  One near my blueberry bushes and three in my garden area.  I'm hoping that I can find some really cheap food-grade 55-gallon drums that I can doctor into rain barrels cheaply.  But even if I built them now, I don't think I'd hook them up.  With the rain we get in one fall or winter storm it would overwhelm ten rain barrels.  Somehow I think that's not the point.  You want to keep the barrels full but not to badly overflowing.  Either that or figure out an easy way to disconnect the system.  Not sure.  I'll have to think on that.  Of course my setup won't be anything as cool as either Sandy's or Judy's.  They've both got a half-dozen plus barrels linked together which is over the top amazing!  I don't have that kind of space (both have at least one acre).  Hehe I do everything smaller in my cramped yard.  But that's the beauty of gardening, big or small it all works.
Just make sure this coming year you start a garden if you haven't already.  If you have, consider what you can do to expand it.  Another topic I've been seeing lately on forums is the idea of doom and gloom scenarios about the economy and how it's driving more people to garden.  Now nobody should be thinking doom, but gloom is definitely here to stay for at least the next year, longer in some areas.  And while I don't think the economy should be anyone's reason to start a garden, it is a good second fiddle to one of the countless other good reasons.  It sure is to mine.  Smart or lucky, I started a hobby-stress relieving garden 6 months before I believe you'll find we entered a recession, though before anyone but a few economists were talking about the R word.  And boy am I glad now that I did.  We spend next to nothing on veggies in our house.  Just think about how much you save from your garden.  Sure my garden area cost a small fortune (it doesn't have to, but that's another post), but it's a sunk cost and I'll never have to spend it again. 
So enjoy your garden, or plan one for 2009!  And Happy Thanksgiving!