Well, I'm exhausted after a good long full day.  It started out with our kids graciously allowing us to sleep in a bit.  I actually beat them up at 8.  While the kids were waking up, I headed out to the garden.  I didn't get out there yesterday and vowed to get a garden tour out.  Besides, there were to-do items for the garden.
I'm getting back into the swing of gardening under cover.  I've got watering pretty much down, having not done that since last April.  But after that, I wanted to take some pictures for you all.
Here's the standard shot for comparison purposes.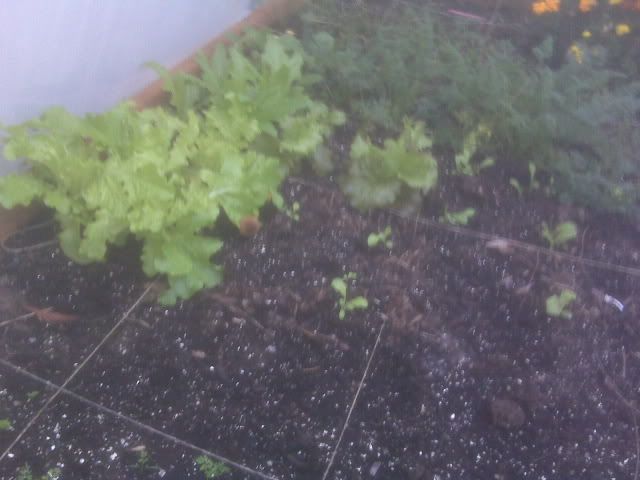 It really is looking like much of the lettuce is actually ready for limited harvest.  We won't be having daily salads, but I really would like to have a simple salad this week.
And if you notice, the succession lettuce that supposed to be ready come December and January...
Much of the succession lettuce needs to be thinned, and also have started growing their first true set of leaves.  Perfect timing to thin and transplant.  Not sure if any of it will take hold, but if nothing else, I've thinned it down to one plant per area.  But if it all works out...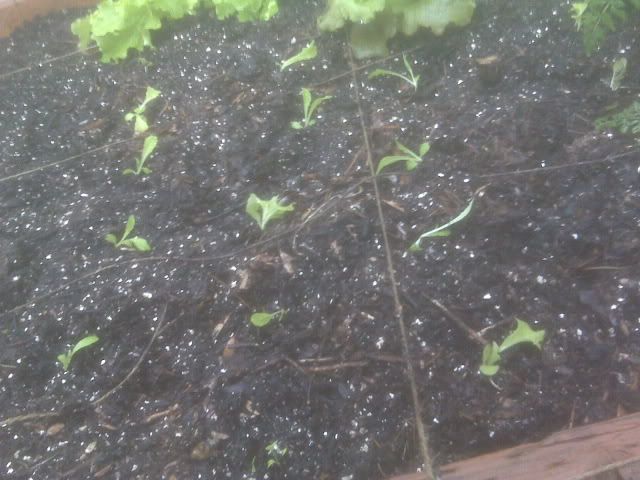 All these squares will provide daily salads in December and January!  And next year I'll grow more squares of fall lettuce.  Heaven knows I've got the room for it.
And in the front of that bed, look how well the carrots are growing... well at least this one so far!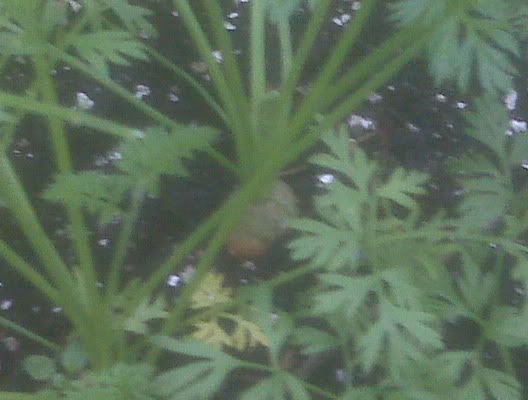 Sorry for the bad photos, the camera doesn't do well under the covers.  Not enough light I guess. hehe What does that say for the plants?
What does grow well under there are shooms.  Sheesh, every week I clear these out!
But I can't say that plants don't grow well, look at these radishes...
Of course, getting home so late and not eatting well has resulted in me missing a great spinach salad with tomatoes, cukes and radishes.  The tomatoes are rotten, the cukes are going to seed (yeah!) and look at these radishes!
But don't worry, those were just the past-prime ones. There are plenty more good ones where that came from.
The spinach has tons of huge leaves that are ready to eat.  And boy do I want to eat them.  Of course there's leaf miner rot, but not so bad that the rest isn't edible. 
And what's that growing behind the spinach?  Yep, my peas are gamely trying their best to grow in this weather.  No doubt I should have planted them earlier.  Who knew.  Next year.  But regardless, look at this!
I've counted no less than 5 blooms that will eventually produce peas.  Of course I hope to see more growth and tons of blooms, but no sun's going to bake them, so I hope to have peas harvested all winter long. 
Unfortunately, time slipped away from me and I didn't get a shot of my cauliflower, which is doing very well.  The green onions are past their prime but probably still edible.  The cukes are completely toast, but next weekend I should have some ready to try to save the seeds.
The reason I didn't have much time was that I wanted to make pancakes for the family and I needed to run to the store for eggs.  Of course, the Dervaes just head outside to get eggs.  No, I'm not going to get chickens, but someday I may.
After breakfast, I left the family yet again to head over to my folks house.  We packed and moved two loads of stuff from the old house to the new house.  The reason for the packing was that we've run out of boxes.  No boxes, no packing.  And as you may have suspected, the family is getting a bit frayed at the edges that it's taking so long.  So this weekend we all started helping to pack.  Unfortunately my dad's and brother's knees aren't what they used to be, so I ended up doing most of the box carrying. Up the stairs and down the stairs, all day long.  Boy am I sore.  Everyone was exhausted.  But it was little old me telling folks to keep it moving as we lost light.  Moving in the dark sucks. 
Well, I'd hoped to take a nice hot bath to relax some of my sore muscles, but I think at 10 I'll be much better off if I just hit the sack.  LLOONNGG week ahead of me.  So I'll head to bed and finally start my book.  Then I'll try like mad not to surf the garden sites on the bus ride, instead doing what I used to do before I got my blackberry... read a book on the bus.
I hope you enjoyed your garden this weekend, the weather cooperated for the most part around here!