Well, today was fun and productive.  It started out very early, since kids don't understand day-light-savings.  And since I'm the one that gets up with the kids on Sundays, I didn't get to sleep in.  But the kids and I played and had fun.  The Pumpkin Fairy came last night and traded 95% of their candy for a build a bear stuffed animal.  Much better for their teeth, hehe.  So we played with their new friends until mommy woke up and then I made french toast and smoothies for breakfast.  When the rain cleared for a bit, the kids and I went out to play. 
I cleaned out the two SWCs.  The new one I built survived nicely to grow another day.  But Toasty's handmedown didn't fair so well.  It broke in several places so it's no longer water tight.  So I guess I'll recycle the plastic and build several new ones for next year.  Just a hint. I recall finding the bins on sale for spring cleaning at the big box stores.  That's when they get in their major inventories and need to get them out of the store cheap.  That's when I'll build a few more.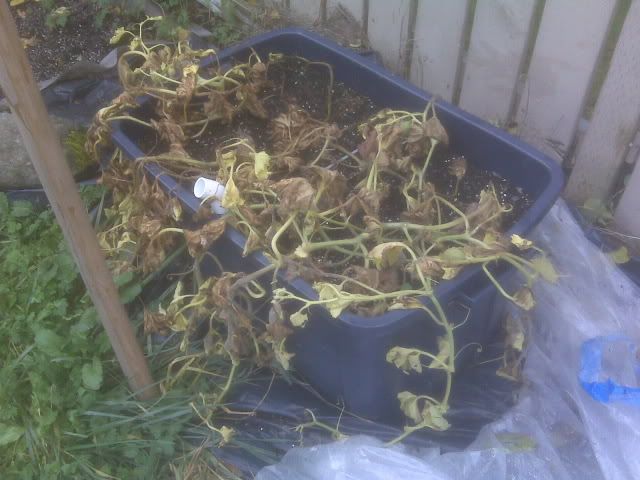 The dirt went on top of the compost bin. Supposedly it helps to add compost to a compost bin, so how about a ton of used Mel's Mix. I also mowed up all the fallen leaves in the back yard and dumped the mulch into the compost.  When I added the kitchen compost though, it smelled to high heaven.  What that told me was that the lid on my kitchen compost bucket is doing great!  No smell or bugs get in or out.
In the garden I finally cut the excess plastic from my original bed that I had been bunching up on the ground, and added it to the back of bed #3 to completely cover it with plastic.  While I was doing that. I noticed I only have a handful of tiny cukes growing.  The weather has really stunted their growth, as has the complete blight of the vines.  My hope is that the cukes will grow bigger and turn yellow so I can harvest seeds from them.  Why not? I've only got three seeds of each variety left to plant next year. Hopefully I can harvest a bunch of seeds to make more pickles next year and the year after and after!
Five minutes after we came in, the sky opened up and it starte pouring rain.  I knew there was an 80% chance of rain for a reason. hehe
After lunch I went over and did a load of stuff worth of moving.  After working in the garden, all those stairs was a bit much.  We were all cranky so after one load we decided to call it a day.  It was dark when I got home so I played with the kids until bed time and then snuggled in for the evening in front of the computer.
You see, while I was moving I got an email from none-other-than Patti the Garden Girl!  I'm a member of her message board (among many other boards), but she's brought together experts in various fields and created someplace special to get questions answered and have discussions about all aspects of urban sustainability.  It's a cool place.  So anyway, the email wasn't her regular newsletter. It was addressed to me.  She wanted to know if I'd write about my story for her ezine!  Very cool.  So I spent a few hours drafting something up.  And if I'm lucky, I'll get to write again for her readers.  Little old me.  Who'd have guessed?  I'm nothing special, but hard work and tons of failure has taught me a lot.  Funny though, I post here and elsewhere every day, and I write for a living.  But for some reason this assignment is hard.  I guess I want it to be perfect, and I'm so not perfect in anything else I do.  Sometimes it's a problem at work, but I am less concerned with perfection than the big picture.  Now I get to refine and rewrite until it's as good as I can make it.  It'll be fun.  Anyway...
Enjoy your garden!