WOOOOOOT!  I got my taxes done. They're filed and it's over for another year (hopefully)!  Now I can quickly write up a new blog post to let you know what's going on in the garden.  But before I do, I have to say, I keep getting publicity over my potato page.  I figured I'd have my 15 minutes of fame, crash my picture hosting link and call it a day.  Wrong.  Apparently folks have linked me to places like StumbledUpon and TipNut.  In fact, over the last two days, I've had over 3,500 hits!  That's nearly what I got when the Times story was published.  Last time I got about 200 more regulars out of the deal.  Let's hope I get another 200.  Wouldn't that be something!  So keep it coming and if you're reading this, comment. Let me know what you like, don't like, want to see, etc.
Well, now for my post.  First off, if you remember the entire seedling tray of soil blocks packed together such that the roots were growing into the next soil block over.  Well, I took the opportunity one evening to plant as many of my seedlings as I thought were big enough.  This is what I've got left in the tray...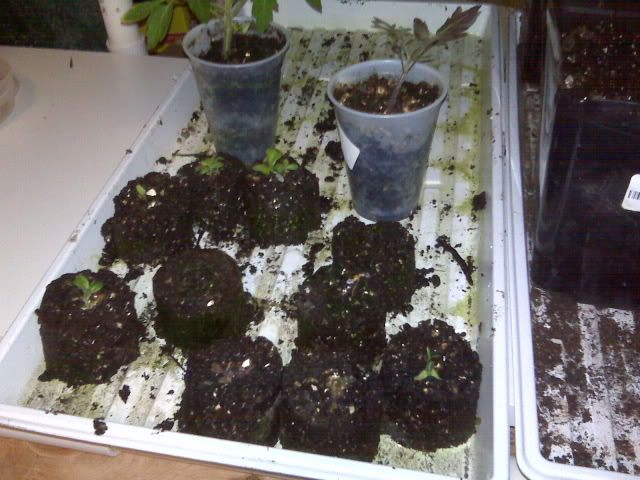 What's left in there? No clue. None whatsoever.  Some died, no problem. I need the soil blocks to replant.  The others have to grow a bit so I can figure out what they are.  Some of them may be stevia.  I have no idea what it will look like.  So much so that I have since planted another stevia plant (that would make 4 when I only want one) hehe.  This time I bought a fire glazed clay pot to plant it in.  That way I can bring it inside for the winter in the hopes that it will be a perennial.
So, where in my garden did all the soil blocks go?  Well, I was planning on the fly as the sun went down.  No clue why I was in such a hurry, but I was.  First off, I had a TON of greens to plant.  I don't think my Italiensheir lettuce germinated well for me, so I will want to direct sow that soon, but everything else went gang busters and had to go in the ground or be harvested as indoor lettuce.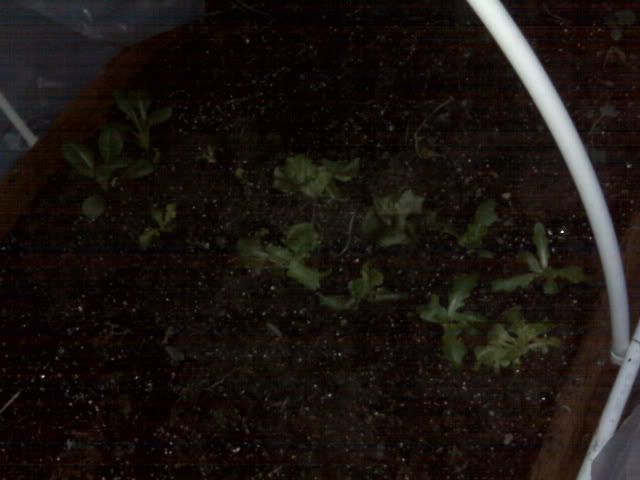 Yeah, it's dark, sorry, I wanted to see where I was planting and didn't think to take pictures until I was done.  Oops.  At least you can see the row of green, starting with what my readers say is the mustard greens.  Not sure if they're close to being harvestable.  I've never had them before.  I want them for salads, so I guess I'll just harvest them when I harvest my lettuce and spinach and see how it tastes.  The rest of the row is mostly Red Sails, with some Salad Bowl thrown in, I think.
Aside from greens, what I planted the most of that evening was broccoli.  Kinda sad that so much germinated and did so well, because I'm the only one in the family that likes it.  I had to direct sow cauliflower because it did horribly inside this year.  It wouldn't germinate even if I pregerminated it (I did a bunch too).  Very odd, I know.  Anyway, I ended up planting broccoli all over my garden.
This group is right in front of the direct sowed cauliflower.  My experience from last year showed that cauliflower is one of the few plants in the garden that block more sun then broccoli, so there you go, broccoli, then cauliflower.  Oh, and you see the overwintered, overgrown green onions.  Well, I haven't had time to harvest them and freeze them like DoubleD suggested, but when I do, those squares will get cauliflower as well.  Behind that will go peas (it's where cukes went last year).  I should really soak some peas tonight so I can plant them (very late) tomorrow morning.  hehe.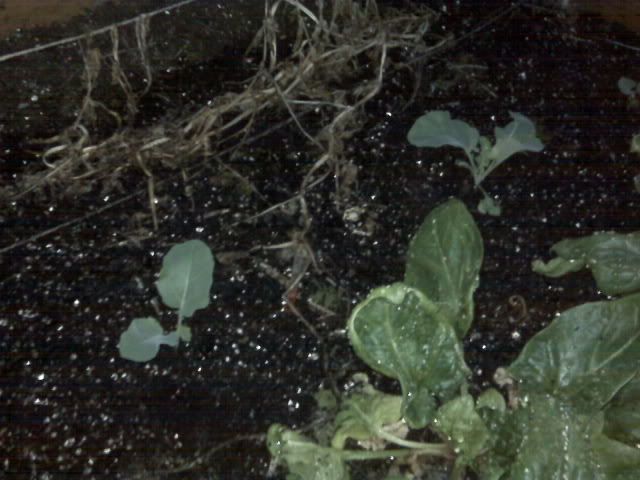 Here I planted broccoli behind my overwintered spinach that's just going to come out.  It's looking very tough, so I'm not going to make salads with it.  If I liked cooked spinach, that would be a differnet story, but we don't.  Oh, and I won't compost this, because of the leaf miner issues.  I have no clue how to rid myself of them other than catch each leaf quick and get rid of it. 
And behind the broccoli is my second row of cukes.  We're growing tons of plants (16) this year to try to pickle more than we did last year.  Even though my wife's not eating them, I've got dibs called out on both sides of my extended family for any pickles we want to part with, hehe.
Here is the row that I got to grow inside.  Since they're warm weather crops and the weather's still cold at night, I put the hoop cover back up for this bed (it's the lettuce bed as well).  Right now it's 45 degrees and should hold that way all night.  I hope that's not too cold for cukes. I know I'm taking a chance planting them out so early, but they grew too fast inside (those that germinated).  Next year I'll plant later and not listen to my brother's calendar, hehe.
Other than that, I've just been taking the tomatoes for a walk every evening, including tonight where it was cloudy and overcast and 50 degrees.  They've got to get used to it sooner or later.  They're going in the ground next weekend.
Well, that's it for this tired gardener.  Tomorrow is a free Saturday, so I'll plant some, turn the compost and water if necessary.  Then we'll pack up the van and head over to our friends to build us some
Self Watering Containers!
I've been waiting for tomorrow for a very long time.
Enjoy your garden!