It's time to pot up my tomatoes!  In fact, it's probably past time.  Much as I love doing it, I had to devote nearly an hour to the process.  So it took a while to get around to it.  Today was the day! 
Do you think this one's ready to be potted up? hehe
That yellow is due to it being root bound.  Of course those got burried but I should have got to this earlier.  These first seedlings were started from seed on 2/8/09.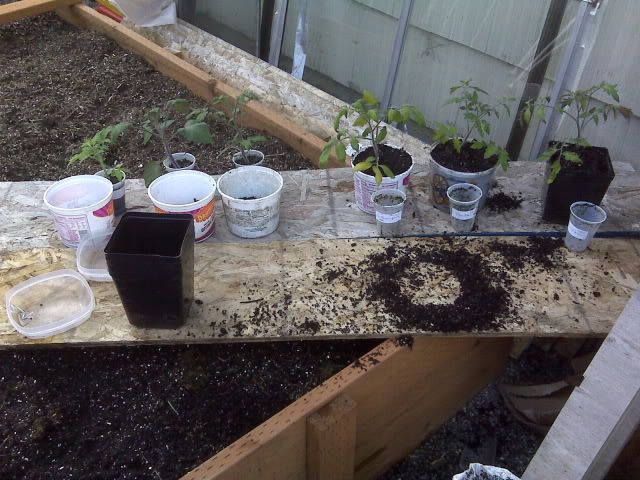 As I said, whenever possible I burried the first leaves.  You can see that I worked on a couple of planks run over my bed. That way the overflow just got swept into the bed, no problem!  I also recycled old cottage cheese containers and reclaimed pots from
Emery's Nursery
. They have a recycling bin for old pots. They're close to my house so I stop by after work, check out the garden supplies and plants, then grab what I found that worked for me.  Very cool.
When I got them upstairs for the evening, there wasn't enough room for all of my trays under the lights, so I had to turn two of them sideways.  Goodness I've got to plant out those greens!
What the heck am I to do when my teacher's seedlings potted up?  The only option is to plant as many of the other soil blocks as possible to save space.
By the way, I forgot to mention that on Sunday it hit 109 under my hoop covers.  First I tried to vent the openings.
Then, when that didn't work, I just took the plastic off one side to let it completely vent.  That worked, hehe.
Since then the weather's turned back to the mid 50s and cloudy.  I so need to get those seedlings planted.  It shouldn't be a problem in the 40s for the cole crops, but I hope the hoop covers work for the cukes.
Enjoy your garden!