Happy Easter!
Ok, I broke up these two posts to keep continuity, so read the April 11 post below (yes, written on the 12th, but who's counting?). 
Now for the post I've been waiting for months to write... Saturday SWC day!  That's right, my wife and I got together with another couple who are good friends of ours.  They garden too, and were intrigued by my
Self Watering Containers
.  They have a concret patio area below their second-story deck that they have some potted plants on, but they wated to uses SWCs to grow tons of tomatoes along with the rest of their edible garden goodies!
So, over the last few months, I've been collecting the materials to make 8 SWCs.  Last week I finally had everything (I thought) and we set Saturday afternoon to build them.
I tried to let the ladies do the inside work so they could chat, play my wife's new Wii Fit and drink tea.  Here is the start of the process where we marked the cut mark for the aeration bench.
And yes, that's my dollar store find for the wicking baskets.  I just drilled a score of holes in it with a 1/8th inch drill.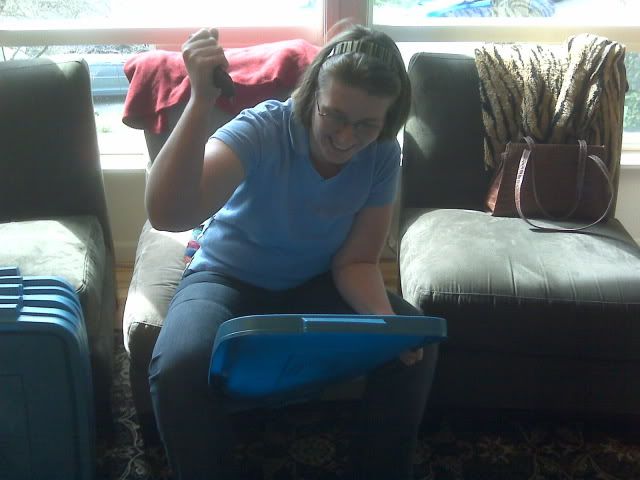 No, this isn't a pictue of my wife cutting the tops, but they thought it would be funny to get this pic.  Frankly, the one of her cutting was blurry and boring, so you get the fun one.  Yes, we had tons of fun.
It was really fun trying to assign tasks to folks while floating around doing little tasks necessary for the project.  Here I am drilling the holes while they played Wii.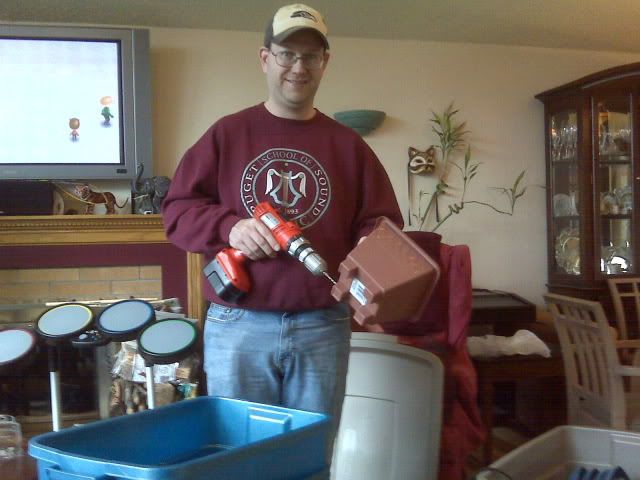 Outside, my best friend and I tackled the heavy cutting with jig saws and drills.
Here he is cutting out the holes for in the aeration bench for the wicking baskets.  If you can see, I followed the new
Earthtainer (TM)
instructions where you cut the opening smaller than the size of the wicking basket to limit the amount of wicking to stop overwatering.  It worked very well. 
In the background you can see their mini-greenhouse shelf system where seedlings are hanging out, and the herb planter boxes.  Also, you can see the scraps behind him that we will use as mini-raised beds like Judy suggests in her instructions, though for safety purposes, I will put the top up and the sharp end down for my kids gardens.  By the way, on one of our hardware store runs (every project needs two at least, hehe), I found Atomic Red and Solar Yellow carrot seeds for my kids to plant in their own 2 SF gardens!  Now to find where to put them.  Maybe behind my new blueberries.
Here is a good progress shot on the aeration benches.  One with all the holes drilled and cut and the others just starting the process.  It's coming along nicely at this point.
We had a bit of a problem cutting the hole for the fill tube.  The corner of the bin kept shredding.  Thankfully never bad enough to scrap the piece.  That's good because we didn't have extra bins, hehe.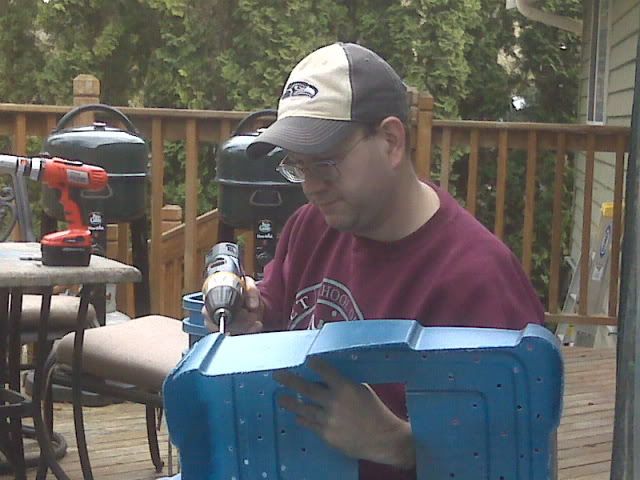 Ah yes, we were very proud of our fill tubes.  I had brought my handy dandy pipe cutter which cut the 1 inch pipe into roughly 2 foot sections.  However, to allow water to freely flow out of it, it needs to be cut at an angle.  Here was our brainstorm solution...
By placing the edge in the grove of the pipe cutter, it effectively sliced the corner off the pipe.
Lookie how well that turned out!  Now the water will flow nicely.
Here is some of the finished products...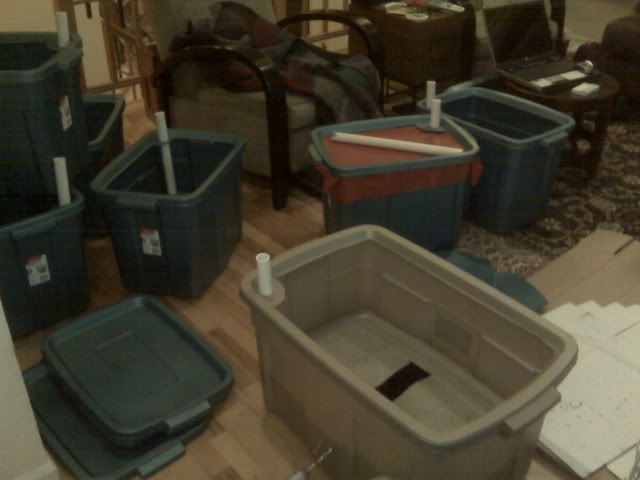 Of note is the red mulch that I picked up from Territorial Seed when I bought my seed order this year.  It is supposed to help increase tomato production 12-30%!  So we cut pieces for each of the bins.  Also, you can see my finished cantaloupe bin.  Not sure if red mulch will help there, but we had it so we cut it anyway.
So, it may have taken 6 hours, but we had one heck of a good time.  And as I said more than once yesterday, we only have to do this once since if they're put away at the end of the season, they should last many years! 
I hope this encourages you to build some SWCs and try them for tomatoes, if not plan a massive SWC building party.  It was extremely enjoyable and I would do it again... to bad we don't need to.
Enjoy your garden!