Well, it's been seven years since 9/11, and things in NY are still not right.  And things will never be right for those touched by this tragedy.  But we can all remember and celebrate this great country and how we came together to help those affected.  Now we can come together to stop giving our money to oil producing countries by conserving and taking mass transit and using our feet to go places and shop locally and if I'm forgetting anything, stop by Freedomgardens.org  and they'll fill you in. 
This afternoon my brother called to tell me that he had 5 pounds of cukes that he was going to pickle. He'd found a very popular recipie on the internet for dill pickles without the month-long marinade.  Instead you pack the jars with marinade and then store the pickles for two months before eating.  I couldn't get him to hold off since he had some past peak cukes and needed to do it today.  Apparently he's got more cukes ready soon to combine with mine for the next batch.  After going out and skimming off a ton of scum, I think I'm ready to can these as-is and do the next batch the post-canning marinading way.
Anyway, this evening I was trolling the boards and happened upon the GW canatloupe thread again.  I've posted there because all cubrits are pollinated the same and I've had great experience with my cucumbers by hand pollinating.  Well, re-reading it I got curious if I had any female flowers. I've read they follow in about two weeks and I figured it was close.  So I went out at twilight and presto! I've got female Minnesota Midget cantaloupe! (no cracks Granny!)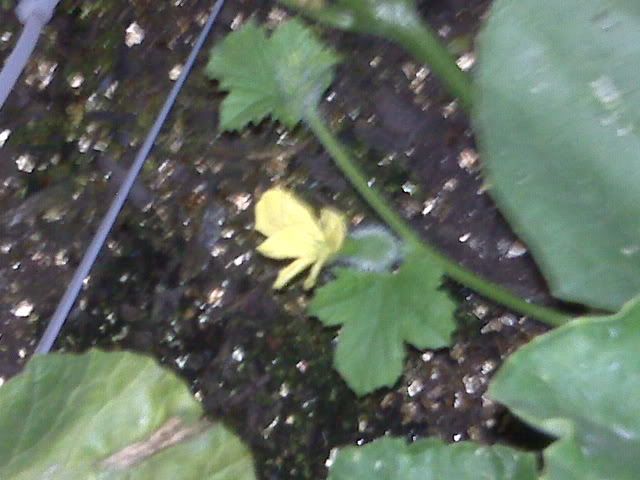 Again, sorry for the burry photos, I zoomed in all the way to take these and it is very touchy at that resolution.  But you can clearly see the baby cantaloupe there.  I won't bore you with the two others I found, but they weren't nearly as open as this one.  So I pulled the most open male and tickled it, and it's siblings too. You never know if it will work.  I've done it with the cucumbers so why stop now.
Anyway, I highly doubt we'll have the weather to take these to maturity, so I think I'll go for one per plant and pick the rest off to force all the energy into the one cantaloupe.
And while I was out there, I heard my eldest ask "Please can I you pick me a carrot daddy?"  So I couldn't help but grab him one on the way back in...
Not bad, and of course tasty!  He loves them. Now to get my youngest to eat his veggies.  Odd how kids are so different.
Well, lastly tonight, after wasting two days getting a new car, I finally broke down and made up a box for the potatoes.  I followed DoubleD's advice and used a banker's box and drilled 2 inch holes in various spots for ventilation.  Then I drilled tiny holes all over the top.  Then I grabbed some of my compost fodder, you know, the shredded paper and bills and covered the bottom with it.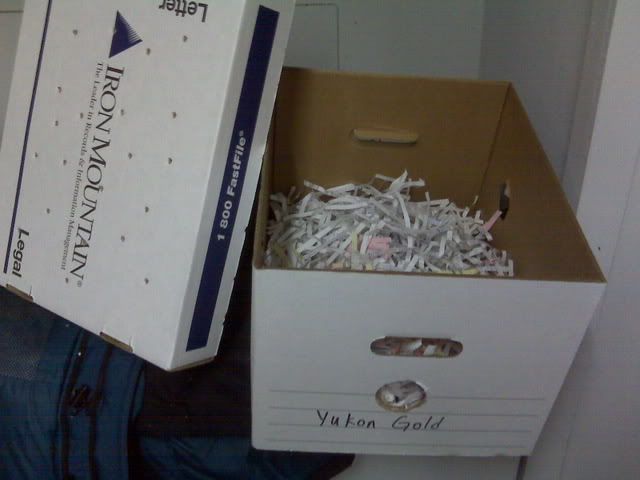 Then I dumped the bag of yukon gold potatoes in the newly built bin.
See the dirt on them.  I think it was DoubleD that said not to brush off too much of the dirt until I need them.  You don't want to damage the skin.  Though I do have to find the one that I peeled a bit of the skin back hitting it with a shovel when harvesting.  That I'll use first.  Then, I put some more paper over the top to absorb moisture.
Finally, I found it fits on the bottom shelf of the storage shelves we use to store toys.  It's not completely dark but it's shaded from the natural night.  I sure hope these store well. I haven't had any yet, but I hope to find some good recipies for yukon golds.  All I know of is to mix them into mashed taters with russetts or new potatoes. 
Well, as always, let me know if I'm making mistakes.  I'd hate to learn from my mistakes after my potatoes rot or sprout too early.
I can't wait until I can store my second box right next to it filled to the brim with russetts. Here's to hoping I can make that happen!  The bin is dying a bit more and more each day, but I've kept watering it in case it's a water issue.  That's the beauty of Mel's Mix.  It retains moisture well, but it drains incredibly well, so I don't worry about overwatering. It just drains through.
Well that's it for me tonight. Enjoy your garden!