What a day, what a day.  The weather cooperated nicely for the perfect outdoor working temperature with no rain.  I just wish I could have been out in it all day, but I'm getting ahead of myself.
My folks came over today and three of us cleared an area here...
to put the blueberry bushes.  Unfortunately earlier this year I took out a bush/tree from right under that pool that needed to be removed.  It turns out the stump was right where one of the bushes needed to go.  I figure I have JUST enough space to put two bushes there without crowding the gate or encroaching too much into the rose garden.  I will need to do something soon about that downspout though.  It will dump way too much water right onto one of my bushes if I don't redirect it.  I may need to get a rain barrel soon and place it there.  It's not where I wanted them, but it's a decent spot for one.  Then I could put the overflow valve over the fence where it wouldn't hurt much.  I hear that where Sandy lives the city sells them... I wish Mountlake Terrace did that.  I may have to make one.  I'm not that handy, but it may be my only option.
Anyway, this is the stump I needed to take out.
It doesn't look like much but all those little twig-like roots were all over the place under that sucker.  Made it challenging at best to get it out.  It took several hours of back breaking work to do so, but in the end, the monster stump was vanquished!  Of course the glove's just for size comparison.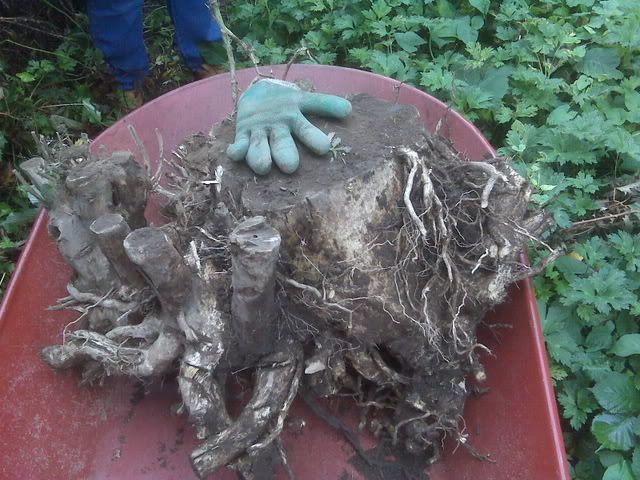 Immediately after removing that stump I jumped over to help my mother pick blackberries.  My dad, mom and I got about 1 gallon of blackberries before we had to call it quits to get ready for dinner over at my house for my inlaws.  We had baked-potato soup using my yukon golds and green onions from the garden.  Oh, and the salad was store bought lettuce (grrr) and home grown tomatoes and cucumbers.  All in all the meal was a big success.  Of course while stiring the rue I thought my arm was going to sease up, hehe.  I'm utterly exhausted.  I think I'm going to call it quits here and go watch the Seahawks game that I TiVo'd.  Go Hawks!
Enjoy your garden!