Well, the kids are asleep and all 17 pics are uploaded to Photobucket and I'm jammin out to my mellow mix of music while I fit a busy, but fun, day into this post.  Join me will you?
The morning was a happy one after sleeping in only to find that we were the proud owners of a new Blendtec blender.  3 HP of indestructible power! MUAHAHAHA! Jen, bring it on! Will It Blend here we come! Um, well, maybe we should stick to the "Try this at home" side.  hehe. Here's a shot of me starting to make smoothies with it.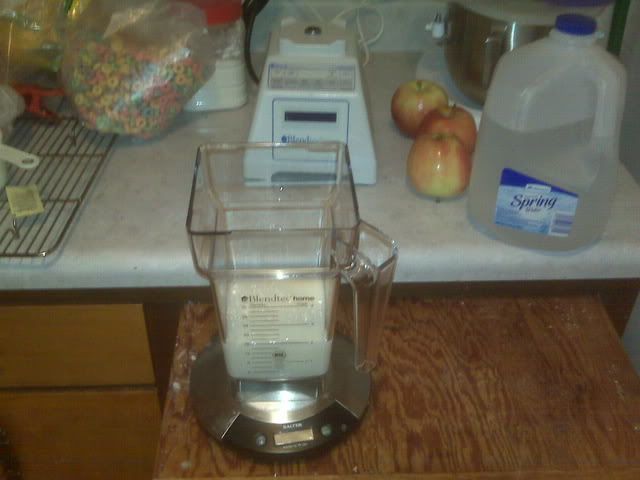 So far, I'm still working it out.  Maybe I'm filling it too much, or not adding enough water for it, or need to pulse it a bit at the end, but the top doesn't get the vortex I'm used to to make sure all the fruit is blended.  Time will work it out though. It still rocks!
So, after a fun lunch at the park with the preschool folks and kids (great fun was had by all), we came home and took advantage of the weather to wash the car.
Really, I didn't make my son wash the cars, he just played while I did the washing.  Afterwards, I watered the garden and took some time to snap some pics for you all.
I call this the wall of produce.  The beans are still not regrown enough to harvest, but I got 4 pounds out of them the other day.  And you can see several tomatoes ready to harvest.  Maybe I'll barter some lettuce from my brother's garden for some bread tomorrow. Oh, I'm getting ahead of myself.  But I've got cukes and tomatoes, just no lettuce for a salad...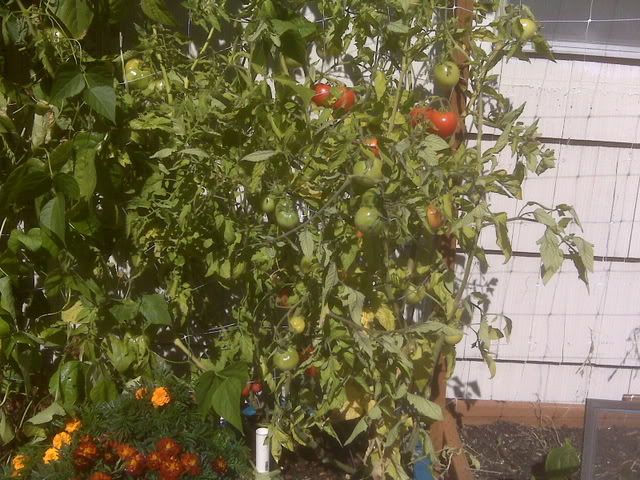 Here's a close up of my tomatoes. You can see tons ready or close to ready, including some Momomatoes, which have been totally green to-date.  They have however, broken branches with their weight. I keep threading them back through the trellis to support them, but they keep coming out.  Grrr.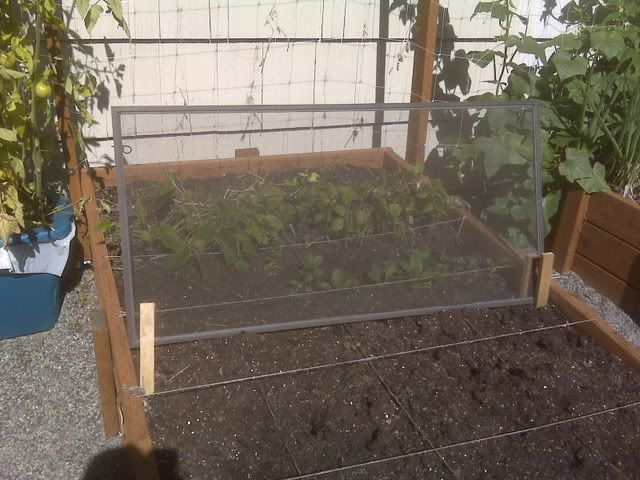 And here you can see the spinach doing well behind their shade to keep them from bolting in the late summer sun.  Not sure if it works but it's worth a try.  You can also see where I got poor germination and had to replant on the left.  The seedlings are just now coming up.  Behind them are my bush beans that I've not pulled, thinking they may regrow some more.  If not, they're fixing the nitrogen for me, perfect for helping the spinach grow huh?!
And behind the beans, I did a no-no and replanted peas after I yanked peas out of there a few weeks ago.  I don't have any other place to plant them.  So I mixed in compost and free fertilizer (aka Starbucks garden grounds), and replanted.  I don't know if you can see it in the picture or not, but I've got good sprouting going on.
Now I just need to take down that trellis and put up a single-bed one before they reach this trellis.  Come on cukes, tomatoes and beans... peter out already.  I don't want to yank healthy plants.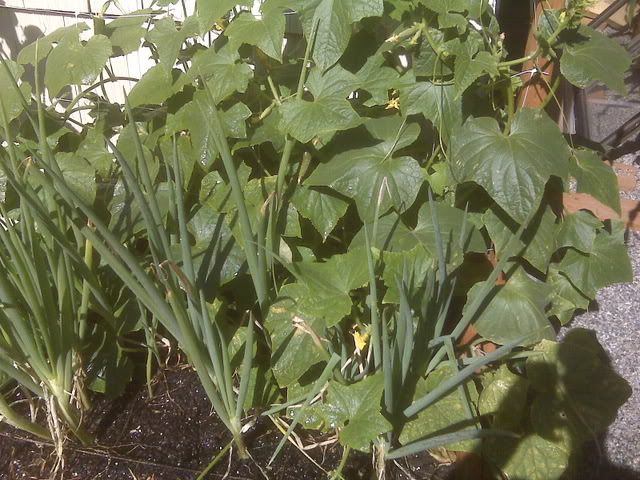 Speaking of cukes, look how they're overgrowing the onions.  Anyone need any green onions?  Come and get them.  We can't eat them fast enough and I want their spaces for more cauliflower.  Hehe  Can you see the tiny cukes growing? I've had great success hand polinating the female cukes. I'm impressed at my beginner's luck.  Here's what a few days growth will do for cuke growth...
Give these guys a week and they'll be ready to harvest.  I may just keep throwing them into the pot knowing that they'll not quite be as strong as the original batch.  Not sure.  But aren't they cute?!
And on the other side of the yard, here's the potato jungle that's finally showing some minor signs of dying.  Of course I've withheld water other than the rain we've gotten.  Not sure if it's premature or not, maybe DoubleD can lend some of her experience to this one...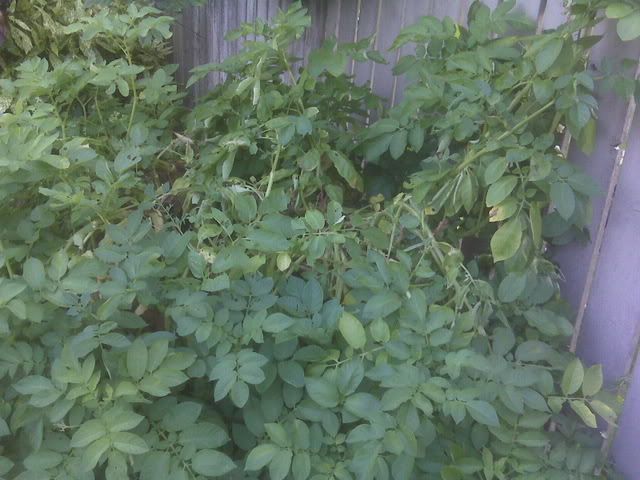 Now the yukon golds I am pretty sure they're done, if there are any in there. I said the other day I dug down and found nothing.  I think I'll pull a board and see what I find.
Just think of seeing these two bins next to each other. Kind of a ying and yang.  Although, in the middle is a SWC with three little cantaloupe plants that are giving it their all to try to produce for me.  Way to go guys!
No idea why it's so blury.  But you can see the flowers beginning to open.  I just hope they stick around until the females show up to the dance!
Ok, now, if you're here for my garden, then go ahead and stop now and come back tomorrow.  If you're Susan, keep reading because I took your advice and am providing step-by-step shots of my bread making.  My mother tried my bread and took the rest of it home with her to share with my Aunt and Dad.  So we're out and I needed to bake more.  No problem, I wanted to try to get the process down so I get a light fluffy golden brown loaf. 
So last night I pulled my starter from the fridge and fed it an equal amount of wheat flour.  This morning I found this...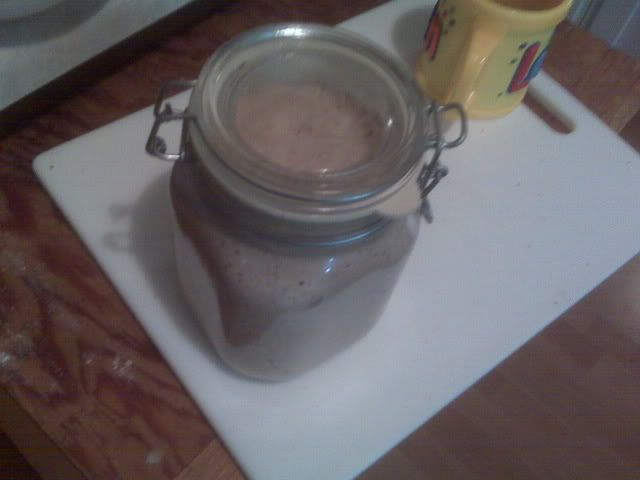 I couldn't believe how much it grew!  It nearly reached the top of the lid, more than doubling in volume.  Very cool.  Just what I wanted to see in my bread.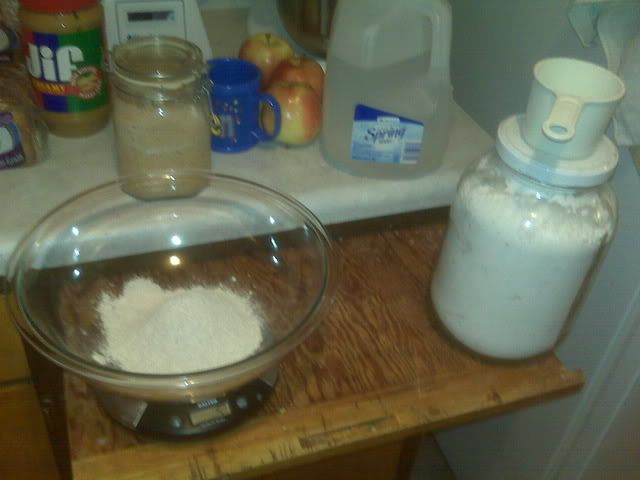 So here's me starting with 5 ounces of wheat flower, about to add 11 ounces of bread flour...
You can also see where I mixed in 1/4th cup of deflated starter into 1 1/2 cup of my spring water.
This time when I added the slurry I used a spoon rather than a wisk.  I think it worked better.  Of course I finished up with working it with my fingers.
Then I covered the wet blob with plastic wrap and this time I set the timer for 18 hours.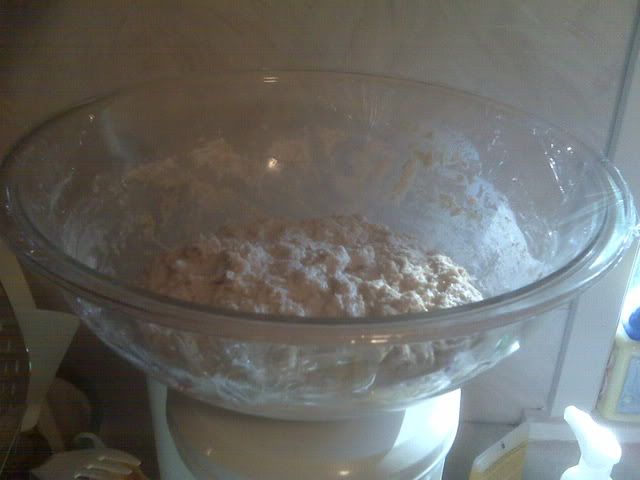 Tomorrow morning after breakfast I'll bake bread for lunch!  I can't wait. This time should be better! If you're wishing you could smell and taste the bread through the computer, it's easy, make your own!
And above all... enjoy your garden!