Today was fun. Play date with the kids and the play group. I was the only father there so I did all the heavy lifting and pushing on swings.  Kind of tiring, but fun.
Today was simply watering the garden. Not sure why, but my water pressure has dropped off tremendously for no reason.  If my water usage skyrockets, I guess I'll know I've got a leak, but there's nothing running that we know of.  Grrr. I liked our pressure.  Without it my hose pressure is nada. 
I've got several tomatoes ready for harvest, but my brother didn't come over and trade me lettuce so I'm holding off harvesting them.  I figure they're helping to throw of the gases that will ripen more fruit.  It's a thought.
I did bake a loaf of bread.  However, due to the play date schedule coinciding with the bread process, I "adjusted" it slightly.
First off, I cut the 18 hour rise by an hour.
I also figured out that the big rise doesn't happen because the wide bowl.  Next time I'll use a steep sided bowl to make my bread so that may help the final thickness.
So I did the folding and 15 minute rise while we were getting the kids ready for the park and my wife went out and got cheap bread to feed the ducks.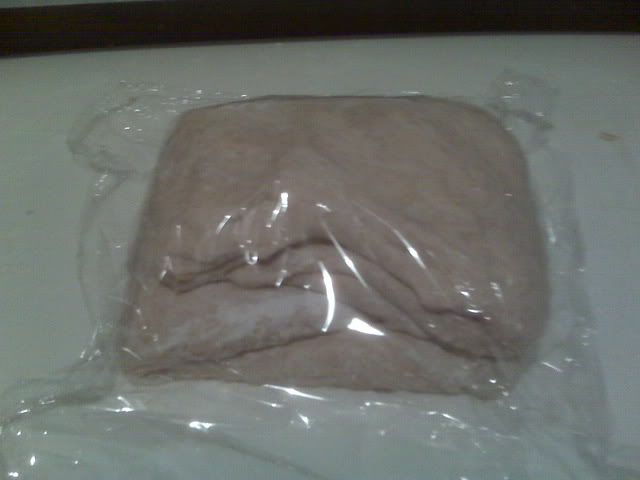 I think it looks better than the first time at this point.  Unforunately, we left right after I put the blob in a bowl for the 1 and a half hour final proof.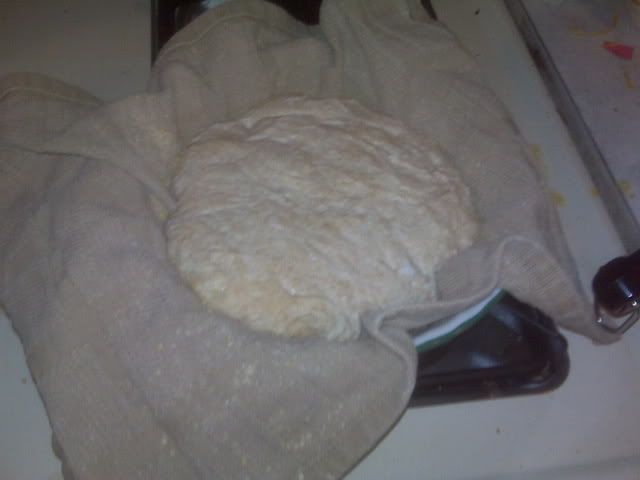 Three hours later, I preheated the oven and accidently flipped the dough onto the edge of pizza stone and the crock pot liner crimped the edge. 
Since the last time I got burnt bread (that still tasted good), this time I cooked it at 475 then dropped it to 450 like normal for the last 15 minutes.  This time we got golden brown perfect bread.
Looks good doesn't it?  Only problem is that the bread wouldn't come off the stone.  It was fused.  I tried for 15 minutes to scrape it off. In the end we just ate it off the stone, leaving the bottom crust.  It still tasted great!  I wonder if it was stuck because I washed off the crumbs from the last loaf an hour before I baked.  I decided then that I should get the silly cloche thing.  So I checked the net to see if I could get it cheaper than $40.  So I'm cheap.  The economy sucks and I would like to keep as much as possible.  Unfortunately I couldn't find it for sale on Amazon, Ebay or anywhere on google/yahoo.  Well I did find a link to Breadtopia's site.  So I checked there and found out the company that makes them. So I went to their site and go figure, the same thing cost $50.  Eric must get a special volume discount. 
So, we're going on a hike tomorrow.  It's steeper, but shorter.  We'll see.  Afterwards we'll swing by the outlet mall to see if I can get one of these things cheaper.  I don't think I'll get a dutch oven.  Too much work to keep it clean.  If I can't find it, I'll order it from Eric. He's been a big help and deserves it.
So, back to the garden, when do you thin?  This time I was tired of duds so I planted multiple seeds of lettuce and carrots.  Now I've got crowding and need to thin. I've got the first leaves but no true leaves, should I wait til that happens or pull the weakest now?  Thoughts?
Enjoy your garden and weekend!