Boy last night was beautiful weather, slightly overcast and 60 when I got home from a particularly stressful day at work.  As much as playing with the kids was fun, it wasn't reducing the bloodflow to my head, so I decided to head out to the garden.  Let the stress reducer do it's job, since that's the original reason I built the garden in the first place.  Ah, forethought!
Well, while I was out there I remembered a post that got to me from Granny.  She was bemoaning thinning carrots and correctly called it hers and my issue.  When I planted last time I got fed up with placing one tiny seed in each of the 16 holes of one SF, so I kind of sprinkled a bunch over the square and called it good.  I don't recommend it.  What I found last night was something like this...
So I went back inside and grabbed my seed packets and decided I was going to fill in the spaces.  Then it hit me, I had tons of seedlings right her.  So I started gently thinning the heard.  But instead of tossing them in the compost pile, I replanted them in the blank spots!  Hehe, I have no idea if that will work, but it's worth a shot.  What have I got to lose but a little time, though I know that's prescious at this time of the year.  The low for last night was in the low 40s. Our furnace kicked in for the first time! Make sure you changed out your filters...  I think hoop covers are in order for the weekend and the trellis has to just come down after I've harvested everything I can. /sigh
Anyway, here's a new square of totally transplanted carrots...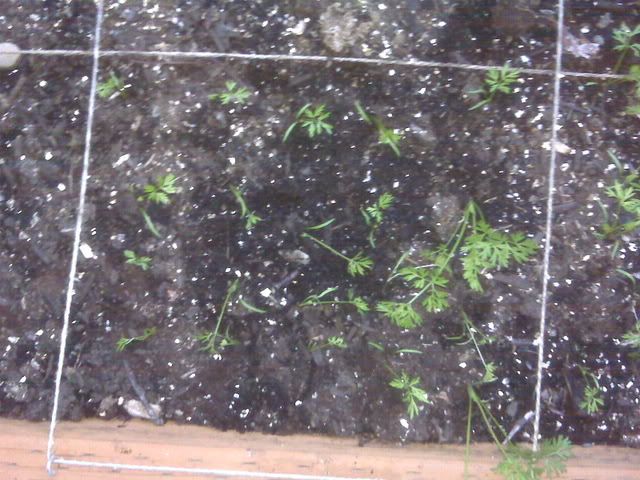 And here is a good shot of my thinned carrots.  Oh, and if you are shaking you head now about me thinking I can transplant carrots, I also planted 2 squares with seed.  My family is loving carrots right now!
Lastly, in the dim of sunset, I watered and saw some really good looking cucumbers on the vine.  The weather DoubleD and I have been commenting about over the last few weeks has really given both of us a bumper crop.  I think she's right that this was the last hurrah, though I do have a few still growing.  Anyway, I pulled a whopping 8 pounds off those 6 plants, not including two slicers that I didn't harvest because I can't get through the one in the fridge hehe.
A quick call to my brother and presto, a pickling date for Wednesday!  I've still got about this many in the fridge waiting to be pickled.  Oh yeah, and I think I'll can up the ones marinading in the garage at the same time. It's getting a bit nasty out there and I'm tired of skimming every few hours, hehe.
Enjoy your garden, it really calmed me down last night!