Busy day and I'm feeling it.  It's late but I wanted to get out a post or two.  Not sure, let's see how it goes.
Today started late, but it was a beautiful, though slightly chilly day.  I used the sun to dry the grass to allow me to mow, maybe for the last time this year.  It didn't take long, but I've got a yard-waste container full of clippings waiting to be dumped into my bin when I get the top off.  I held off doing the compost bins today because I wanted the sunny day for tater harvesting and drying.  That didn't stop me from prolonging the harvest to try to level out the low-side wall of the compost bin.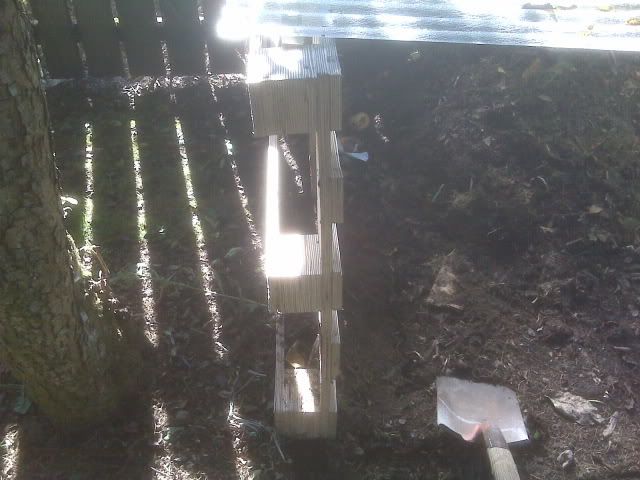 Unfortunately it had a root under it that I couldn't remove, part of the pear tree right next to it.  Drat.  Guess I'll have to figure out a better way to remove the sag in the corregated fiberglass.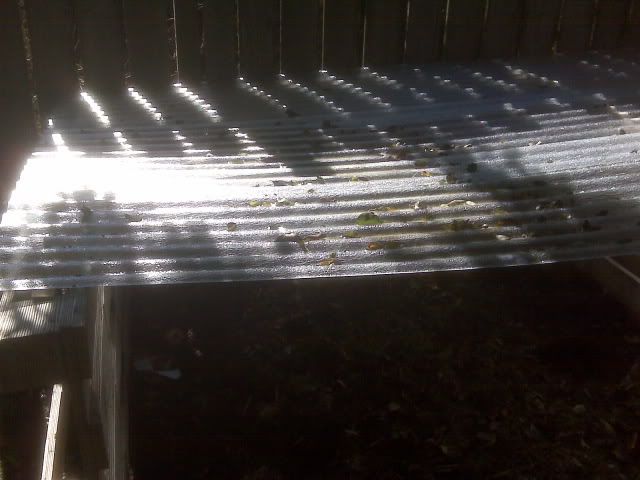 The mowing aside, my eldest and I were excited as could be about harvesting the potatoes I planted in March.  Would I get the 60 pounds that the contributor to the article said was the average?  Or maybe even over 100 like his former employee that kept the potatoes growing under a hoop cover into December?  Or would I find a few pounds at the bottom like the Yukon Golds, despite the late season Butte variety.  What would we find?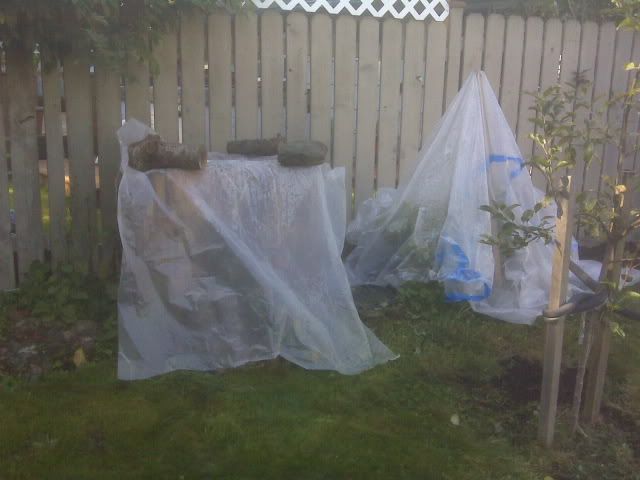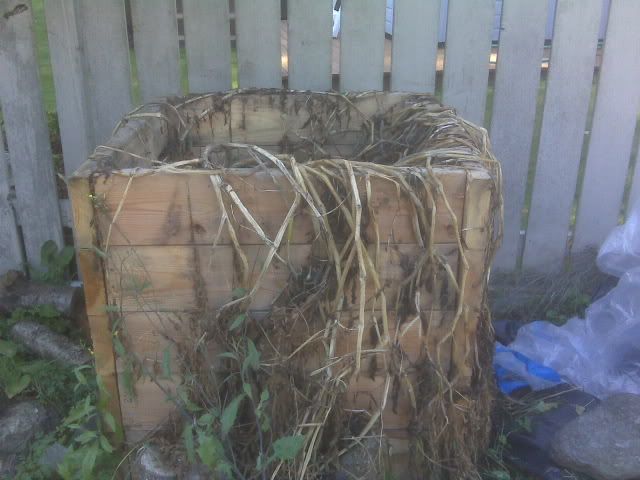 I got the front of the bin removed easily enough, but I had to leave it to go run some errands with the family.
It took longer than I thought it would, but using our hands, my son and I removed all the dirt from the bin, harvesting as we went along.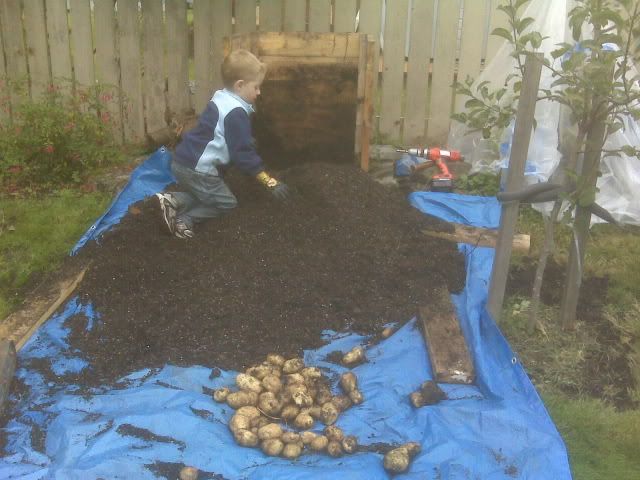 What we found was a mix of decent sized potatoes and small ones.  Nothing particularly baking worthy, at least not by commercial standards.  But my wife likes a smaller potato anyway and I should cut back.  So, for the moment you've all been waiting for, here is the great potato harvest of 2008!
We harvested everything, small to tiny.  Still guessing the poundage?  Well here it is from another angle to help...
And the winner is.... EG!!!!  He guessed 30 pounds and the total was a lowly 25 pounds.  Still 25 times what I started with, but nothing to write home about.  I was kind of disappointed because I didn't get much in the way of mid-level production from the bin, and only tiny potatoes at the top.  I think the reason for it was that I got lazy and the jungle was allowed to grow without being burried to the neck in quicksand.  That's got to happen next year to keep the plant thinking it's a root, not a stem.
So while my harvest was drying, I turned to the dirt.  I didn't want to leave it overnight for fear of a shower to drench it.  So I sent my wife out again to get more free fertilizer.  She returned with 7 bags of Starbuck's finest...
So the two of us dumped the bags and who could break up the cakes the fastest.  He won of course.
I was happy that I'd replenished the soil for next year to do something with it.  Maybe I'll give it to my brother to fill his new beds he's going to build.  Not sure.  Still don't think I'll use it for potatoes again, even re-fertilized.  The brown gold mixed in, I added the left over peat moss from the blueberry transplanting.  Again, we played who could break up the chunks the fastest.  Drat, he keeps winning.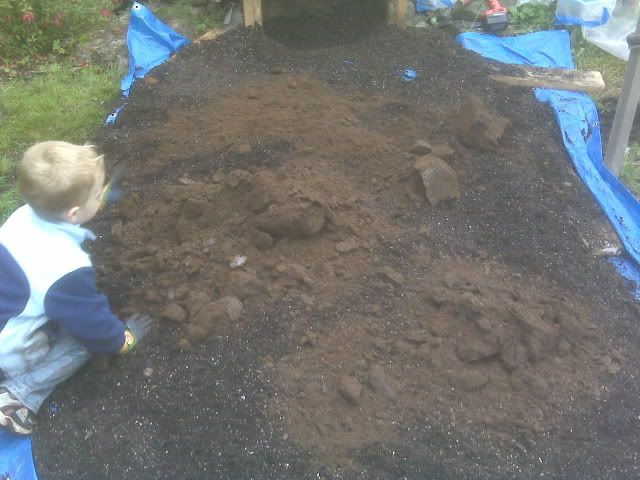 See him here getting a head start, hehe.  Well after that was mixed, I broke out the bags I'd stored for just such an occasion.  Filling them was a two adult job that my son tried valiantly to help with.  In the end, we'd filled 10 bags of fertilized Mel's mix for use next spring.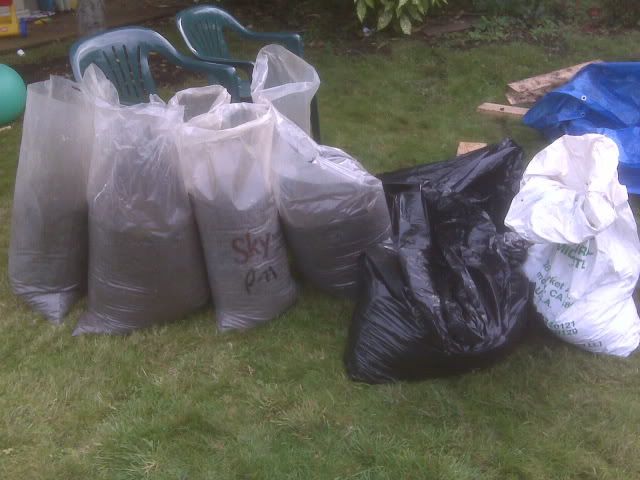 In the end we resorted to double-bagging contractor trash bags.  Then, exhausted, I wheel barrowed them over to the side of my shed and put them with the rest of the bags from the Yukon bin, stored under the tiny eave for moderate rain protection.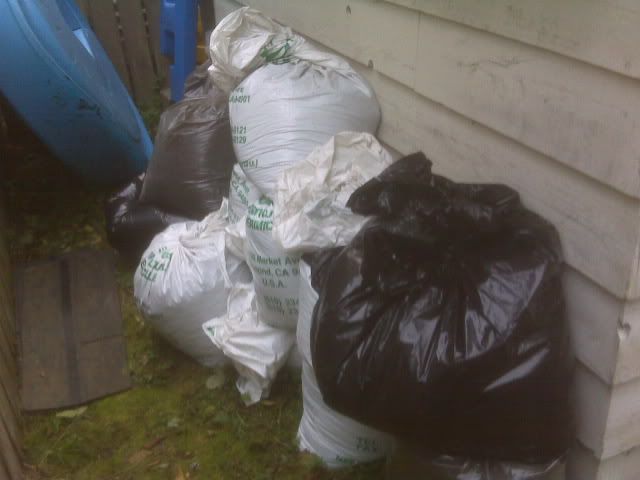 Then it was inside the house to store the dried potatoes for the winter.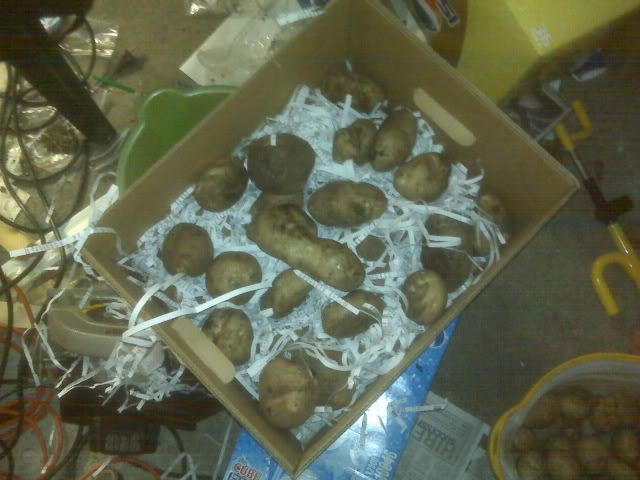 Maybe it was a good thing I only got 25 pounds, because I filled my last banker's box to the brim with shredded paper and potatoes.  The small ones however, went into a separate box for storage til spring to be used as next year's seed.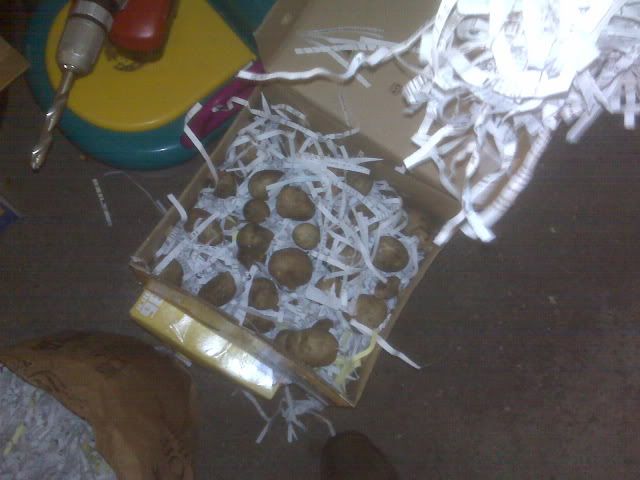 I stored more than I need, but you never know, I may do some in my beds if I've got room.  DoubleD has got a great tutorial on her site about how to do it right.  She harvested today, I bet she got far more harvest than I did.
After that was done, my brother came over to make pickles and salsa.  The pickles took the longest, but we got 8 more quarts put up.  While we were waiting for water to boil, we were chatting.  Where he bought the dill and salasa supplies, he saw something interesting.  Home-canned pickles fresh from Skagit Valley.  The price?  $5 per pint!!!  Hehe, we figured we're into our pickles $20 for 20 QUARTS and 8 pints.  What a steal! 
I didn't take any pictures of the pickles, since you've seen us pickling at my brother's house a while back.  I did want to chronicle the salsa process though.  First we blackened two red peppers directly on the gas burner and wrapped them in saran wrap to melt the skin off.  Then we chopped up an onion, several cloves of garlic, 2 cerano chillies and two chipotle chillies and blended them with about 30 of my brother's tiny cherry tomatoes.  Boy was it fun to see my new Blendtec in action for something other than smoothies.
Then the base was set to simmer on the stove as we diced up my 20 tomatoes and some cilantro.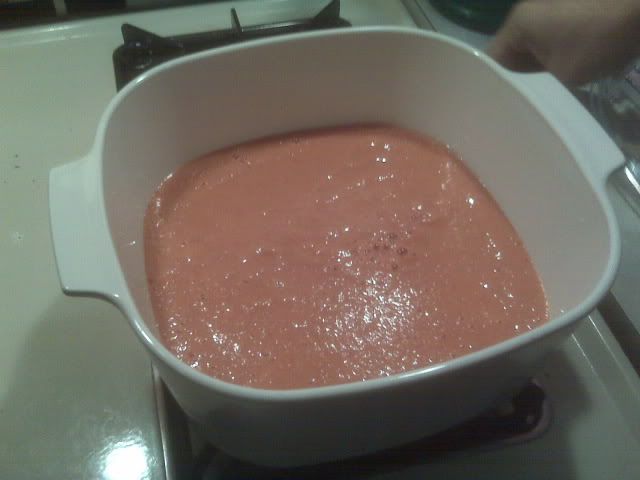 As we added the diced tomatoes for chunkiness and cilantro for flavoring. We brought it to a simmer for 10 minutes.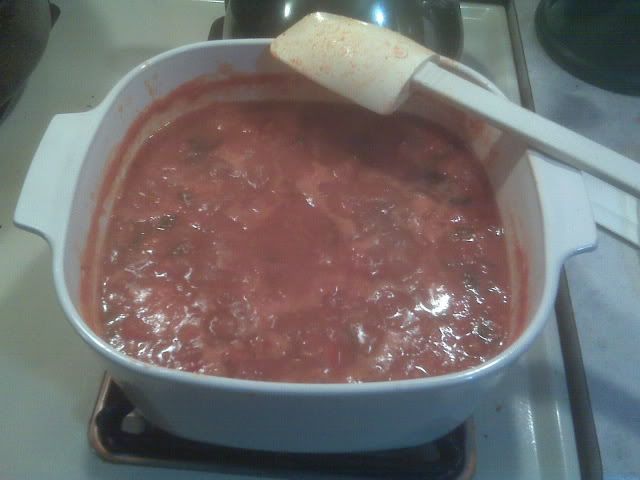 Stirring regularly to keep it from sticking, and allowing the flavors to meld.
As I write, it's cooling on the stove.  It's too late to can it tonight, so I'll put it in the fridge to allow the flavors to meld further.  I had no idea that this salasa can't be canned for storage.  Apparently it doesn't have enough aciditity with tomatoes and a splash of vinager for taste to allow it to be water bath canned.  Grrr, we so need a pressure canner.
So I'm going to wrap up a long and productive day by putting the salsa in the garage fridge over night.  Tomorrow is another day and I've got a lot to do and a party to go to for my mother's birthday.
I hope you enjoyed your garden today and maybe next year my harvest will be something to brag about.