Not much to talk about today.  Mostly wanted to thank those who commented yesterday. Rebekah, thanks for trying, but even copying and pasting that long address took me to the iVillage homepage instead.  Thankfully using your search parameters helped me find it.  Well, I found 107 possible answers.  I will have to look it up later.  Until then they're sitting in a tupperware container drying on their own, for good or bad.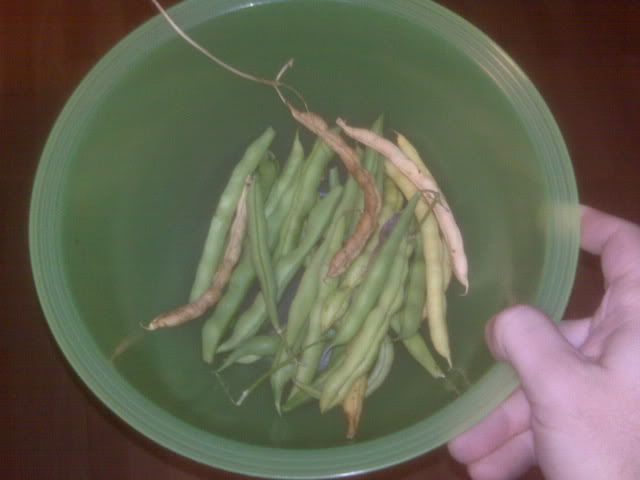 When I got home I had a good idea, it hit me as I got out of the car... rain drops, tons and tons of them.  Hey, I wonder how my compost cover is holding up?  So I ran into the back yard and checked.  Sure enough, the middle of the full compost bin was too low and it was puddling there.  Not horribly, but retaining water.  I think I'll need to keep the pallet gate shut and use a 2x4 to flatten out the low spot.  Either that, or this weekend dig out a bit under the low-end pallet wall. When we were installing the cover I could tell the edge of the wall nearest the pear tree was up a bit, likely resting on a root.   I'd hate to disturb a root, but it's the easiest solution to the flow problem.
Also this weekend I think I'll take advice and use a hair drier to try to heat the pipe to bend enough to reach across only 3 feet.  Otherwise I could swap out 2 of the brackets and PVC pipes from my original hoop cover, which are only 1/2 inch rather than the new pipe at 3/4 inch.  Maybe that'll bend farther without breaking? 
Lastly, I couldn't help but get excited at work today.  Someone said it's supposed to be nice on Saturday.  Nice could mean actual sun.  Actual sun Saturday would mean I FINALLY dismantle my Butte potato bin.  What I and countless other people have been waiting for since March is about to arrive.  It's almost time to find out what kind of harvest I got from my late-season russetts!  I am so anxious it's unreal.  The weekend can't get here soon enough, though if this weather remains foul, I am not sure I'll harvest.
Enjoy your garden!