Well, not sure where the day went.  I feel like I got a ton accomplished, my arms are sore, my back is sore, my legs are sore, all sure signs of a fine day's work.  Then why is this going to be such a short post with so few pics?  Wired.
Even before we were done with our Sunday pancakes, my dad was over to get a jump on fixing the compost bin.  Thinking back on it as I write, we spent $100 on the cover and $15 for the bins... ironic huh?  Anyway, I have to say that Home Depot really disappointed me today.  They've been talking up how they've lowered prices and are working to help out with everyone's projects in this troubling economy, you know a real push to top Lowes.  Since I've never had much affinity toward Lowes (they're just closer to my house), I thought I'd give Home Depot the business today.  Unfortunately, they didn't have what we needed.  And what they did have was WAY more expensive than Lowes.  Grrr. So we wasted the gas to get there and back.  Insane.
Anyway, we used 2x2s to throw together a simple box frame over the bins.  Then we installed the corregated fiberglass on top of the frame.  If you recall from yesterday the lid bowed in the middle.  Well today, after a few hours work, tada!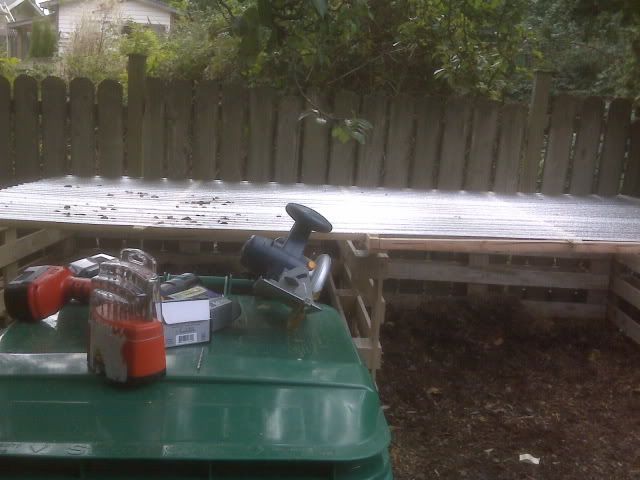 Notice now we have support in the middle of the bins.  That was the problem before.  We also removed the 4x4 and the 2x4 that provided the slope. Instead, we allowed the slope of the land provide the run-off.  I notice you can't see it in the picture above, but there is a definite slope.  Time and rain will tell, but I'm hopeful.  Worst case, we can put back the 4x4 and a 2x4 to increase the slope if need be. 
The other cool part is the lid is easily raised by just me.  And the 1x3 that I used to make the frame level in the middle works very well as a brace to hold it up.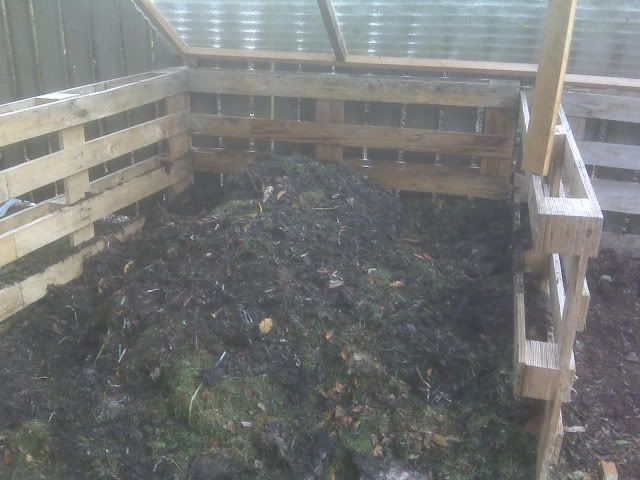 While we were working, we were using the full yard waste container as a work table.  Unfortunately it stank to high heaven of rotting grass.  Good incentive to finish the project so I could add it to the compost.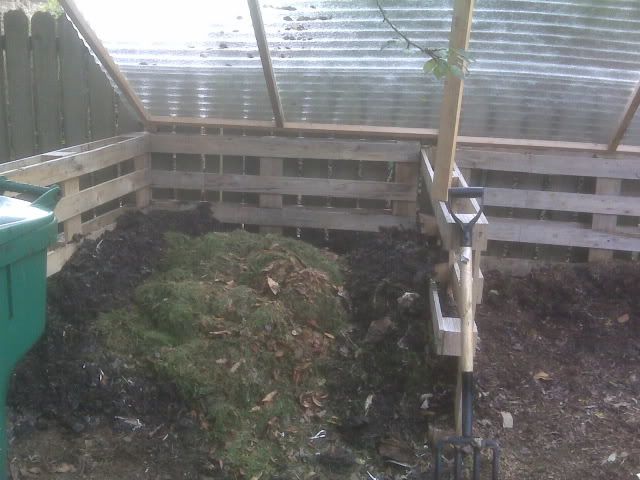 Unfortunately it still smelled strong and icky after I started mixing in the existing compost with the fresh clippings.  And notice all the leaves that got mowed up into it also?  Who'd have figured it would be too N rich?  Water didn't help, mixing in existing compost didn't help, so I ran in and shredded a kitchen-compost bucket full of newspaper.  I dumped that in the middle and mixed it in with the rest.  It was only in there a short while and the smell went away. Whew, I was out of solutions for compost smells, hehe.
After that, I started dismantling the potato bin.  By the way, thanks for your comments. I'm feeling better about my harvest now. So, I got most of it pieced out when I realized I ran out of time and had to get ready for the party.  When my aunt got there she graciously brought her loppers and went out and gave the rose bush a buzz cut.  We got a nice centerpiece for the table and I've got a ton of roses to put in the yard waste container.  I don't compost them myself because the stems don't break down hardly at all.  Let Cedar Grove worry about the tough stuff.
At the party, we were talking about the salsa, and my mother insisted that we could water bath can the salsa.  Apparently she canned 25 quarts of salsa in a water bath years ago.  I'm confused.  She's going to research it a bit tonight, but insists that it'll work without a pressure canner.  If I do it, I think I'll still keep it in the fridge and use it sooner rather than later.
Speaking of canning, here is a generational pic of the pickles I've made, with the newest (last to eat) in the foreground...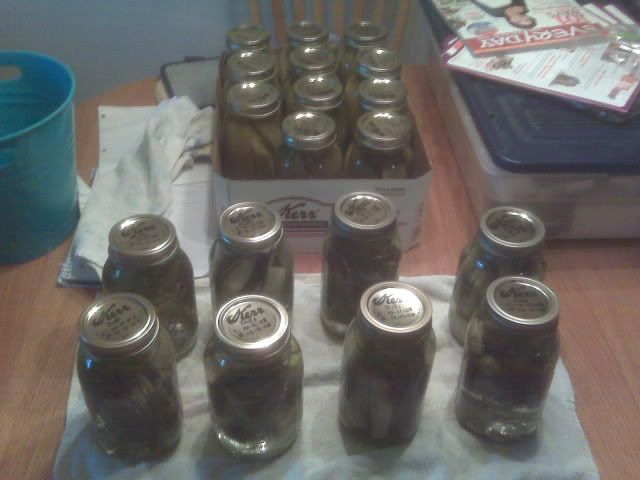 Looking back at my to-do list, what I didn't get done was cover my last bed with plastic (though I did find it and it goes up easily... oh and the weather's been great so why bother?), buy a rhodie (I'm not even sure it's the season to be buying and planting rhodies), and I didn't gut the corn bed and figure out the fall/halloween decorations.  All in all, not a bad weekend...
Well I hope you all had a fun and productive weekend in your garden.  I, being a banker, get tomorrow off, so I plan on getting much of my to-do list done tomorrow.  Enjoy your garden!