Well, it's late at night on the last day of my two plus week vacation, and I have just enough time to crank out a post before I hit the sack.  You see, we spent the evening at my SFG muse's house having a great dinner, catching up and playing games.  There I found that she is embarking along a voluntary sustainability (albiet limited) path, just as I am.  Although she is going much farther in some ways than I am, she isn't currently interested in Freedomgardens.org.  Funny, since she is doing exactly what 90% of the folks on there are doing.  To each their own.
As we were dropping off the kids at my in-laws, it started snowing.  Nothing to write about, but snow, which would have been notable if we hadn't had the weather we've had over the past three weeks.  It was still snowing ever so lighlty with no sticking when we got to our friends.  After dinner, while we were talking about everything from gardening to chicken eggs to bread making, we find that is a blizzard out there.  By the time we left at 10:30, there was easily 3 inches on the ground.  We made it home, though we had upwards of 5 inches where we live by 11 pm.  That said, I MAY be going to work tomorrow, especially if the weather forecast is FINALLY right and we change from snow to rain after midnight.  I'm not holding my breath.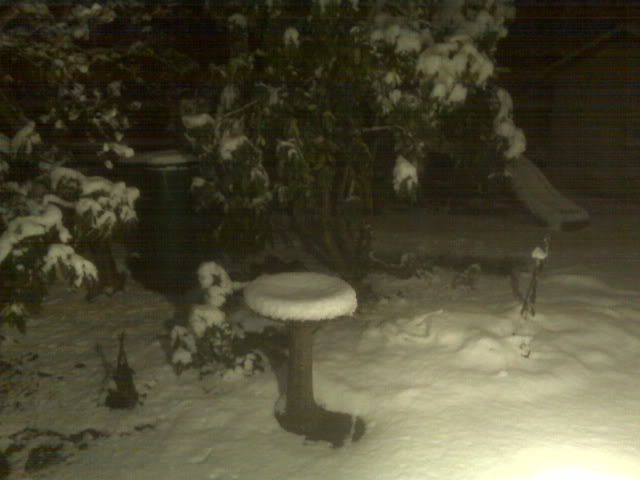 So, while I took tons of pictures, I'm going back to my buddy EG's method and will save some topics for another day.  What I would like to talk about is the continued saga of my light system.  If you're a long-time reader of my blog (or go back to the beginning like I suggest to anyone that wants to learn from my mistakes), you know I've been working to find a light system for over a year now.  In my climate with our cloud cover and weak winter sun, it is impossible to start seeds in any window in my home.  However, I think I've found a spot.  Don't ask why I didn't think of this sooner. I can't tell you that. /sigh
Anyway, my temperature experiments were a success.  Right now it's 52 degrees with the door CLOSED, and no heat in the room, or in the garage below it.  With the door open and the house at 70 degrees downstairs, that room peaks at 60 degrees.  That is a great range to grow stocky plants that will hold up well and harden off fast to be planted under my hoop covers in mid February!  Pretty cool huh?
In order to take you through the process of creating my light system step by step, here is the current set-up in that room around the window I'll use to incorporate natural light into the equation.
As you can see, this room is currently used as storage.  Not only is a fair amount of my in-law's stuff in here because they lack a garage where they live, but my wife originally wanted this room to be a library.  She's got more books than most public libraries, hehe.  What she'll do with them all when the kids claim these rooms I have no idea.  But until then, this space will be cleared out to create my seed starting area. Also, you may recognize this place as where I grew my tomatoes last year from the time I got them as seedlings from Territorial, until I could transplant them outside (I potted them up twice).  For grins, I dug out a pic from last year when I was using that window (and that cabinet) for my tomatoes, though they weren't nearly as big as after I potted them up).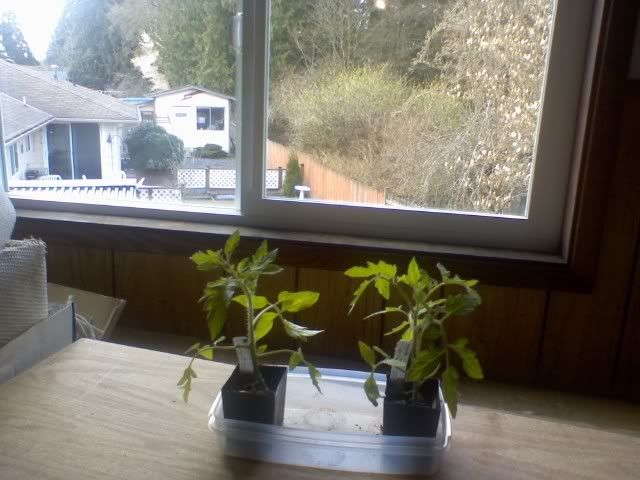 After talking to my dad last night, he came up with a simple, functional design for the system.  The problem was not the seed table. Heck, I could easily use the cabinet that is in the photo above, it's got shelves that go in it and everything.  It's not 4 feet wide, but it's not far off.  Anyway, the challenge was to figure out a way to hang the light(s) (I'm still thinking about one or two light fixtures).  I didn't want to hang them from the ceiling because the drywall on the ceiling is about the only part of that room that is going to remain unchanged when we finally renovate to make this a kid's room. 
So he came up with a simple design out of cheap 1x4s.  If you made a 4 foot wide "n" out with feet and 45 degree brackets for stability, you could hang the light(s) by chains from it over the seedling table.  Then he had a great idea to access the seedlings.  It wouldn't be easy to get at them if they lights are only an inch or two above the tops of the plants, and you'd have to get at them to water regularly.  So his thought was not to constantly move the lights, but to put the seed table on wheels so it could be moved out from under the light to access the plants.  Pretty good idea huh?  So far I am thinking so. 
What's more, this is a cheap set-up.  Of course I could go to Costco and pay $100 for a wire shelving system like the big boy's (and girls) have, but I'm hoping this is cheap, though that would be a good long-term investment.  We'll see.
So now you know where it's going.  Come back to see how it progresses.
Lastly, my brother and I talked seeds before dinner last night.  It was fun.  We had already decided to combine our orders so we could save on shipping.  We're both fans of Territorial, though he's no-where near as passionate as I against the big M hehe.  Anyway, he looked through his extensive seed collection and then through the catalog (much as I had done), and came up with a handful of seeds to order.  Together we've got a decent order, which should make Territorial not so upset at all my pestering over email, hehe. 
The big discussion was on tomatoes.  Both of us love yellow pear, and we can both thank Judy, my mentor from Ft2Garden.com for sending me her yellow pear seeds.  You can bet I'll be planting them under my light system when it goes up!  For the other varieties, I am leaning toward Stupice (because DoubleD likes them and they grow well here) for slicers, black cherries (from my buddy Carolynp, THANKS!) and Heinz 2653, which is a sauce tomato for salsa.  My brother is going to grow some cherry variety he's got seeds for, and possibly Legend, which is a good producing determinate that DoubleD also likes for here.  We figure the combination of Heinz and Legend, with maybe some other varieties thrown in for flavor, will make a great salsa next year.  Yum!
Well, stay tuned next time for a garden tour with a plot twist.
Enjoy your garden!