Well, today was a beautiful day, we almost hit 50 degrees and the sun was out.  But I didn't get out to the garden to work because I was watching my youngest today.  You see, yesterday his older brother closed the heavy wooden door on his pinky.  Then my 2 year old pulled his hand out.  Ouch!  Not only was his finger tip flattened and mangled, but he lost most of his finger nail.  No problem I thought, they grow back.  Of course I was at work and didn't see it.  So, a trip to the pediatrition, then Children's Hospital ER later, and we had his nail bed stiched back in place.  /sigh  When it rains it pours.  Of course he's such a trooper that he was sitting there being polite and complimenting the stream of doctors and nurses that came through the room over the 4 hour ordeal.  He's really an amazing kid.  Even now he's great about not using his hurt hand, using his inconvenient left instead.  Incredible.
So, after taking him to music class, we went to Lowes to shop.  I checked out the light systems, but got enough information to be confused before I moved on.  I think I'm going to go the cheap T8 plug-in lights rather than the T12s, because the employee there said it's likely that T12s are going away, maybe next year.  Not conservationalist and environmentalist friendly I suspect.  Then I figured for the bulbs, instead of getting a $10 per bulb grow light, I'd get one cool and one daylight bulb.  That way, I span both ends of the light spectrum, providing red for initial growth and blue for growth, or something like that.  Basically it's back from the days last year when I did some research on the GW grow light forum.  OMG those folks have strong opinions and they're all right and everyone else is wrong.  Oh, and you need to spend hundreds on the lights alone. 
No thanks. I think I'll spend less than $50 on the entire set-up.  Well maybe a bit more.  You see, I'll need to get some seedling trays to fit on my light stand.  Plus, I would kinda like to buy a
Peddler's Wagon Soil Block Maker
 to plant my seedlings in.  Both my brother and I want it, so it would be good to have for the "family".  Of course, I kind of want
one of these too
hehe. You see, since I lost a ton of weight a few years ago, I've been on the lookout for unique T-shirts to replace my XL wardrobe. This would qualify!
Anyway, back to gardening. Sorry that this post is less about garden stuff, but today was all about family.  Tomorrow I'll go out and work in the garden.
So, back at Lowes.  I didn't buy the stuff to build my SWCs, but I did do some checking for prices and options.  Can I say ouch?  Lowes now only carries the Roughneck variety of 18 gallon bin, unless I want a flimsy (yet good idea) recycled plastic bins that wouldn't hold dirt to save their souls.  The Rubbermaid Roughnecks look sturdy enough to do the job, in fact, they look more sturdy than the one I'm using now.  Unfortuantely they cost $9 each.  Do the math, I need 3 new SWCs, so that's $54 just for the bins, and I would be demolishing half of them, hehe.  I'll wait until they go on sale.  I seem to recall once a year big box stores get loads of bins in and blow them out.  I think it's sometime in spring , like for spring cleaning.  That would be perfect timing if it's early spring.  I could build them and plant my tomatoes right away.  Anyone else remember this?  My wife doesn't.
Ok, so I am not leaving you high and dry as far as garden photos and such.  I did take a brief spin around the yard today and took a couple of pics to share.  What I wanted to share was my garlic.  If you recall, it was showing a few inches of growth prior to the deep freeze and snows of winter '08.  What you haven't seen is the scene I've witnessed from my office window since then.  Look at what they look like now, here's one of the two patches I planted last fall.
The glove is one of my winter gardening gloves for perspective.  But here is a good shot of how tall the greens are.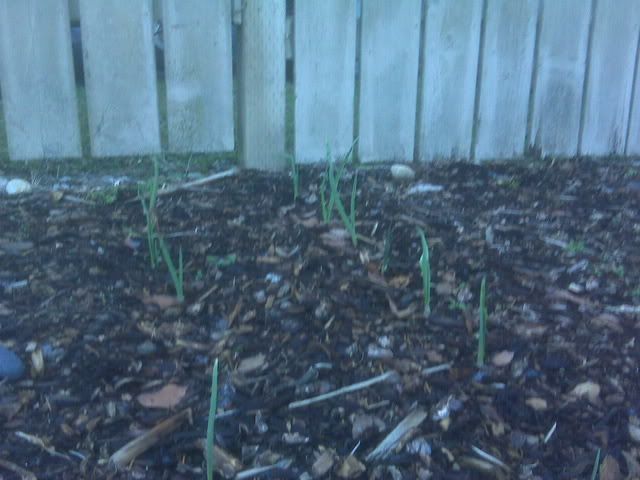 Certainly not as tall as some around the country, but for my first time growing garlic, I'm pretty happy.  Sure I won't be eating the greens like chives (yummy sounding to me) anytime soon, but it's a start.
And it's a great use of the space between my blueberry bushes until they fill in with growth over the next decade.  Speaking of blueberry bushes, I finally took down the names of the varieties for posterity.  Over time the labels wear down and I want to have record of what I'm growing.  So I'll end with a list of the blueberries I'm growing, along with a blurb about each.
Legacy:
Mid-Late season harvest, this variety tends to be a little slower to produce in the first couple of years, but then responds with very high yields once established. Legacy has received top ranking reviews for its fruit quality, superior scar and flavor.
Blueray:
Mid season harvest, it excels in marginal Northern Highbush blueberry growing areas where winters are more severe. It's large berry size with medium to large scar and superior flavor makes Blueray a good choice. Blueray produces best in intensive plantings with severe pruning and has tight clusters.
Northblue:
Mid season harvest, it is quite productive for its size (semi-dwarf).  Northblue has produced between 3 and 7 pounds per bush in Minnesota tests. Initial observations in Oregon indicate a high yield potential in milder climates. Very little pruning is needed for Northblue the first few years, then regular thinning of old wood is recommended.
Jersey:
Late season, it is one of the oldest and most dependable varieties. It grows well in most types of soil, producing consistent yields of very sweet fruit. The loose clusters and upright bush with a small to medium sized berry.
Overall, I think those are great choices, and I can say so myself because I didn't know any of this when I got them.  The first two were recommended by the nursery in Arlington where we bought them, and the second two were a gift from my garden buddy Sandy over in Woodinville.  I guess the only thing I'm missing is an early variety, but given our climate, I doubt an early variety would be such here.   Though if I could find room for another, I think I'd go with something like the Patriot, which is ultra early with cluster berries.  Not that I have any room for another unless I removed some bushes or huge stumps. 
I hope you got out and enjoyed your garden this weekend and if you're in the east, I hope you are staying warm and have the pipes wrapped tight. /brrrr