Today's post is about my latest tour around the garden.  But after a long day of mostly nothing, I am going to jump right in to save time.
Here is where my neglected garden is hanging out these days.  The twist ties deflintely don't hold up to winter storms, so I have stopped bothering to fix the top bar.  Until the weather improves and I have a good hour to kill outdoors, I won't drill the holes and afix the bolts.
And the reason why it's neglected is shown in the pictures below.  I had hoped that several of the plants would have bounced back from the sub freezing temperatures before Christmas, but this is the cauliflower in bed #3.
Yeah, I don't see anything either.  If I'm not mistaken, the stalks are actually nibbled on.  Now let's move on to bed #2.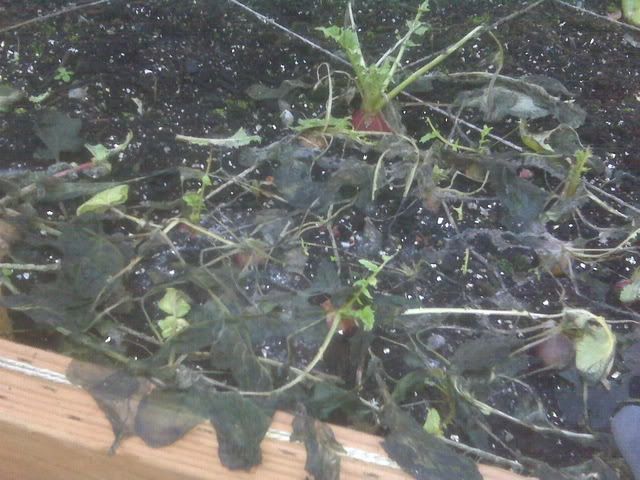 These translucent leaves used to be my radish bed.
And this is the back of the bed.  Sure I need to clean out the freezer burned leaves, but the new growth on the top doesn't look so good either.  But wait, look close...
Yep, those leaves are munched something fierce.  It looks like those coons came back for seconds.  And I thought they'd eaten all there was to eat last year.  Apparently not.  Note to self, buy more deterrant next time you're at the store.
Ok, final bed.  Let's hope the lettuce is holding out.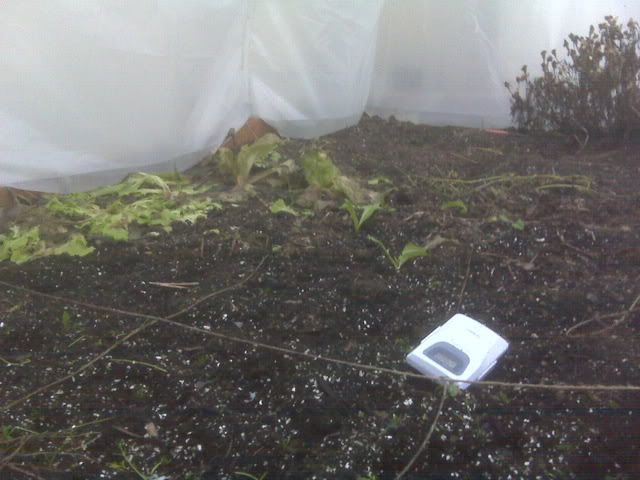 Nope, more carnage here too.  Look at the mature lettuce that I'd hoped would bounce back in the 45-50 degree weather we've been having.
Nada.  Well, at least the succession lettuce didn't look too bad.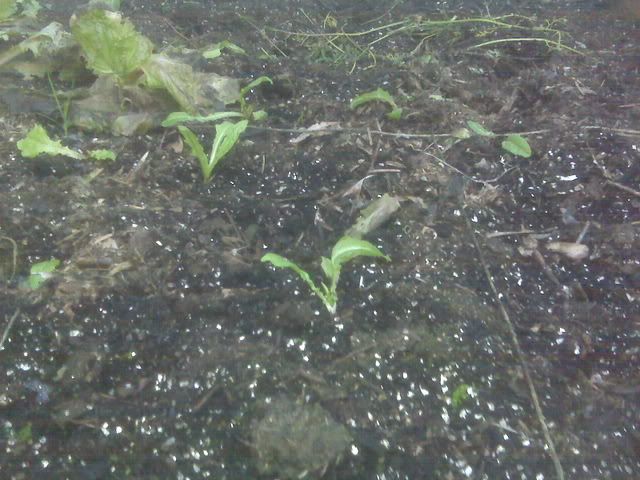 Of course it hasn't grown at all in two months.  I had hoped it would be ready for February harvest.  It's not looking good Mr. Solomon. hehe
Also note the green all over the dirt.  It's moss, I know.  But over at my buddy EG's blog (see the blogroll for a link), he notes today that he's got some in his propogation chamber and it's caused by condensation. Ok, I buy that, it's likely the same reason inside my hoop covers. Though I've got pretty good ventilation out the front and back since the wind disturbed the loosly bunched plastic under bricks.  I just hope that like he says, the sun will kill it once I take the hoop covers off sometime in Aprilish. hehe
Well, I hope this clears up what's happened to my first foray into four season gardening.
Enjoy your garden or your garden plans for spring...