Let it snow, let it snow, let it snow.  Well, it only snowed overnight, but the freezing temps all day kept the snow from melting.  That was bad news for the garden but good news for the kids.
First the garden.  As expected, the inch or two we got didn't do much to the hoop covers, though it would have been a good idea to re-install the cross pole on the top of bed #2.  Well, here's a shot before I brushed the snow off.
That and the wind kept undoing the fronts of the beds, so I doubled the number of bricks I used to weigh down the plastic.  Thankfully the binder clips held nicely or it could have been worse.
Now I know what you're thinking, what happened to the veggies.  Well, I only snuck a glance at the spinach because the boys wanted to play.  The spinach didn't look so hot, but I'm hopefull it will bounce back after it warms up, sometime late next week if the forecast holds.
When I made it back to the backyard from the garden, I found the kids making snow angels.  How cute!
Then we proceeded to have a snowball fight.  Needless to say I was far more accurate then they, but I let them come right up and get me good to make up for it.
Then we went to the park to play on the big play set.  Here's the little guy coming down the slide... precious!
Lastly, I did take a couple of pics of my unprotected garden area.  I just love this Legacy blueberry bush. It's an evergreen and has the most beautiful shade of red leaf that stands out nicely against snow.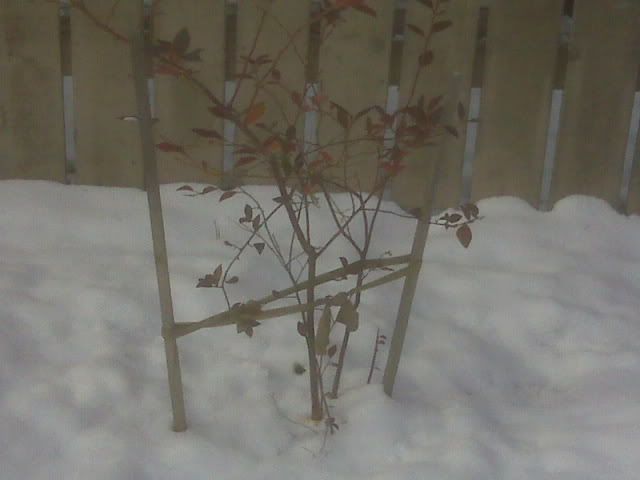 And then there was my garlic.  Several of the cloves must not have sprouted, because I know I planted more than this, but I'll take what grows and know to plant more next year.
Well, tomorrow should be fun trying to make it down the hill to the park & ride.  Maybe I should take the bus.  Not sure.  I went out today and slid a bit.  Others had it much worse because they didn't know what to do.  Still, that hill bothers me.  Too bad it couldn't have held off for a week until my vacation starts.
Well, as I'm writing this the temperature's dropped to 24 degrees.  And thanks to DoubleD who set me straight about the averaging of the temperatures, so even if we drop below 20 degrees, it won't change our climate rating, just make me wonder about it.  Isn't there something just plain odd about the weather this year?