Hmm, if you haven't noticed, there are no pics in my ever-popular Potato Bin page.  I was sure I wouldn't have problems since my garden buddy that hosts this blog site offered up her site to house my potato bin pics so they would never go down.  You may recall I had to spread the wealth after the Times article caused my file server site to overload my bandwidth (I'm cheap and won't pay for service since this is a completely free site, no inflow or outflow).  Anyway, I've emailed Judy to see what's up with the pics.  I have them elsewhere if necessary, but I don't recall the order they're in so it'd be wrong if I replaced the links back to either of my pic services.  Rest assured that the pics will be back as soon as possible.
As for the garden, I took care of some spring cleaning in the cool weather after the heat we've had of late.  In fact, according to
Cliff Mass
, we've had 29 day without rain, which was a record for spring in Seattle.
I needed to rip out some bolting spinach.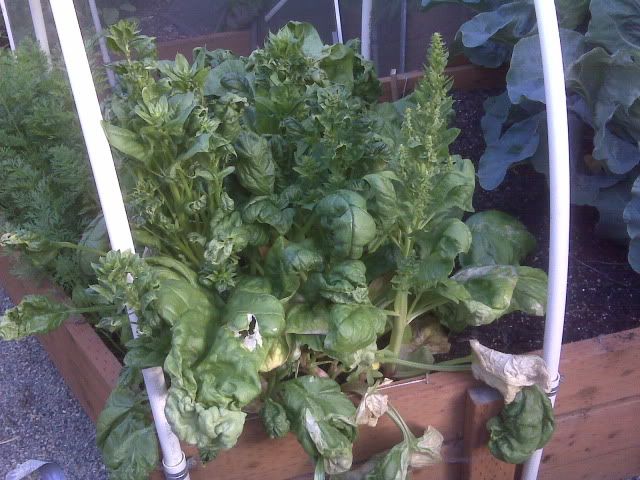 And as you can see, the spinach leaf miners had their way with the spinach yet again, so it didn't go into the compost.  Oh, and I didn't even attempt to save seed because this is a hybrid.
Another plant that unfortunately needed clean-up was the transplanted Spanish Lavender.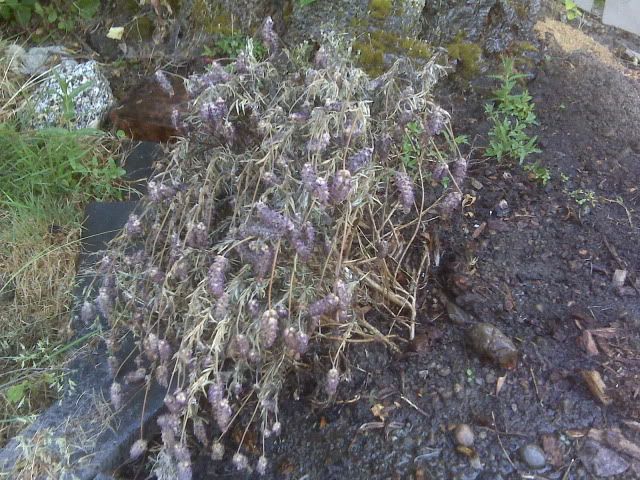 I had big hopes for a small plant that wouldn't spread, but would attract bees like nobody's business to complete the bluberry triangle for proper cross pollination.  Unfortunately it's too late in the season for proper transplanting and this plant is too old to transplant well.  After hearing both those things from my Aunt the flower queen, I didn't feel so bad about killing it.  However, I do plan on buying a new one next  year. I love the space it gives me in the blueberry bed.  Heck, I'd have room for another blueberry plant, though I think I want to plant strawberries in that bed in front of the blueberries.  It would cut down on weeds and I could make a nice patch next to this lavender plant.
Lastly, I had to clean up some errant bumble bees.  They have found their way into our laundry room that's right under their nest.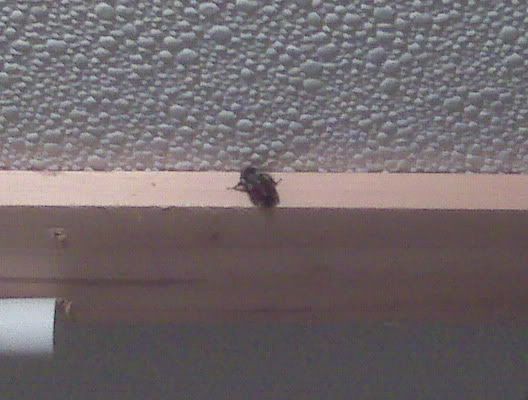 So far I've found three huge ones, two of which I've successfully transplanted outside.  My dad says as a kid they would catch them in their bare hands and wouldn't be stung as long as the bees couldn't see light. I'm not that brave, hehe, so I used a gallon mayonase jar, hehe.  Anyway, I say for their sake because if they are coming in through the holes in the ceiling for the pipes, that means they're in the attic and have got to go.  I really want them to have come in through the open back door and made their way to the laundry room (unlikely) trying to get back to their nest.  I am still holding out hope that I can keep this nest until they abandon it in the fall.  They did great on the blueberries and fruit trees, but I've got tomatoes and melons for them to pollinate for me soon.  Grrrr.
Hope you've had a chance to do some spring cleaning (the garage is another matter all-together, hehe). Enjoy your garden!