Well, in honor of Father's Day, I am going to dedicate this post to my brother.  He, like me, gets lost in the shuffle when it comes to taking care of our dad.  Hmm, I was going to say dads, but he only has one, since his father-in-law passed away in Argentina years ago.  On a personal note, I've got three, hehe.  There's my dad of course, and my Father-in-Law, but then there's my wifes biological father who is kind and loving and is in regular contact, so that makes three. Whew!
Anyway, late last week my brother who convinced me to start my garden and helped design it, sent me an email saying that the project was finished!  At first I thought he meant his planting chart on Excel that he was working on to tell him when to start seed, harden off, transplant out and harvest throughout the year (I passed along
KitsapFG's seed starting schedule
to help him fine tune it).  Actually no, it wasn't about that, it was his garden expansion project.  He's been working evenings during the week and after working at my folks so he could plant some summer crops in them.
You see, he's wanted to expand his garden forever.  He's got two 4x8 beds and one 4x4 beds... you remember, one has a cool hoop house on it...
Well, he wants to become 70% sustainable at this house.  To do that he needs darn near 1,000 SF of growing space.  The first phase was to remove three overgrown trees.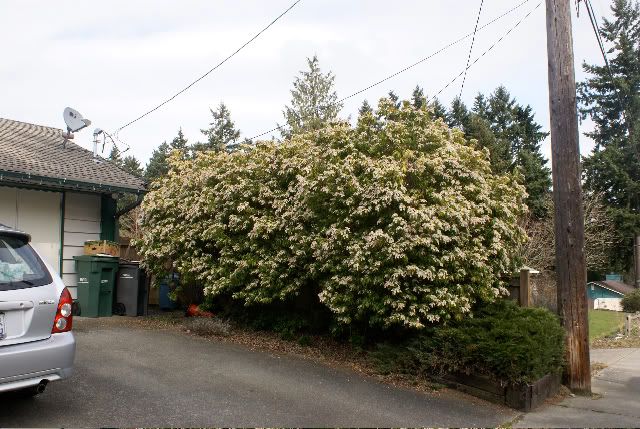 It was pretty cool. He put an add on Craigslist and a landscape company came and took them away.  Pretty cool, recycling huge trees!  I couldn't have done it, but they had a crew.  The tam in the corner got ripped out and sent away in the yard waste containers.  Nobody wants those hellish plants, hehe, just kidding.
So now that you've seen the before, I think you'll remember that I have previously posted some of the progress pics, but I wanted to share them in sequence.  Here's the cleared area.
Note that he tried to make the rail-road ties work, but they're not produced anymore and he couldn't find enough to finish the project, so he spent the money to go bricks.  I personally think it's a major step up.  It was tons of work as he cemented each one in place.
You can see how he leveled the bottom with pavers so the wall would be level.  You can also she he's started to build his beds.  Sorry that I don't have a shot of the leveled wall area, but he sent me several angles of the completed beds.  Very cool!
Note the bed on the far left is a 2x4 bed nearest the house that will have permanent raspberries planted in them. I've encouraged him to go a thornless variety since it's right by the walkway and garbage can storage, so the last thing you want is to get caught or cut on a regular basis.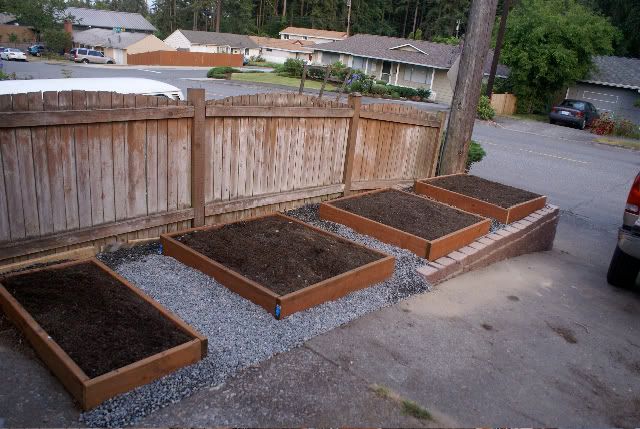 The other three are 4x4 beds with 2 foot paths between them.  He went gravel over landscape fabric like he did in his original garden.  I think it turned out awesome!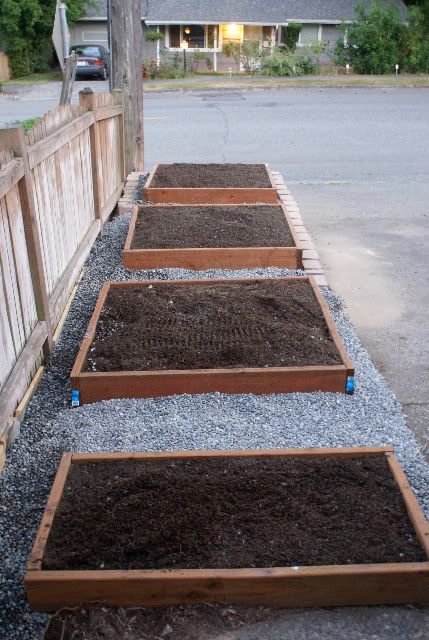 The beds are filled with Mel's mix lite, sans peat moss.  I think he liked my vermiculite for aeration and water retention, but went 50/50 topsoil and compost from Cedar Grove (recycling his tam, hehe).  I'm told that these beds will get great late-morning and afternoon sun, or about 8 hours of summer sun a day.  Should be great!  The backs will get trellises on some beds.  He's got it all figured out.
Lastly, his next major project (likely a few years out), is to remove the 6 cubic yards of river rock that we shoveled and spread (my back hurts just remembering it) and placing 3 or 4 4x8 beds on the west side of the house.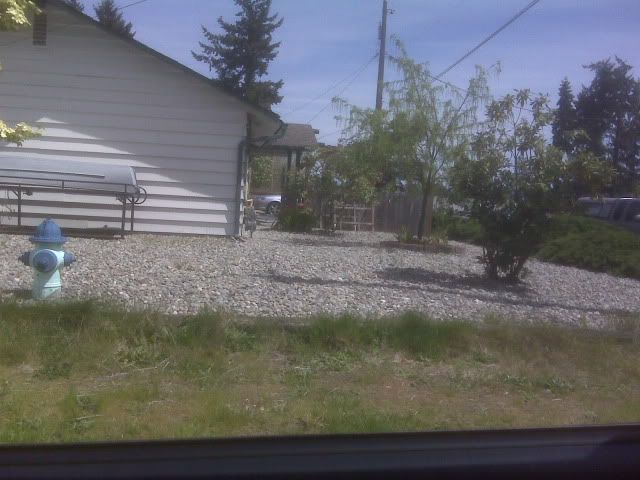 All his beds are what you'd call neighbor beds as they're in the front yard (with the exception of the original garden behind the fence in the middle of this picture)  His front yard is his southern facing area, the opposite of me.  He pulls it off well, don't you think?
Well, Happy Father's Day to all the young and old dads out there alike!  Hope you get to enjoy your garden!