Well, Father's Day is over, and boy was it a good meal, if I do say so myself (I made it, hehe).  Of course there were the steaks grilled to perfection and baked potato with all the fixin's, but I just had to include a broccoli, cauliflower and carrot mix from my garden.  They were lightly steamed and the talk of the meal.  Everyone agreed that they were so fresh and crunchy that it wasn't even fair to call the storebought veggies by the same name.
Oh my do I need to lose a few pounds, hehe.  Gotta get this leg fixed and stop eating like a pig when I am working on the house on the weekends.  More of those niche fresh veggies should help, hehe.
This pic is a bit better.  Action shot of me harvesting the entire cauliflower plant.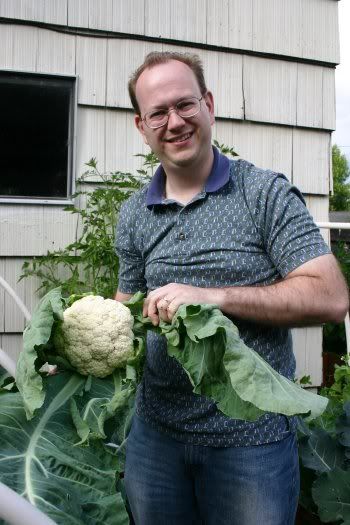 Gotta give the cukes behind it some direct sunlight.  Bad idea to plant the broccoli and cauliflower as a wall in front of the cukes.  Poor timing really since I fully expected the cole crops to be out of there before the cukes were planted.  Oops.  Next year the cole crops go in Bed 4 where my potatoes are.  Speaking of bed #4, look at how well it's grown.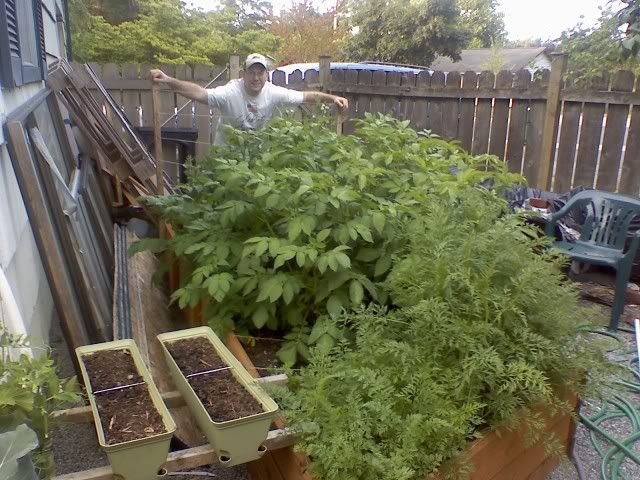 Hehe, sorry if I'm in all the shots. My niece asked for some shots of me gardening so I had tons taken of me over the weekend.  Those potatoes are 3 feet tall.  And those carrots, some of them are not far behind.  Funny huh?  Carrots with 3 foot stems?  They're thick too.  I just had to see what the carrots looked like, so I dug down and found to my surprise, that the carrots were the same thickness as the stem.  I harvested one.  Take a look!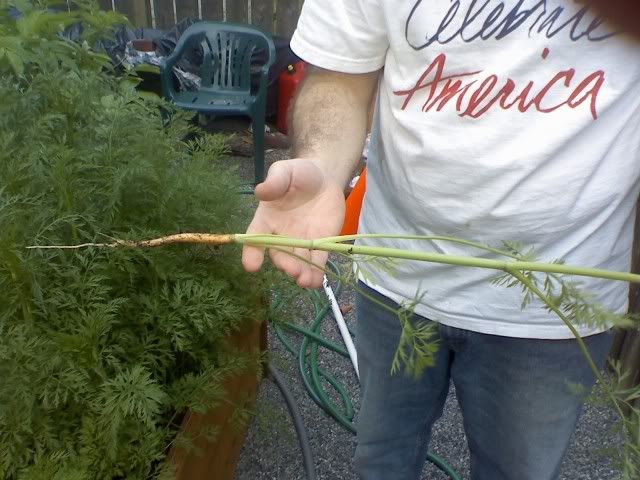 Not only that, but the carrot was inedible!  At first I thought it was the Purple Haze since it didn't look like anything I'd grown before.  And it isn't an aboration since I've got tons of them in the garden.  The funny thing is that my wife pulled an 8 inch stem out and found an inch thick carrot that was 7 inches long.  In other words, beautiful. Sorry, no pic, my son devoured it saying it was the best carrot he'd ever eaten.  Another funny thing is that the next day we pulled a Purple Haze carrot that was actually purple and good sized.  It was sweet and excellent, so it wasn't these. 
Anyway, my wife yanked all these and they're now in the compost.  I doubt the carrots will compost anytime soon they're so hard.  Grrr.  Wonder what they are?  If they're not left over Mokums, they're either Danvers or Purple Haze?
Oh well, to end this post, I wanted to share my new favorite pic. I'm using it as my
Facebook
photo.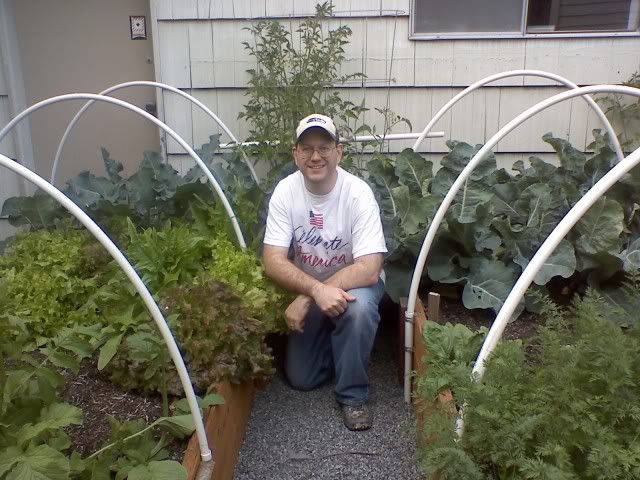 Enjoy your garden!