Whew, what a day.  I can't quite wrap my head around the weather we're having.  I saw the heat advisory and the forecast for 90 and laughed it off.  We've never had temperatures that hot this time of year, ever!  Twice today I brought up the
heat zone scale
and how we were a 2, or about as low as you can get in the heat scale at 7 days or fewer over 86 degrees.  Well, today you can count 1 and the year's not half over.  We've got a real shot of hitting 7 days this year (folks in Alabama get that in April, hehe).
Now I know why
Judy
can't grow lettuce after March. I had watered yesterday when I got home from work, making a concerted effort this year to use my wand to water the dirt around the plants stem rather than on the leaves.  Well, after I found out it would be a scorcher today, I watered again this morning (as I was harvesting a gallon of greens for lunch).  I even drenched the lettuce with water this morning hoping to keep it hydrated.  Look what I found when I got home.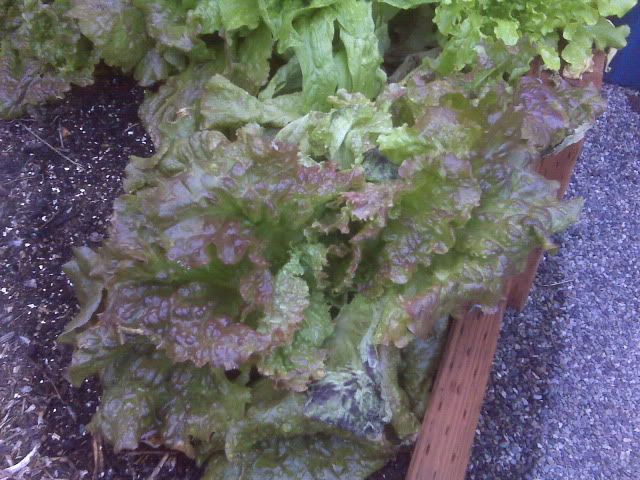 Major wilt after one day of 90 degrees.  Not good.  I drenched it again in the hopes of stemming the tide of wilt.  In addition, I took a page out of Judy's goal to keep her lettuce going through the mini-heat wave we're having.
Sure it looks silly, but I knew when we replaced our windows that the window screens would come in handy some day.  Let's hope they do enough to difuse the brutal sun.
I also have to share the jungle that is one of my SWCs.  I don't know why these two tomatoes are so unruly, but I'm tempted to do some heavy pruning so the grow up instead of out.  Maybe they're determinates, but I don't think I have two determinate varieties?  What would you do?
Oh, and the curling leaves, don't worry, it's just water shortage.  I should have known since there's more foliage than I had in 5 foot plants last year, so they were out of water.  I just topped that SWC off this weekend.  Whew! Definitely a sign of the weather. I'm going to have to watch the SWCs more closely. 
And how on earth am I going to get my trellis installed in between these two plants?!  Not sure I'm going to be able to pull that off.  Either way, I'm so late getting my trellis up it's unreal.  Unfortunately I just haven't had the time it takes to install it.  I guess I should just do one 2x4 at a time in the evenings. 
Well, that's it for tonight.  I haven't been posting because there's been nothing to talk about.  Hopefully I'll have more to say in the coming days so I can keep this blog fresh.  As a
local gardening buddy
mused, it's tough to keep from being redundant from season to season.  I'm trying.  I hope you like it.
Take care and enjoy your garden!