Well, I swore I would have bounced back by this weekend after that long stint of hectic times that ended last Tuesday.  Sure I was sluggish all week, but I slept well, but no, today I had grand plans and slept most of the day away.  Now it's past 10 and I'm wide awake.  Bad idea.  Oh well. I've got tomorrow to catch up.
Not only did I water, but I took the opportunity to add some tomato cages to the volunteer tomato and the sucker experiment.
Both now have blooms on them, so I may have some more mystery tomatoes this year.  Oh, and speaking of mystery tomatoes, this one's just as mysterious as the watermelon tomato plant above.  I know I didn't plant tomatoes in amongst my carrots.
This one's very late, but I may let it go.  It all depends on how much space my fall planting takes up.
Speaking of fall planting, I was over at KitsapFG's site and she's already transplanted hardened off broccoli and cauliflower for fall.  Oh how behind I am.  Maybe tomorrow I'll direct sow the areas where I want to plant.  Aside from the cole crops I want to plant carrots gallore.  My kids have pretty much gutted my garden of all the carrots.  Gotta love it, but sheesh.  These carrots above are just about the only ones left until fall.  I've got some more planted, but they're not growing fast enough to replace them. 
In order to plant more, I have to gut my garden of bolting lettuce, harvested cauliflower and broccoli.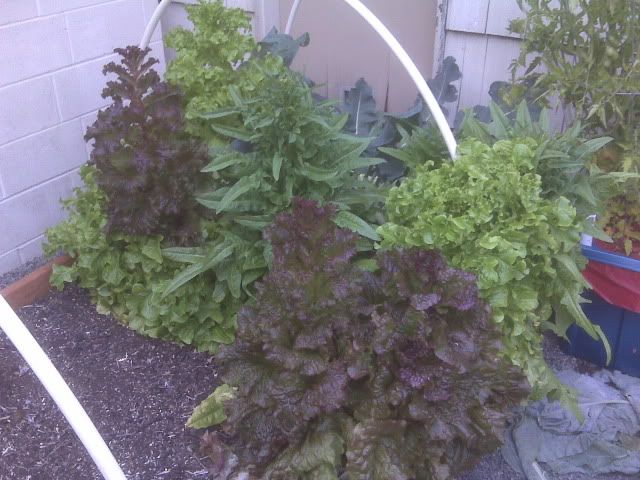 However, I hate to get rid of all this since I have tomatoes to harvest and my lettuce bins are not quite ready yet.  The broccoli shoots that I had hoped would be a single meal are toast.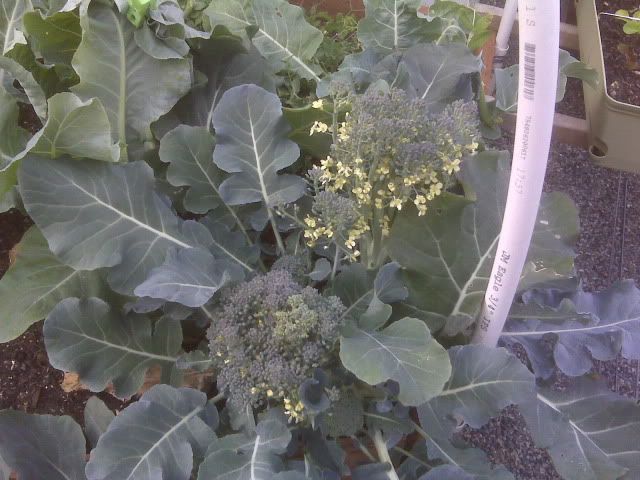 Ah, well, I've got more broccoli ready to harvest.  Boy do I wish succession planting worked well with cole crops.  I still haven't got it down.
Hope everyone is handling the weather where you are, it's been in the high 80s, low 90s and muggy.  Tough to get anything done.
Enjoy your garden.