Happy 4th of July!
Today was a short work day due to the holiday.  Then came a relaxing BBQ with the family.  It was subdued as all the men were exhausted beyond belief, and tomorrow's the final push before the realtors and stagers take over.  There is still a ton to do. Boy will I be thrilled when this is over.
After the party I got some time in the garden. It was one of the reasons I wanted to leave early.  Not only did I water, but I snapped some shots to share.
First, I thought I'd start with my blueberry patch.  I think I mentioned that I got the first few berries off of my Northblue bush. Boy were they sweet and plump.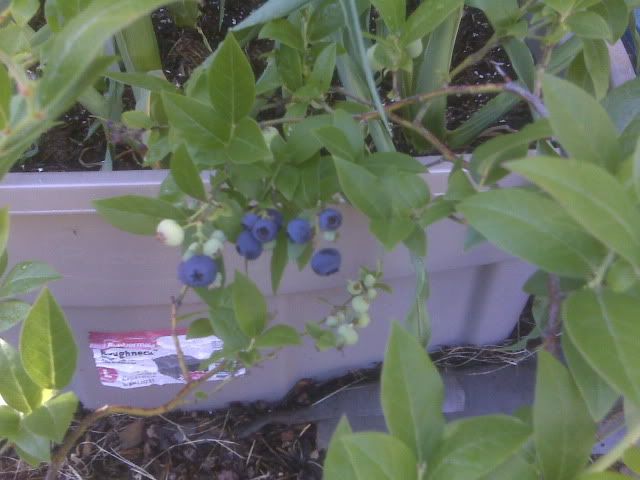 I love how they mature in small bunches. It allows us to have a treat when we water.  Of course, I've got tons bunches that I can harvest for cooking or preserving.  I like a taste of things to come.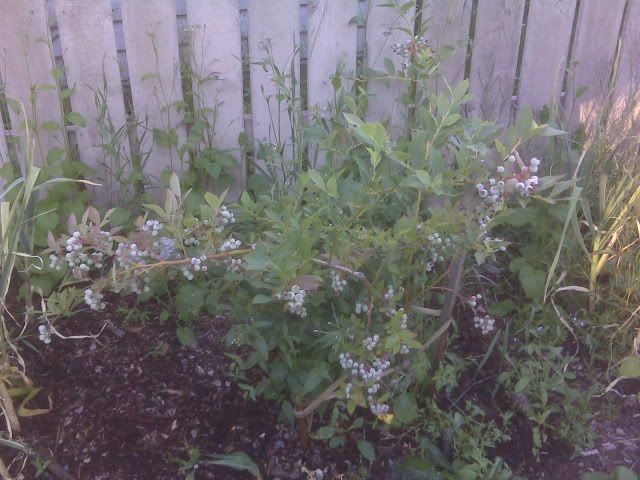 I think the Legacy is next to mature as the berries are plumping up nicely.  I could see this providing tons when it gets more canes, but for now, it pales in comparison to...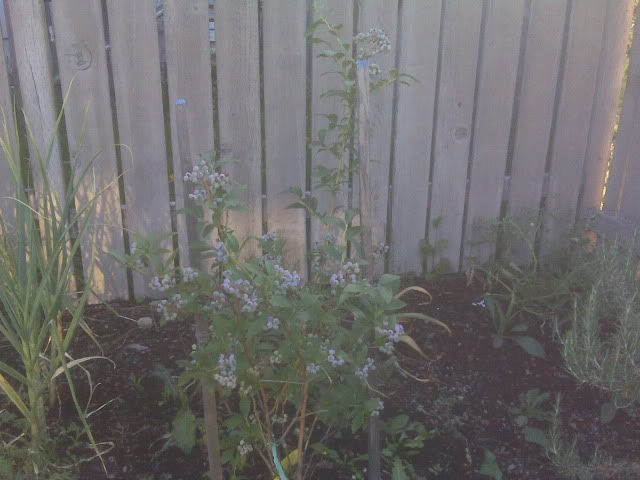 I just love the clusters on these... like bunches of grapes.  Small but coloring nicely.  If I could keep this bed weeded I think they'd get more nutrients. Oh, and that's my tomato sucker transplant in the back. I need a cage for it.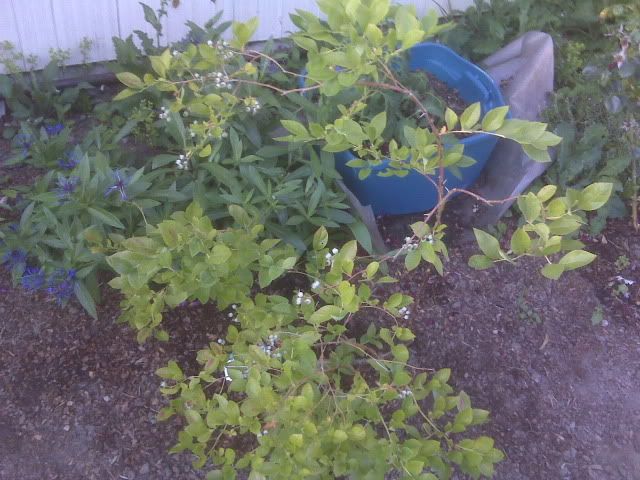 Not sure what to make of this one.  It looks like a cluster like the Legacy, but it's later and smaller than the Legacy.  Maybe next year it will improve.
Speaking of clusters, I couldn't help but notice this future tomato cluster.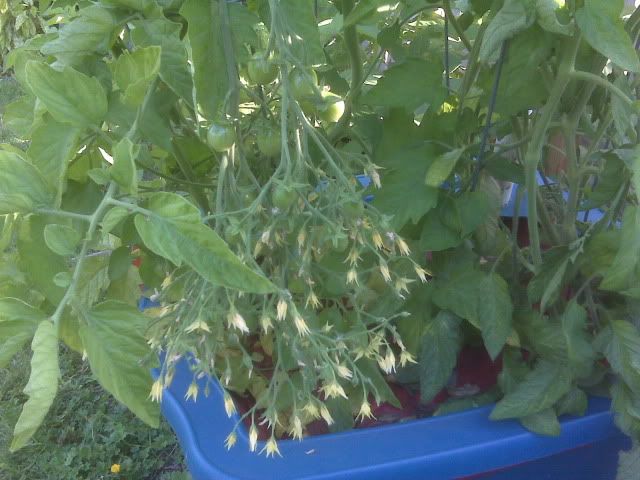 At the top you can see some cherry tomatoes starting to develop. I gave it a good shake after taking this picture, hehe. I can't wait.
And right next to this SWC is my 31 gallon bin with cantaloupe growing in it.
Oh, what did you notice first?  If you're a parent, you probably saw my youngest playing in the water from the overflow valve following a refill of the reservoir.  If you're a gardener, you may have noticed these...
Yep, flowers on the cantaloupe!  Boy do I need to figure out a trellis for this bin.  As for the flowers, they're all male.  Hopefully one will still be alive when the females show up.  Speaking of female flowers, when we were at my brother's, he had no fewer than 18 female cuke flowers, but not a male amongst them.  Hehe.  Too bad I can't swing a date between his cukes and my cantaloupe.  Don't think it works that way.
Hope you had a safe and relaxing 4th!