Well, I got out into the garden for the first time in ages. That is, not just to water it after dark.  I was getting tired of humming Gardening At Night by REM, hehe.
Much to my surprise, my garden marched along without me.  The kids have been harvesting carrots left and right.  In fact, they harvested a slew of them at once (against all I've taught them).  Thankfully, I learned from Good Eat's that storing carrots with an inch of stem left on them in bubble wrap is the best way to keep them fresh for a long period. 
I also found this in the garden.
These are (I believe) my bloody butchers that I should have pinched the blooms off of instead of letting them form fruit.  Sure I have early fruit (probably the earliest in the neighborhood), but the plant is less than half the size of the rest of my plants.  As I have read, all the energy went into the fruit and not growing the green vines, despite repeated watering with fish emulsion.  Oh well, I will get to save seed from these to create an earlier maturing variety next season (hopefully).  Anyway, aren't they cute?
I also found these during my personal garden tour.
These are likely yello pear as I found another that is likely roma.  I can't wait until these go from green to yellow!
Well, as I said, the garden marched on for two weeks without me.  I knew my cauliflower and broccoli were ready to harvest, but when you eat out every night and get home exhausted, it's tough to harvest in the dark.  What that meant is that my nice, tight broccoli and cauliflower bunches got leggy.  They're still edible I think, just not the peak of freshness.  Grrr.  Thankfully, I found this when I was out there.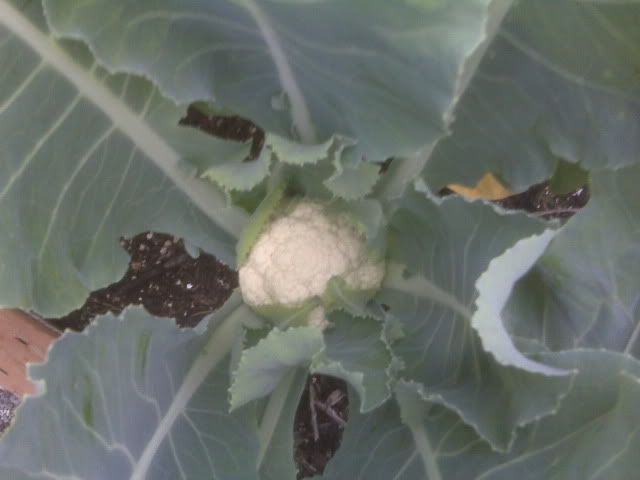 I realize I don't have a hand in there, but you can tell by the 2x6 there that this is about 3 inches wide.  I pinched the inner leaves together and clipped them with one of my handy dollar store clips.
Lastly, I was giving the potato bins some much needed water and saw the pest damage was getting worse.  Contrary to popular belief, I don't know everything about potatoes.  Mostly I know about growing them, not pest problems as I haven't had too much of that.  Any idea what's causing this?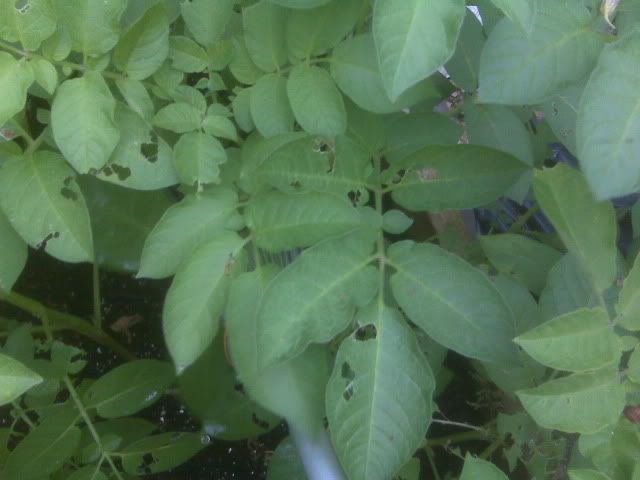 The plants look healthy desptie all the holes.  I hope that means the potatoes are growing bigger in the tower.  I also hope I kept them watered sufficiently so they aren't deformed.
Well, I'm back, and feeling better (though still sore and tired) back in the garden.  Thanks for all the kind words about the house.  It was listed today and there's an open house both days on the weekend. Fingers are crossed that it's a quick sale.
Oh, on a separate note, I just realized that this is my 400th post. Wow, that's a ton, hehe.
Enjoy your garden!