My oh my, it has been a while.  Seems my vacation has been far more type A than type B.  Kind of a shame because sitting around and gardening is just about my speed.  Instead I've been pretty much go-go non-stop ever since we got back from camping.  Blogging about the few scant hours I spent in the garden just wasn't on the agenda. 
Yesterday for instance, was a perfect example.  For over a year, my garage was jam packed with junk left over from our last garage sale.  It was also a catch-all for anything we didn't want in the house.  I've been wanting to tackle it for the last 8 months, and so we did.  It felt so good to create four piles of stuff in the driveway.  Of course there was the keep and the charity piles, but there the garbage pile was broken into  dump and recycling piles.  Very Seattle of us. 
While we were moving everything out, I came across my seed potatoes that didn't make it into the ground this year.  I knew there were plenty of Buttes left, but I couldn't give them away.  I had known they were trying their best to grow sans dirt, because I kept seeing the box.  It looks like this.
I've been surprised that it was starting to form leaves in a mostly dark garage with, I repeat, no dirt.  However, if that wasn't surprising enough, I was downright shocked to find this inside.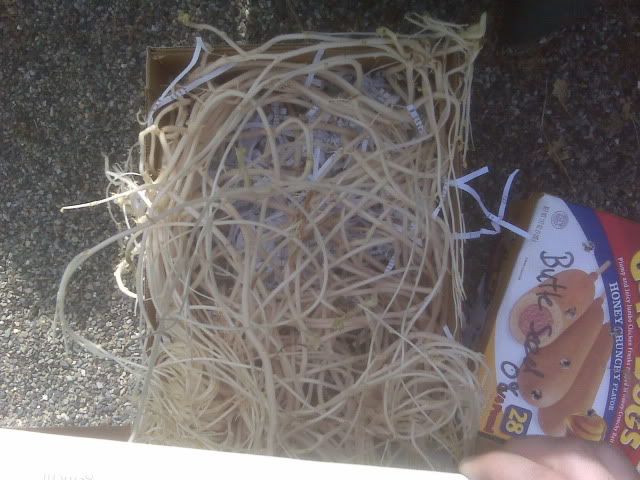 Look at the spaghetti noodles all bound up inside.  Absolutely insane!  Life will find a way I guess.  These will be composted next chance I get.  And I thought the sprouts were long when I planted them at about a foot.  Now they're well over three feet in some cases.  Crazy.  I just had to share.
About all had time to do in the garden that day was to water.  While I was doing it I spotted a ripening tomato.  It was one of my big ones (I didn't recall having any big ones).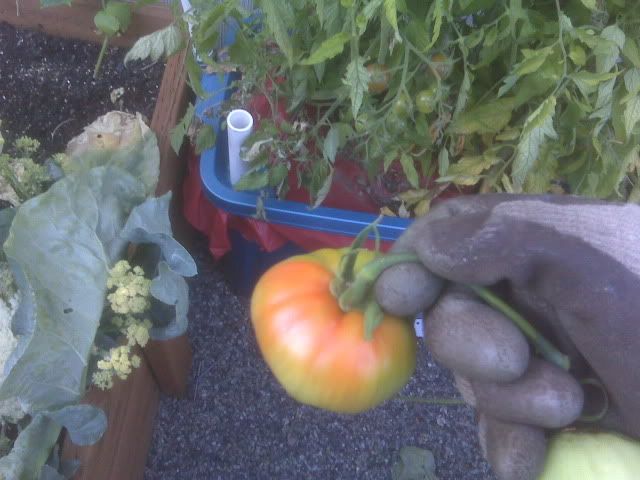 It was ever-so-apparent that I haven't had time to LOOK at my garden of late, because as great as this tomato looks from the top, look at the bottom.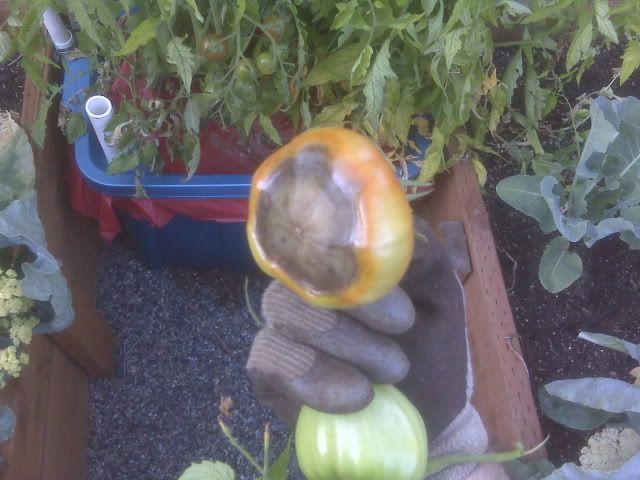 I haven't noticed any other BER (Blossom End Rot) on any other tomatoes in my garden, which is pretty good since I am growing all heirlooms with no particular resistance. Thank goodness my inattentiveness didn't come back to bite me. I am not sure if BER is contageous or not, but it doesn't appear to have spread.  Whew!
Lastly, I had to snap this pic while I was watering.  I still haven't pulled my spent cauliflower.  I'm not sure how much longer it needs to harvest seed from it, but I don't need the space right away, so I may just wait it out.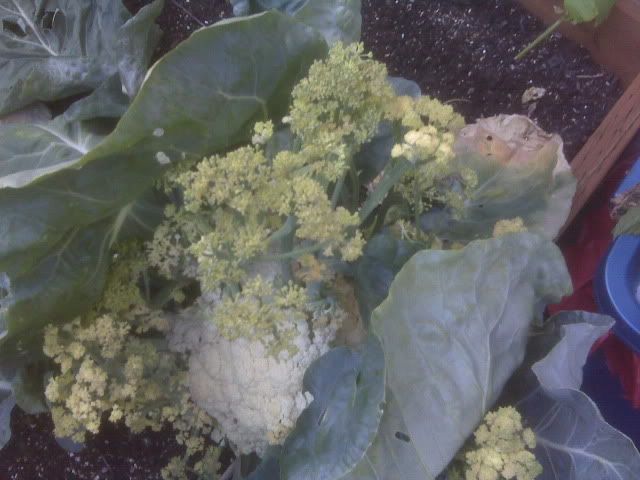 Ugly I know, but that's what taking a month off will do to your garden.
I had really hoped to get out more into my garden this week.