Wow, where has July gone?  Sorry I haven't posted, but it's been just plain too hot to garden much.  The later part of my vacation was spent on the garage, helping a friend move and playing at the pool with the kids.  Alas, nowhere in there did I mention gardening.  Well, that's not quite true, I did find a use for the mostly cleared bed #1.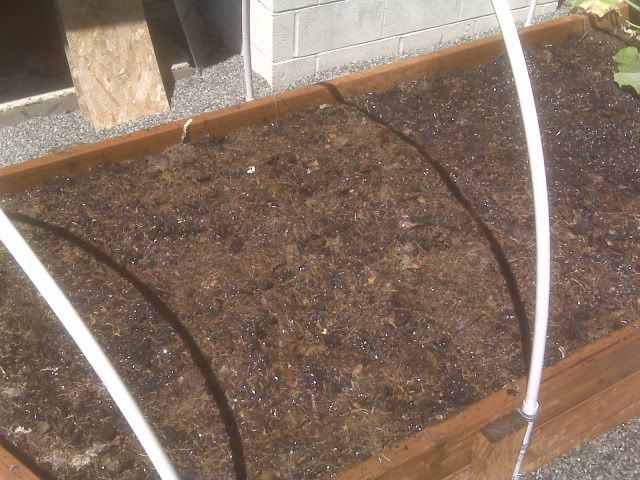 Yeah, I know, I'm late for fall planting, but I think I'll be ok.  I planted tons of carrots as they're the best after a frost when the starches turn to sugars.  I also planted some broccoli and cauliflower butting up where I had the lettuce.  Finally I planted a square of radishes and one of green onions.  Not sure if the onions will work, but they didn't work this spring.  Go figure.  Last time I transplanted them from indoor started seedlings and this time I direct-sowed, but it shouldn't have mattered.  I'm trying again.
Not only did I sprinkle finished compost over the bed, but I worked some in. Two kitty-litter buckets full. That should replace any nutrients that the former residents took away (they tasted yummy too).
Another reason I didn't garden much is the heat.  I don't know what's up, but this weather is for the birds... snow birds that is.  I'd expect temps pushing 100 in Arizona or the South, but not here.  We haven't had rain to speak of in weeks.  It's downright insane. 
Now I know what you're thinking if you're a reader from one of those insanely hot places, but we aren't built for that kind of heat here. NOBODY has AC, and fans just push the 85-90 degree interior air around.  I'm ok at work but when I get home, it's an oven. And my poor family, they aren't lucky enough to spend 8+ hours in AC bliss. 
Lastly, the heat's not doing well for the garden.  The cauliflower that was heading nicely is prematurely going to seed, the peas died with tons left to harvest, the potatoes are laying over, and worst of all, there must be hundreds of flowers on my tomato plants that are dying.  I understand fruit won't set above 90 degrees.  Well it's 95 out there now.  Grrr.
Well, that's all for now, stay cool all. I think I'll throw some ice cubes in a bowl and stick it in front of my fan, hehe.
Enjoy your garden!