Whew, what a night.  Exhausting but fun.  Tonight was the first night in I don't know how long that we took a break to spend time with our families.  For my part, we went on a walk, which was fun, but I was sluggish being so sore.  As we were locking the kids up in their jogging strollers, I couldn't help but snap this pic of my shady pea patch.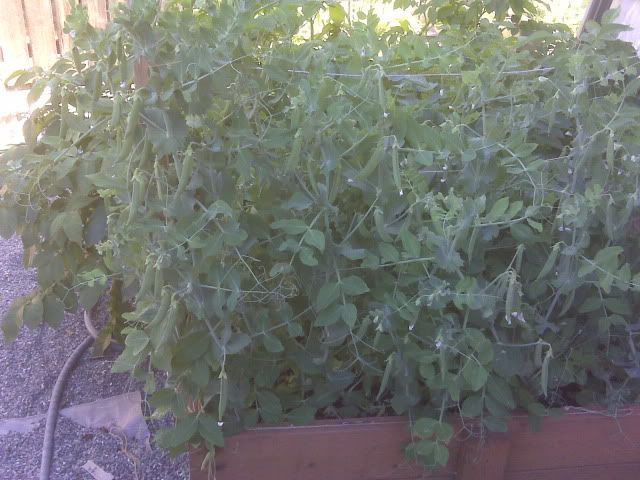 There must be hundreds of peas in these 4 SF!  A ton can happen in a few days since I last walked through the garden.
When we got back, I fired up the grill and barbequed some steaks.  In addition to the baked potato, I had the kids go out and harvest our side dish.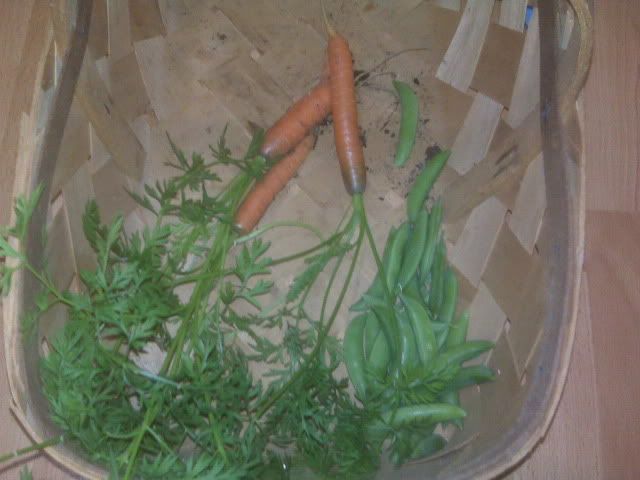 Don't mind the carrots.  They couldn't pass by without picking their own vegetable for dinner.  My wife and I didn't get any of those.  Instead we paired the snap peas with some left over broccoli.  Seems the cauliflower flourettes had gone yellow and smelled a bit funky in the crisper after a week, so they got composted.
Speaking of compost.  I still haven't had the time, nor energy to get out and aerate and mix in the stored compostables.  However, last evening I got home at 8 so after we read to the kids and put them to bed, I rushed out and ripped out the flowering radishes, spinach and spent broccoli.  For lack of better place to store it, I keep throwing it on top of the shrunken pile.  I've got tons more than this to add.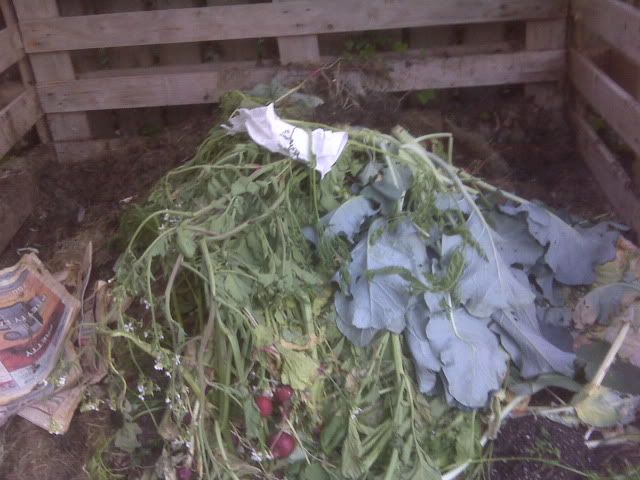 When I turn this, I'll use a shovel instead to chop up these so they break down faster.  Oh, and the newspapers in the corner are simply stored there under cover for when I need them, hehe.
Dinner was yummy, and my wife even ate the week old broccoli saying it was still good tasting, just not as crisp.  I'll take that!  Oh, and we found out that snap peas are unlike beans, in that you want your peas to be big and fat and your beans young and tender.  Note to self, pick only the largest peas.  They're sweeter and jucier. 
Lastly, I have no idea why I took this shot. I just thought it showed my garden from a different angle.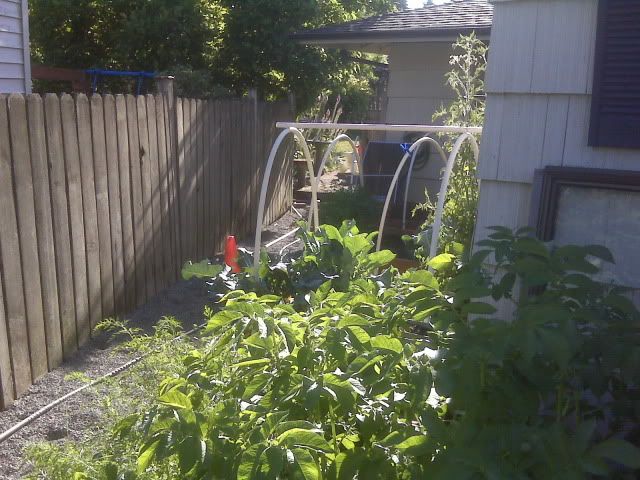 In the foreground are yukon gold potatoes and carrots.  In the middle are broccoli and cauliflower and in the back are tomatoes and more carrots (my kids love them).  The other thing this shows is the shade-line created by the side of my garage.  It's in there where my monster pea patch is located. The patch in direct sun for more time every day is much smaller and stunted.  Go figure.  Peas like shade.  See, you learn something (many) new every day, hehe.
Well, I'm exhausted and tomorrow is a long day of work and then a late night at the house.  Saturday will be light and celebratory, then Sunday will be all hands for rigorous cleaning from top to bottom.  THEN WE'RE DONE!
Enjoy your garden.