Well, this post will be a long one.  So much to say, so let's get started...
First off, I want to parrot the comment from yesterday's post from Jordanne from PTF and their sister sites, including Freedomgardens.org.  It very well been a timing coincidence that led to the severe uptick in spam.  I concur that everything is being done to ensure that the PTF sites are as safe as any site out there due to the diligence of Jordanne and others in the PTF family.
Today was a busy day, getting a ticket for not noticing a no-right-on-red sign, failing my second emissions control test after spending $250 to fix it, and rain hampering much of my plans for the garden.  However, I did have a blast at Jump Planet with the kids (great workout!) and did get out in the garden for a bit of thining and planning.  While I was out there, I couldn't help but notice that several of my cucumbers were ready, or perhaps past ready, to harvest.
I think that huge yellow one will either be toast or a slicer, but the rest will be used this weekend.  I let the yellow one stay on the vine longer than normal to test to see if that plant was my slicer or a pickler.  It's odd because I've got what are undoubtedy slicers seemingly growing from the same plant, though it's possible it's from the center one just growing into the next square.  Anyway, if the yellow's bad, I'll compost it, otherwise it's salad material.  The rest will be used to make pickles this weekend.  My brother just harvested the same number of slightly smaller pickling cukes from his 18 plants today as well.  So we've got a date to pickle this weekend.  Should be fun. I just hope I can get two or three per jar, hehe.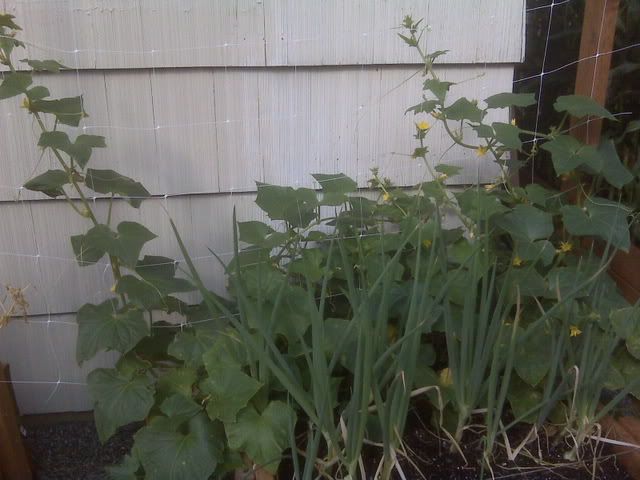 As you can see, the trellised cukes are taking to it very well, though I did have to grab some vines from the sides and back and train them a bit.  I also took a moment to hand pollinate whatever I could find.  I even did the one that is a mutant. Half cuke and half baby stump.  I somehow doubt that will turn out right in the end.  I didn't take a picture because it was deep in the jungle.  Speaking of the jungle, I noticed some spots on the leaves.
It's likely due to too much water, since it's been raining off and on for a week now.  We'll see if it spreads or bounces back.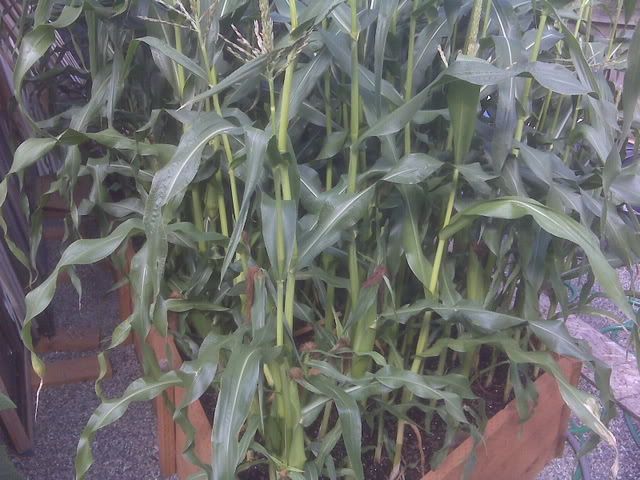 While I was at it, I couldn't help but notice that the silks on the original corn planting were turning brown and the last plantings were forming silks left and right.  In other words, just as I had hoped it would happen.  So I went to the Seneca Horizon and checked a cob.  The tip didn't have any kernels, but where it did, the fluid was milky! Yay, corn is done!  So tonight I grilled up some steaks, baked some potatoes and boiled me a pot of water.  Then I went out and harvested some corn.
When I got inside, I shucked the corn and tossed it into the boiling water.  I wanted it as fresh as possible so I only let it cook for a few minutes.  I also didn't want to taint the flavor so I didn't add sugar to the water like I do for storebought to make it sweeter (shh, don't tell anyone my secret hehe).  To my great disappointment, the corn was edible, but nowhere near as tasty as store bought corn. I am not sure what went wrong. Maybe I harvested too late.  Maybe it cross pollinated with the Precocious, though that shouldn't matter with sh corn, in other words, not the supersweet varieties.  Or maybe it's just how it's supposed to taste and I'm just used to the supersweet varieties.  But this was as fresh as fresh can be and it wasn't sweet at all.  Grrr. If I don't get better results from the rest of this harvest, that'll be the reason I stop planting corn.  There are so many possible reasons not to, but that one would take the cake!  Ah well, the rest of the meal rocked!
On a random note, I just had to share a broccoli story.  I call it the tale of two broccoli plants.  One was transplanted with his brethren but never really grew in the shadow of other plants.  The other was direct sowed late and so shaded by cauliflower leaves that it grew leggy such that I didn't think a head could be supported.  The head started to form first on the transplant, though months after I'd harvested the other transplants.  However, right away it stopped maintaining it's tight symetrical head.  Something was wrong.  The direct sowed one formed a head really late, and only after the cauliflower had been harvested and the weather turned foul and the leggy stalk bent into an S such that the head was resting on the ground.  That head looks like this now...
Notice that the bed board is directly under it, supporting it's weight.  I moved the S to avoid it taking over the adjacent square. I'd like to plant that for fall. This will be harvested before the hoop cover goes on, so no worries.  I don't think I'll be growing broccoli next year so the tale of two broccoli will have to be an unsolved mystery.
Back in side, while I was talking to my brother about pickling this weekend, I had a snack.  I took the week-old cucumber and mini-tomatoes that have been sitting in my fridge unprotected and cut them up and had a cucumber and tomato salad.  I must say, even after a week in the fridge, they still knocked the socks off of storebought any day!
The last thing I'll mention for today is that I've been interested for a while now to create a sourdough starter and make my own sourdough bread.  We eat high fiber healthy bread all the time, but I miss my sourdough, so I figured for special occasions I'd make sourdough bread.  So I found this video on breadtopia...
Breadtopia's Sourdough Starter Video
and this on making
No-Kneed Bread
.  I've had the sites bookmarked for quite a while now, but when my mother asked me to share my starter when I made it, I knew I should actually do it.  Researching it farther I found that it takes a week to make the starter and then bake a loaf of bread from it.  So my original plan was to start the starter the day I went on vacation.  Best laid plans and all... I didn't start until tonight.  I took detailed notes from the video and went and got wheat flower, pineapple juice and spring water from the store when I bought the potatoes (I didn't have the courage to check to see if I had some to steal from my bins yet).  Then after the kids went to bed, I created this...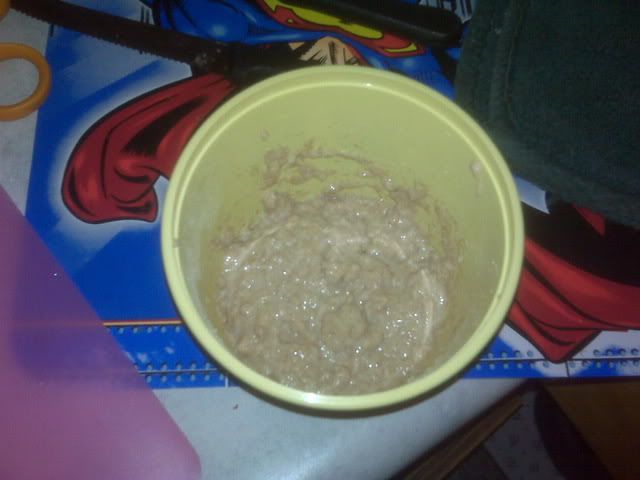 Now it's sitting covered on my counter for the next 2 days, with me babysitting it by stiring it two to three times a day.  I sure hope using a yellow margarine tub is ok rather than his clear tub.  In other words, hope light doesn't factor in. /shrug.
I also don't have a dutch oven or a cloche to bake my bread in. I've shot an email off to Eric at Breadtopia to see if I can make due without the perfect vessel until I decide this is right for me. Then I think I'd buy the dutch oven rather than the unitasker cloche (AB would be proud of me).
Well, that's all I can think of for tonight. As I said, long post.  Hope you've enjoyed reading it.  And if you haven't already, check out the
PTF sites
 and
Freedomgardens.org
.   What the Dervaes family has done for themselves, their community, the environment and the world through the power of the internet is nothing short of amazing!  Check them out and I think you'll become as addicted as most are to their story and experiences.
Enjoy your garden!