Wow, what a relaxing day.  Errands with the kids, an afternoon nap, time on the internet after the kids wore me out running and running.  Showers outside to cool down the muggy day.  Not bad. 
Frankly I couldn't figure out the "ton" of garden stuff I had to do outside.  I cleaned up a bit, watered, checked that my fall plantings were sprouting, but what more was there to do?  Ah the joy of gardening.
But that didn't stop me from taking some "feel good" shots of the garden.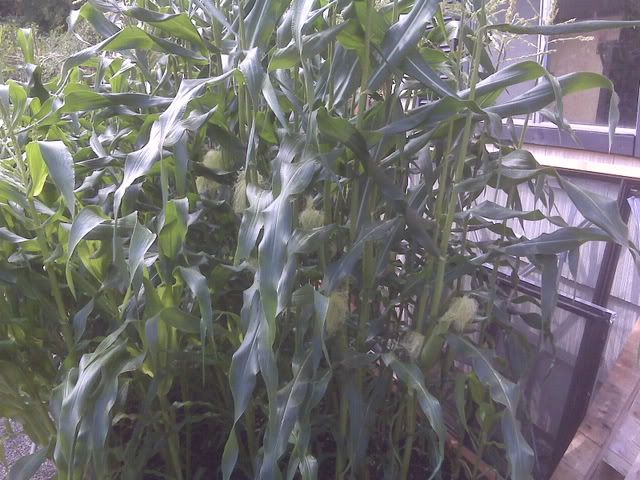 Wow, what a sea of corn!  And all those silks on the left.  The right succession planting is coming along nicely.  But I just had to share close-ups of all those cobs growing.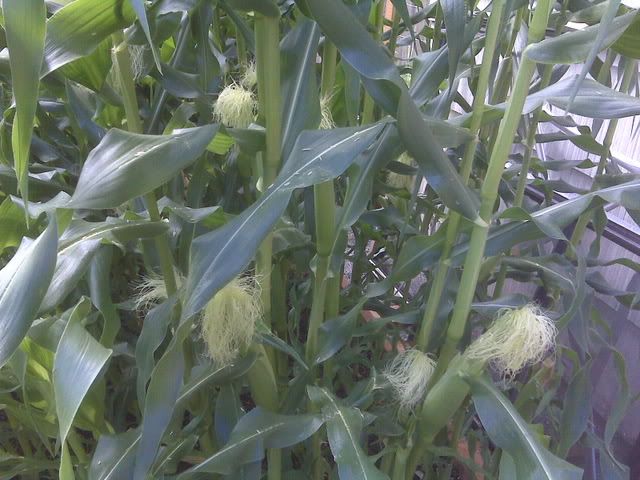 I counted over a dozen ears growing!  Of course, it's not the 200 I had planted, but my successions aren't ready yet, and you haven't seen the "pretty corn" yet...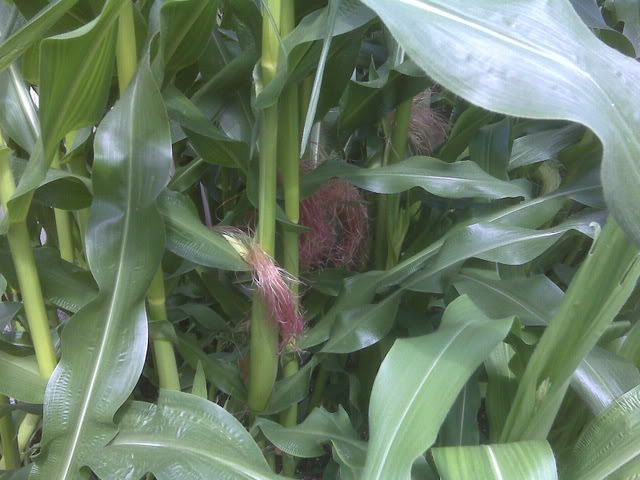 I love the pink silks!  What a bonus. Cool when it's growing and I hope it's great to eat too!  And just to not be out-done by the double-ear stalks of the Seneca Horizon, here is one from the Precocious...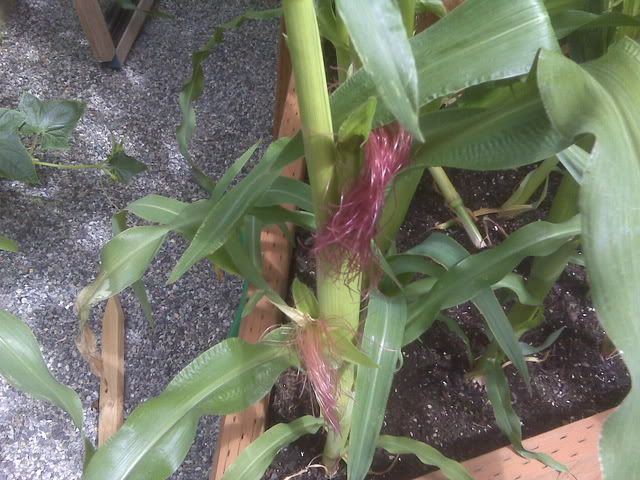 Of course you can see in the background the fallen soldiers that didn't hold up to my wimpy attempt to stake them up.  Frankly I left them. They seem to still be growing, so you never know.  
Speaking of fallen soldiers.  Here is my yukon gold bin...
It's kinda dying.  Not totally, but it's not looking good, especially in comparison to the jungle next to it. It's also got some sort of splotches on some leaves that is either a sign of the natural progression of the plants dying back signifying the completion of the potato growth, or some problematic insect infestation or watering problem.  Hehe, choices, choices, choices.
Thoughts?
Anyway, I re-read the Ed Hume and Ciscoe sites and came to the conclusion that I most likely DO have potatoes growing down there.  In fact, Ed Hume said that I could have harvested new potatoes when my peas died back a month or so ago, or wait until October or November for storage potatoes.  This year I'm holding out, unless the Yukon Golds tip my hand early.  And don't worry Judy, I will definitely take pictures.
Enjoy your garden!