Well, I know it's not the weekend, but the weather was so nice that I wanted to get out.  Besides, my kids wanted to go outside and play and my wife was complaining about all the bugs in the kitchen compost.  So I went out to fluff a pile and rebuild a compost bin.  And since everyone likes pictures, I took tons.  So bear with me.
Here is the crater I made and the kitchen compost bucket along with one of the 5 Starbuck's ground bags I used.  I've still got more in the garage.  Nobody wants them now a days.  They love putting as many together for you as you want.  The only question I've ever been asked is, oh, what are you going to use them for... I love to answer that.  What other free material is an inch away from being fertilizer?  Nothing.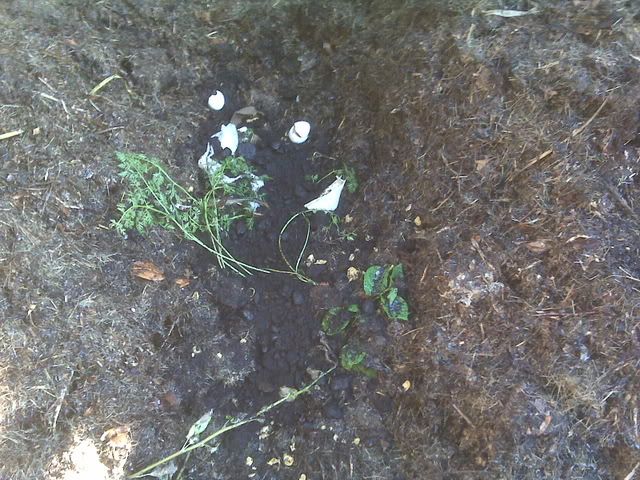 Here is a close-up of some fo the kitchen waste mixed into the coffee grounds (watering each layer to keep it moist in this summer heat).  Notice I've got egg shells for calcium, and tons of garden veggie scraps!  Even a sucker or two from my pear tree.  Whatever works.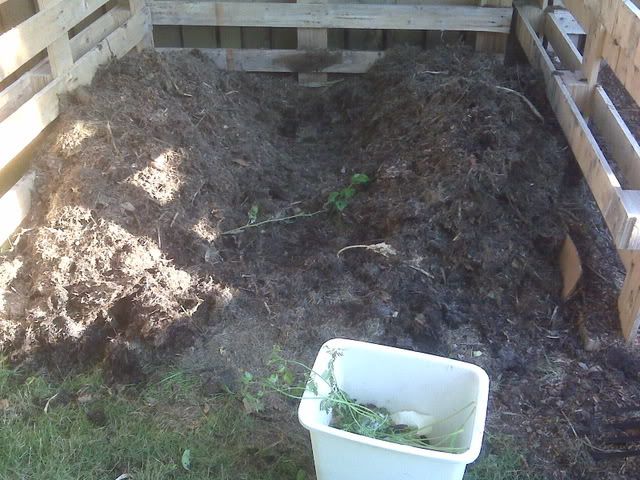 Here is a good angle of how I fill the middle from the outside in.  I had already fluffed the pile to the outer walls.  I've got it down pretty good now.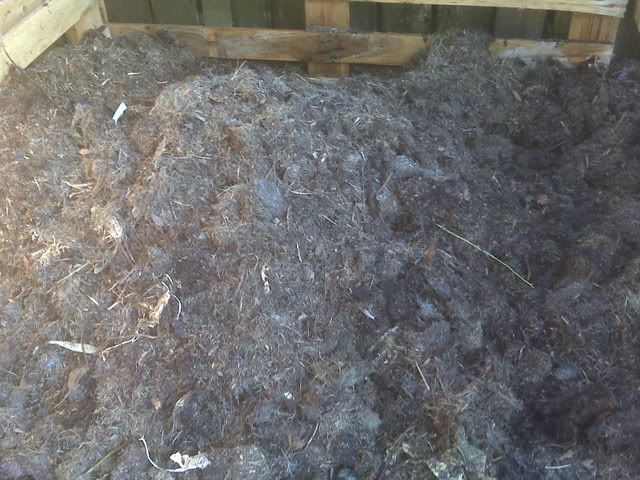 The whole process only took about a half hour or less, including stopping to swing my youngest for ten minutes. I got more tired doing that than my composting.
Then I ripped out the bolted lettuce plants that had been flattened by coons.  You see I found they were covering my carrot sprouts.  Not good.  Anyway, I ran out of brown material and the pile was getting too big as it was, so these will need to be chopped up or smashed and composted this weekend.  Maybe I'll use some of the remnants of my first bin with all the sawdust in it as my brown.  Who knows.  Maybe I'll shred some of my wife's news papers.
Here is the bare bed #1 where I removed all the bolted lettuce.  I've found my lettuce square has sprouted, as with my carrots, radishes and cauliflower.  Not bad!  Only one cauliflower failed to germinate. I replanted that square tonight. Oh, and that green stuff at the top of the picture above are my funky leggy broccoli that were trying to grow over my mature cauliflower.  Then after I harvested the cauliflower they grew into an S and reached toward the light.  Now they're taking up two squares, so I moved them such that one is growing out over the path and the other is growing over the trunk of the first.  I kept thinking I would pull them since they couldn't support a head and weren't trying to grow one, but lookie what I found today!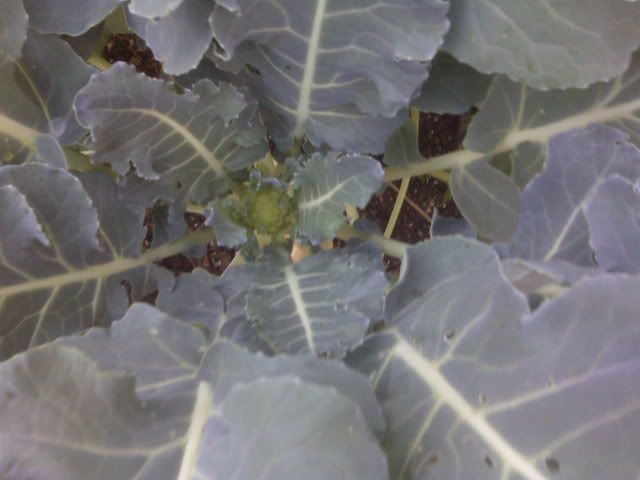 And here is some of my carrot crop.  My son over picked the bed because he "likes carrots" despite my wife telling him we only harvest what we're going to eat.  So we had raw carrots with dinner tonight (I can't bring myself to cook them they're so good raw).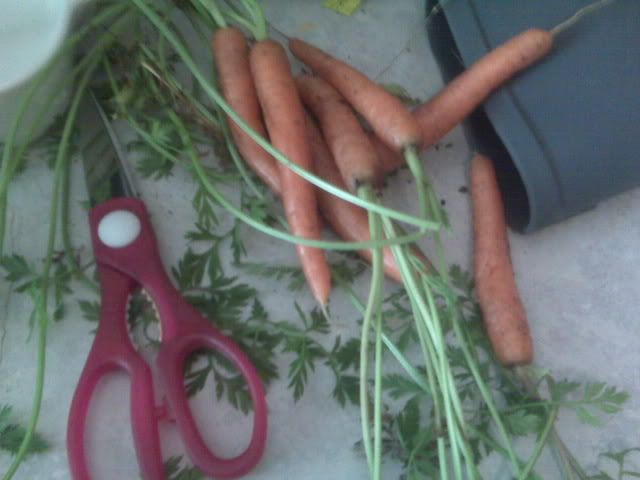 Finally, I wish someone out there knew when to harvest my cukes,  I have no clue and don't want to get it wrong.  Maybe the big flat one will get harvested this weekend to test.  I also hope they keep because I have a good amount growing but I won't have enough to pickle at any one time. /shrug
Enjoy your garden!  I can't wait for the weekend to play in mine some more!