Gotta love camping.  The kids love it. I can't wait until my kids get older and we can do it a bit more like I remember it before he campers and trailers and site hookups hehe.  The meals included a bunch of lettuce and other produce from the garden.  We had broccoli and cauliflower (alas over cooked) for dinner one night and even used some lettuce on sandwiches.  Another great find was stopping by Biringer Farms on the way and picked about a half-flat of raspberries and a handful of strawberries.  So we had fresh berries on angel food cake, berries in pancakes for breakfast, and healthy snacks for the kids.  And they had a blast picking them.  Great idea (wasn't mine)! hehe
So getting back this afternoon, even my wife was interested to see how 4 days of sun had treated my garden.  Here's what we were presented with...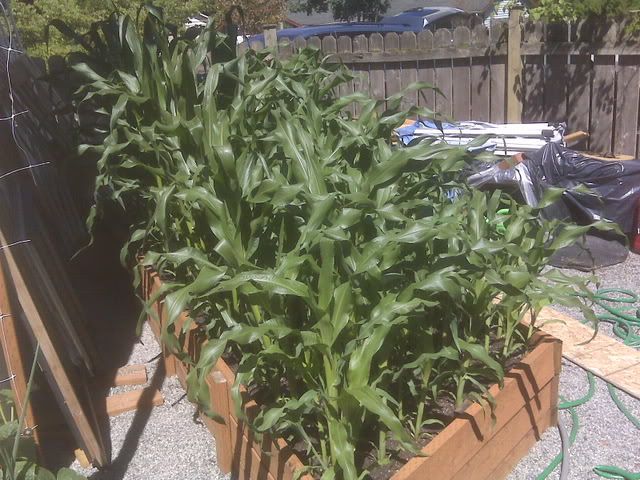 The corn is doing wonderfully. I think.  It's growing tastles and getting dense green foliage.  I hope that's good. No signs of ears yet, but we're topping out over the fence line, which is a good thing!
The radishes camping had gone a bit woody, but then I brought some that had flowered (we'd lost track of them hidden under monster broccoli and never harvested them. My fault.  The onions are getting really big, but are still tasty.  As for the cukes, they are shooting out tendrils like the peas to grab the trellis.  I had to help it a bit in places, but where I'd helped it before, they seem to be playing along.  What's more is that I've got some nice little flowers on some of them already.  Pretty cool!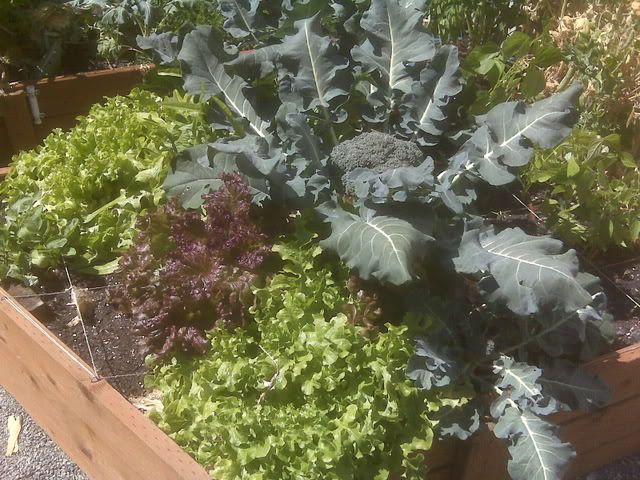 Moving along as we entered the garden is my succession lettuce and cauliflower bed.  I've got to harvest another broccoli tomorrow and need to eat more of the lettuce, hehe.  It's looking really good!
On the other end of the spectrum, the peas need to be ripped out.  Even some of the peas I didn't get around to harvest bit the dust.  Gotta be more vigillant at harvesting everything.  Next year, only snap peas I think.  The season was so short that we didn't get around to making stir fry on the "garden's" schedule, and I couldn't tell which were snap and shelling well enough.  Oh, and by next year, I mean I hope to have a fall crop too.  Not sure when I need to plant them but probably when the pole beans are done (they haven't even flowered). 
If you look at the picture above, you can side a true yin and yang scenario.  While the peas are dead, the tomatoes are growing like mad.  They're taking over the trellis like they were designed to do.   I counted over a dozen tomatoes growing on the Early Girl and tons more flowers where that came from.  Unfortunately the Momomato (I think I've been spelling it wrong, like everything else, I can't spell my way out of a paper bag) only has three small tomatoes crowding their way at the bottom of the plant but tons of flowers.  So I shaked the cages to hopefully polinate them a bit.  I love the smell of tomato plants.  When you prune them, shake them or just stick your noes into the plant to water it.  I hope the shaking helps because after I shake them I smell the tomato pant smell big time.  Let's hope I get more tomatoes for the rest of the year!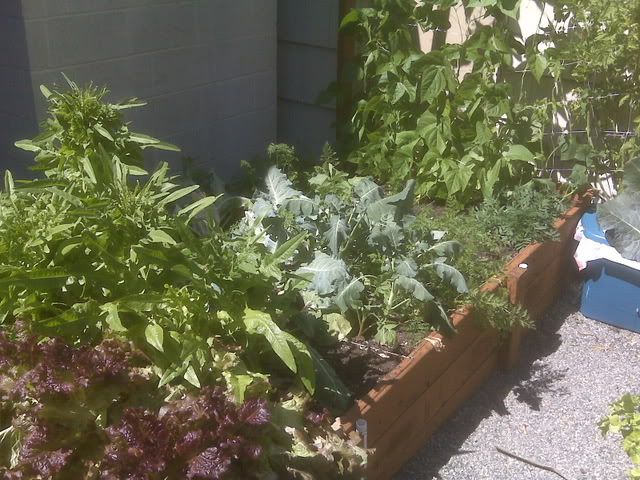 Now for the last bed.  It was the first bed I planted and the one I babied through the April snow storms.  The lettuce is either bolting or finally giving up the ghost, the beans are a bright spot even without the beans.  I'm not sure the cukes are going to find any space in the trellis because of the beans and the tomatoes, but we'll work on that. I'm not sure about the cauliflower.  The one two I've harvested were good, but I was looking forward to more raw cauliflower from some of my small heads that should have been growing bigger by the day.  Unfortunately, they look like this...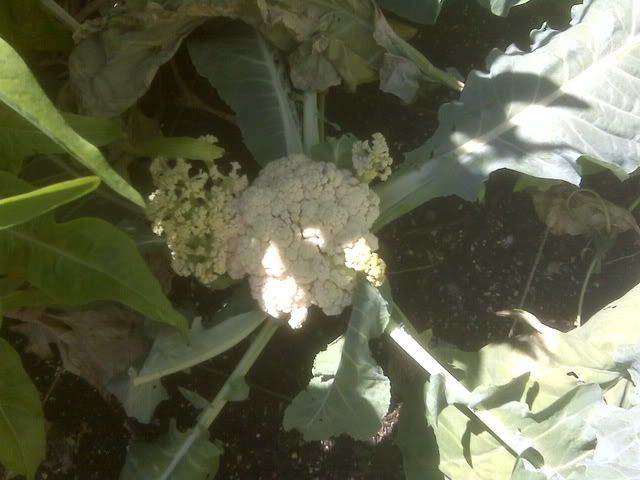 It's like it's bolting when it's only the size of a small ball, definitely not good eats...  Gonna need to talk to my mom about this.  Maybe I've lost the season for it and can't succession plant my cauliflower.  Not sure.  That'd be a bummer if it was, since I can't eat that much cauliflower all at once. I guess I could try freezing it next year.  I don't think pickling it is for me.  This is not a good sign.  Live and learn.
Out through the back yard I was shocked to see the potato bins.  My flowering bin looked like this.  At first I thought YAY the plants were dying and I could harvest potatoes soon.  But the more I looked at it, I thought that something had flattened it.  GRRRRR It looks like the coons are back.  And I haven't found a good alternative to Haveaheart.  I think I'll get more of it and see if it works.  The odd thing about it is that there is a trellis on top of the fence there so I'm curious how the coon got on top of the bin. 
I spoke to my aunt who was watering and they were fine yesterday, so it must have happened last night.  Grrr.  The only good news is that the plants don't look dead.  The bad news is that they wouldn't snap back standing up.  So I did my best to tie the plants up with twine attached to the fence.  Here's the best I could do without individually roping each stalk.
Trying to tie it up, I found that the jute twine isn't that strong, so if the coon comes back, it'll snap.  But I'm not going to give up!  Tomorrow I'll see about buying more and sprinkle it around the perimeter again.  Grrr.
So not everything was grand about my return to my garden, but although I forgot to take a picture, I was surpised to find three cantaloupe sprouts.  A little taller and I'll cover them with plastic to enclose the SWC.  I'm off to the races on the gamble...
Hope you had a great weekend and got a chance to enjoy your garden!