Man, I felt lethargic today.  The weather's been humid and cloudy.  Ugly weather when it's showering all day long and the kids just want to stay in side and play.  I did take a moment to go out and let the kids play so I could get some stuff done in the garden.  I planted two squares of carrots in the front of bed #1.  I ripped out the dead basil and planted a fourth square of spinach, plus replanting the blank spots in bed #2.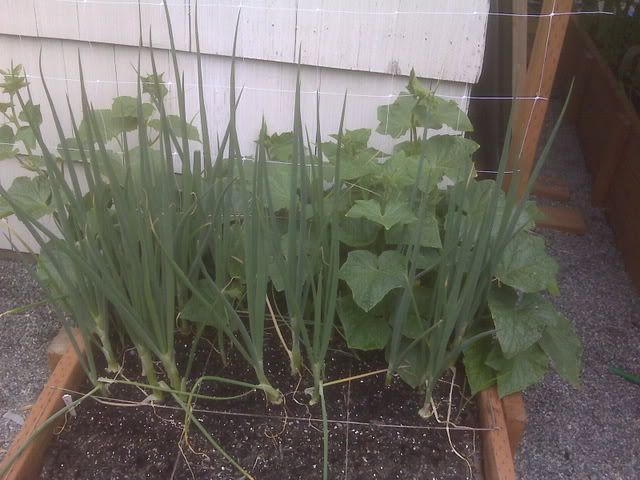 I planted three squares of cauliflower in bed #3.  In each case I threw a few handfulls of my first compost and mixed it into the top few inches as Mel suggests.  It's not the best compost but it should do fine considering my Mel's mix is only a year old.
The problem I'm having with the whole spacing and shading part of my fall/winter planting plan is that my existing summer crops are interferring with my plantings.  By the time my beans and cucumbers are done and ready to pull out, I expect my cauliflower to be too tall to effectively plant anything north of it.  Not sure what I'll do but I guess worse case scenario is that I let those squares go fallow for a "season". 
I also found what looks to be evidence of raccoons sitting in my yukon bin this time.  Grrr. I put down a bunch of deterrent, especially around my bins.  This time however, it looks like the stems are resilient enough to bounce back without tying up.  We'll see.  Hopefully the potatoes are almost full grown.  I swear I never saw any flowers from the Yukon Golds, but I guess what Tim says is possible, that I missed the flowering.  I'm assuming that potatos are growing fine in there.
I didn't get around to yanking out the three foot tall lettuce because I'd like to compost it but didn't feel like setting up the chipper to cut up the big stalks.  Look how tall they've grown!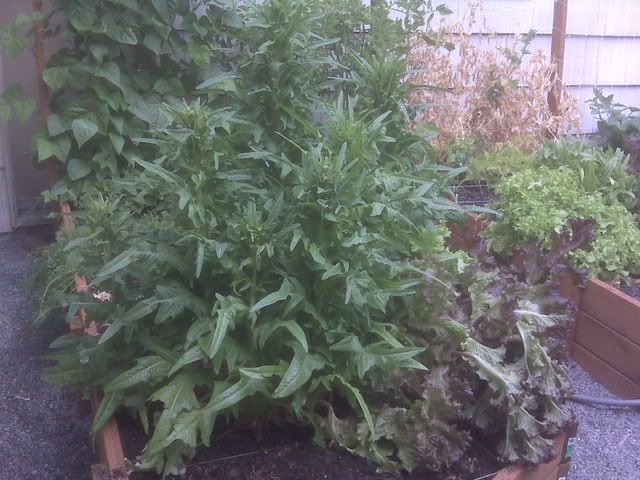 I still think the lower leaves are edible. I didn't try any yet but I won't eat them if they're "woody" like I've heard they can get.  In contrast, here is the new monster patch of lettuce.
I'm not sure this patch will tide me over until December when my September planting should be ready. I may want to plant one square of lettuce mix (two salad blowls, an Italiansheir and a Red Sails) to tide me over until then.  Maybe tomorrow after work I'll plant it where my cauliflower was.
We've been wittling away at our carrot stock, which is part of the reason I planted so many. They taste so good and the kids love them as much as we do, so these mokums are a hit in my family.  Not huge but a good six inches long.  I'm sure the spacing has something to do with the size, and maybe the lack of light. Here's what the current stock looks like.  The bare spots you see are some of the succession plantings for fall and winter that I already did last month.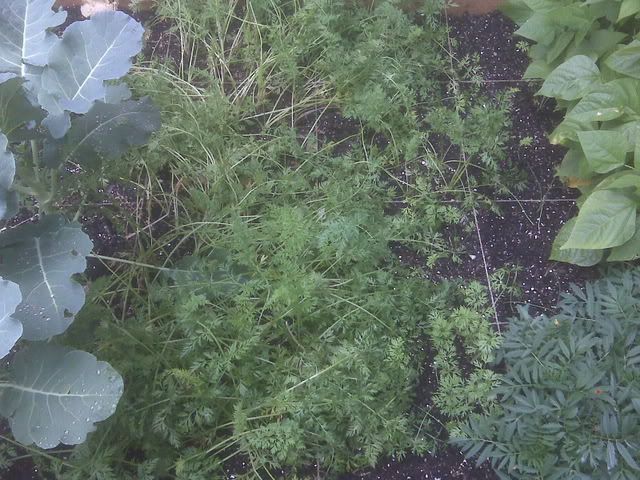 You can also see in the lower right corner the marigold square starting to blossom.  Thanks Judy!  As you can see we've got quite a few carrots left, but we only eat them for a treat right now.  I'm sure we could go through an entire bed of carrots if we had the space.  Maybe if I don't do corn next year I'll devote much more to them.
The tomatoes are doing quite well. The Early Girls are fattening up quite a bit (no pun intended), in fact I bet some are just about full sized if the smallish size I expect is what will be the end result. That and I found another set of three Momomato's growing farther up the plant.  I keep shaking the cages to hopefully polinate the flowers. I've got a ton of them.  Would be great if I had tomatoes for every flower!  I'd be able to make sauce or even freeze some.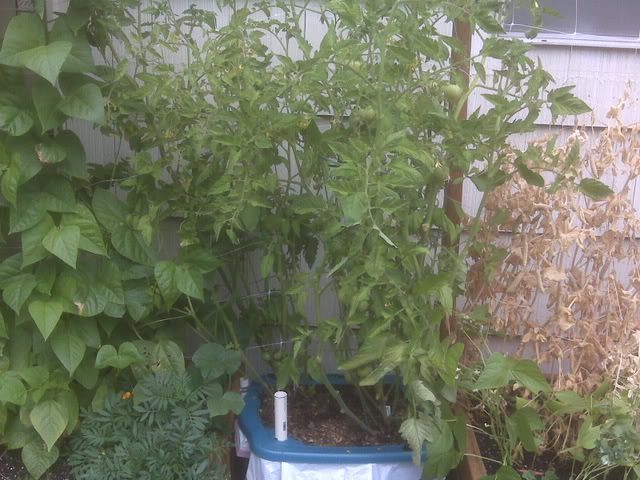 Lost in all those beans and tomatoes are a few cucumber leaves right above the marigolds.  I hope they don't get smothered out because they'e got nice flowers under all that mess.  Who knows.  They're a random pickling variety is all I know about them. Oh, and as you can see, I still haven't removed the peas, mostly because there are still two stalks producing late and boy was the one I had sweet.  Also, as I commented below, I'm not certain I'll save the peas this year. I've got tons still in the package and I'm not sure if I'd be saving snap, snow or shelling peas. I don't necessarily want to save anything but snap.  They were our favorite so that's all I'll grow from now on (starting in a September).
And so far my bush beans are kicking my pole beans tail.  Who'd have thunk it.  Those little tiny things at the base of the tomato plant on the right are my bush beans. They're not even a foot tall and producing beans left and right.  My pole beans on the other hand...
Are all leaf and no bean.  I don't know what's worse. Pole beans that won't produce or bush beans that won't sprout but will produce like crazy if they do sprout.  Here's to hoping the pole beans start producing.  Either way, I think when I pull them I'll throw them directly into the corn bed to "fix" the nitrogen as they decompose in anticipation for that bed becoming my primary bed next spring.
Speaking of the corn bed (gotta love segways, hehe)...
It's nearly as high as an elephant's eye sometime in July, if not by the 4th...  Look how it's almost to the top of the window now!  Here's another angle.
As you can see the last succession planting is really benefiting from the fertilizing I did a week ago.  Unfortunately they're still leaning out over the gravel...
Sorry about the tire. I have no idea where it came from. Likely my father-in-law came by to "store" more crap.  I sure wish they could build a garage for him to put all his stuff.  Not that my garden is particularly beautiful, but I'd prefer only my junk in it, hehe.
Now for some close-ups of my corn.  As you can tell I'm pretty proud of it.  Is it just my imagination, or is there a cob forming in this picture?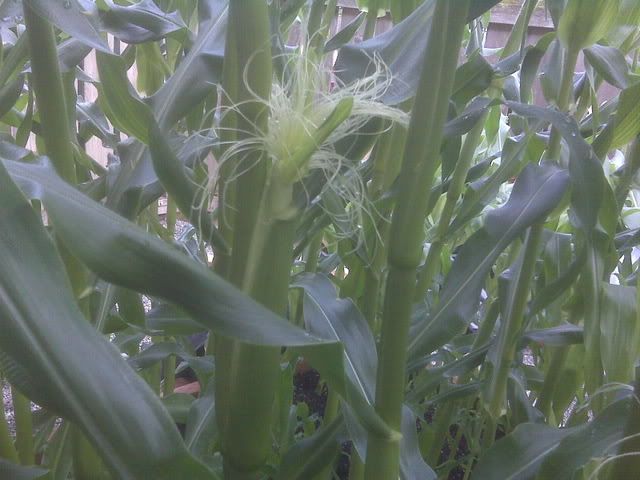 And here is my first clear 2-cob stalk.  It's more towards the interior, which is a good sign as I have been warned that this intensive gardening method will only form cobs on the very outer edges. 
Oh, and Judy, if you read this, be forewarned that I'll likely need to call you again to discuss what to do from here on out with the corn, and more importantly, when to do what... Don't worry, it won't be as long a call as we had convincing me to go the SWC route.  hehe.
Finally, as the sun was going down, I went out in the front yard after dinner and weeded a bit.  It has been sad to drive by and see brown grass and weeds that my neighbors have long since removed from the new parking strips and that's the only green in the area for me.  Odd that the native grass in my yard is still green, but the newly seeded grass from the sidewalk project is brown for everyone.  Nobody's watered since we're all so used to not having to with our high water table.  /sigh.  So I got a full 5-gallon bucket of weeds. They came up fairly easily as it rained a bit over the last two days, but I almost never got the entire root, so I'll see them again.  Again /sigh.  But I feel better and i won't see weeds sticking up as I drive by and nobody else will either.  I've still got tons of weeding to do, but I hit the high points.  No more weed and feed for me as I'm composting.  Apparently it's bad.  I'm sure I can get rid of the bag I've got in the garage. My neighbor does it three times a year.
So this was a slightly relaxing weekend. I took naps both days and didn't get out much but I got some stuff done and we got some much needed rain.  Enjoy your garden!