Short post tonight, I got home late and had an icky day, so gardening was a must.  It's still freezing outside here so I didn't venture out and haven't even watered in a week because I don't want to freeze the dirt and seeds...  I'm hoping it warms up this weekend to allow me to water, or let Mother Nature.  I do know it's supposed to rain.
As you may have noticed yesterday, several seedlings have sprouted in the kitchen, so they needed to go upstairs.  When I went up there, I figured out that I needed to play musical plants again.  For instance, my six tomato seedlings are growing like gangbusters now.
And more importantly, my soil block tray is filling up quickly.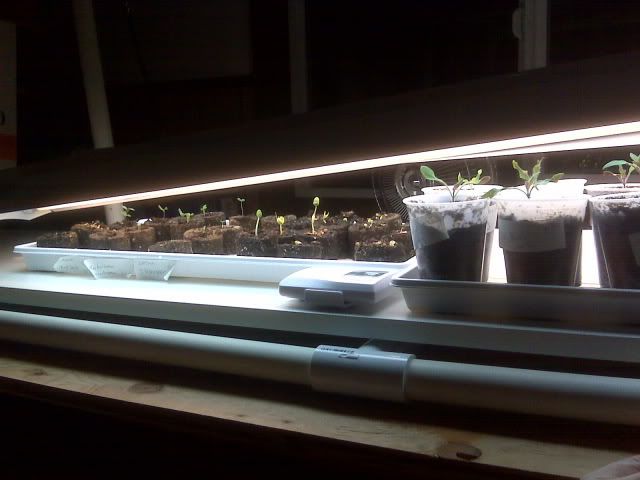 So as you can probably tell, I moved the lights around as well as the seedlings.  I needed the tomato light to help with the soil block tray so I angled it down, necessitating changing the tomato seedlings from shortest to tallest instead of random.   This is better now because the light is closer to all the tomato plants now.  That's good because a few of the tomatoes are not necessarily leggy, but being blown over by the big fan (even on low).  For now I've used whatever I can find to prop them up, but I may get some more Mel's mix and fill the cups.  That's a good weekend project.
Notice the lack of stickers on the rows of soil blocks?  That's because I forgot to lable some of the rows in the kitchen.  Oops.  I think it's lettuce, so I can plant them and have a mesculn mix, hehe.
Anyway, here's the setup today. 
I'm definitely running out of space.  I may need to turn the trays sideways and only use the parts under the lights.  Not sure if that'll give more space, but once all the blocks germinate in the kitchen, my light system is going to be very crowded.
Well, that's it for me.  No real to-do list for me for this weekend because it's really busy on the home front (and renovation front).  I hope the weather cooperates and I find time, I will get out to the garden, though I doubt shopping for wicking baskets is going to happen.  Though I would love to make it to a nursery to see if I can't get quart pots or whatever to pot up my tomatoes.  The containers I've got for them are a bit wide.  Again, space issues.
Anyway, enjoy your garden!